Kyle Busch drives to the top
Updated:
August 31, 2010, 12:06 AM ET
ESPN
It was a feat that had never been achieved by a single driver before: Winning all three NASCAR Series races in the same weekend. That is, until Kyle Busch hit the track these past few days. By crossing the finish line before all the other drivers in the Camping World Truck, Nationwide and Sprint Cup races, Busch gets a spot in the history books and the No. 1 finish in our "Cross-Sport Power Rankings" this week.
Rounding out the top five is shot-blocking sensation Kevin Durant, Yankees slugger Robinson Cano, the always-clutch Josh Hamilton and the red-hot Joey Votto.
Did the panel make the right decisions this week? See anyone who was placed way too high, unjustly low or whom we flat-out missed? Now is your chance to let us know below!
Check out Cross-Sport Power Rankings every Tuesday to see the latest rankings.
Our all-star ESPN panel: John Buccigross, Josh Elliott, Robert Flores, DJ Gallo, Jemele Hill, Dana Jacobson, Brian Kenny, Jeff MacGregor, Bram Weinstein and Trey Wingo.
Week: 1 | 2 | 3 | 4 | 5 | 6 | 7 | 8 | 9 | 10 | 11 | 12 | 13 | 14 | 15 | 16 | 17
2010-11 Power Rankings: Week 18
Rank (LW)
Player
Comment
1
(NR)
Kyle Busch
NASCAR


Sprint Cup? Check. Nationwide? Check. Camping World Truck? Check. Kyle Busch became the first driver in the history of NASCAR to win all three National Touring Series races in a single weekend.
2
(NR)
Kevin Durant
Team USA


The Durantula stepped up big-time against Spain, scoring 25 points and rejecting not one, but two, last-second shots by Spain.
3
(NR)
Robinson Cano
Yankees


Six RBIs and a grand slam? We know it was against the very un-mighty Mariners, but still!
4
(4)
Josh Hamilton
Rangers


Say goodbye to Hamilton's mini-slump. In his past three games, the slugger has batted up to his usual standards, going 7-for-14.
5
(17)
Joey Votto
Reds


Votto is in first, second or third in almost every major NL batting category.
6
(NR)
Arjun Atwal
PGA


History is his. With a victory at the Wyndham Championship, Atwal becomes the first Indian-born player to win on the PGA tour.
7
(9)
Albert Pujols
Cardinals


Thus far, the Machine's August numbers read something like this: 17 RBIs and a batting average of .412. Yeesh. Could a real machine even do that?
8
(NR)
Roger Federer
Tennis


Should we even be surprised when Roger Federer wins a tennis tournament? This time, it was the Cincinnati Masters championship, where he defeated Mardy Fish.
9
(18)
Miguel Cabrera
Tigers


Cabrera has seven RBIs in his last six games ... and 103 total for the season. We'd say that's pretty good.
10
(NR)
Jim Thome
Twins


Jim Thome launched his 12th career walk-off homer this week. The feat puts him in a tie for most in MLB history.
11
(NR)
CC Sabathia
Yankees


Make room, Jimenez and Wainwright. CC Sabathia joins the 17-win club by throwing a six-inning shutout against the Mariners on Sunday.
12
(13)
Jose Bautista
Blue Jays


Home runs No. 39 and 40: See ya! Bautista went yard twice on Monday, and continues to easily lead the majors in homers.
13
(NR)
Theo Walcott
Premier League


Hat trick him. The 21-year-old stud scored three goals for Arsenal against Blackpool.
14
(NR)
Andrew Carroll
Premier League


Walcott wasn't the only one scoring hat tricks this past weekend. Newcastle's Andrew Carroll also had one as his team crushed Aston Villa.
15
(NR)
Yuniesky Betancourt
Royals


Just call him Yuniesky Betan-clutch. The slugger belted out a grand salami on Saturday and hit the walk-off single in the 11th to claim a rare victory for the Royals.
16
(NR)
Evan Longoria
Rays


What a week for Evan Longoria: 12 RBIs, three home runs and a .393 batting average? We'll have what he's having.
17
(NR)
Eduardo Nunez
Yankees


Not a bad way to start off your career. Nunez's first hit as a MLB player on Saturday was the game winner against the Mariners.
18
(NR)
Ryan Lochte
Swimming


Watch out Michael Phelps! Lochte locked it up at the Pan Pacific Championships on Sunday, winning six gold medals.
19
(NR)
Derrick Rose
Team USA


Did you see his left-handed layup in the closing minutes against Spain? Enough said.
20
(NR)
Nick Mangold
Jets


It's not such a "Hard Knocks" life if you're Nick Mangold. He's reportedly on the verge of receiving the most money ever guaranteed to a center in the NFL. Don't tell Darrelle Revis.
Last five out: Rebecca Soni (Swimming), Didier Drogba (Premier League), Ubaldo Jimenez (Rockies), Roy Halladay (Phillies), Adam Wainwright (Cardinals)
Newcomers: Kyle Busch (No. 1), Kevin Durant (No. 2), Arjun Atwal (No. 6)
Notable dropouts: Martin Kaymer (No. 1), Kevin Harvick (No. 2), Kevin Slowey (No. 3)
SPONSORED HEADLINES
ESPN TOP HEADLINES
MOST SENT STORIES ON ESPN.COM
CROSS-SPORT POWER RANKINGS 2010

Cross-Sport Power Rankings compares the best athletes across all professional sports. Check out the rest of our individual sport power rankings.
MORE POWER RANKINGS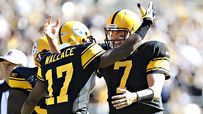 VIOLENCE IN THE NFL
MNF: Titans 30, Jaguars 3
COMMENTARY/BLOG POSTS
FANTASY
NFL BLOG NETWORK