Joey Votto crowned No. 1
Updated:
September 7, 2010, 12:28 AM ET
ESPN
The debate over No. 1 on this week's Cross-Sport Power Rankings went a little something like this: Joey Votto or Albert Pujols? Albert Pujols or Joey Votto?
And with good reason. Both sluggers are not only top National League MVP candidates, but legitimate contenders for the NL Triple Crown. And while Pujols already leads two of the three categories, Votto is just a few marks back from usurping Pujols and leading all three.
So whom, in the end, did our panel decide on? The red-hot Votto. There's no doubt that his increased production this past week (three homers, a game winner in extra innings and, let's not forget, a Sports Illustrated cover) might have had something to do with it.
Did the panel make the right decisions this week? See anyone who was placed way too high, unjustly low or whom we flat-out missed? Now is your chance to let us know below!
Check out Cross-Sport Power Rankings every Tuesday to see the latest rankings.
Our all-star ESPN panel: John Buccigross, Josh Elliott, Robert Flores, DJ Gallo, Jemele Hill, Dana Jacobson, Brian Kenny, Jeff MacGregor, Bram Weinstein and Trey Wingo.
Week: 1 | 2 | 3 | 4 | 5 | 6 | 7 | 8 | 9 | 10 | 11 | 12 | 13 | 14 | 15 | 16 | 17 | 18
2010-11 Power Rankings: Week 19
Rank (LW)
Player
Comment
1
(5)
Joey Votto
Reds


Call him Votto-matic. The Reds first baseman is making a bid at both the Triple Crown and NL MVP, blasting three homers this past week and notching the game-winning hit against the Giants in a 12-inning comeback win.
2
(7)
Albert Pujols
Cardinals


Quite the remarkable machine, that Pujols. The slugger became the third-youngest player to hit his 400th home run.
3
(2)
Kevin Durant
Team USA


In case you were wondering, Kevin Durant is still really good. Team USA's alpha dog scored 27 points and grabbed 10 boards to keep his squad undefeated.
4
(NR)
Matt Kuchar
PGA


Four shots back heading into the final round? If you're Kuchar, it's no problem. The golfer made a magnificent comeback to win the Barclays.
5
(1)
Kyle Busch
NASCAR


If it's a NASCAR event, chances are Kyle Busch is going to win. He picked up his fourth checkered flag in a row in the Camping World Truck Series event at Chicagoland.
6
(11)
CC Sabathia
Yankees


With his 18th win, Sabathia silently passed first-half sensation Ubaldo Jimenez and Adam Wainwright for most wins in the league.
7
(NR)
Carl Crawford
Rays


Since 1900, only seven players had reached 100 home runs, 100 triples and 400 stolen bases. Now, you can add an eighth. Carl Crawford, welcome to the club.
8
(NR)
Randy Couture
MMA


Lights out, James Toney. Couture pounded the former championship boxer on Saturday at UFC 118.
9
(9)
Miguel Cabrera
Tigers


Cabrera continues to be every fantasy baseball owner's dream. His numbers look something like this: 107 RBIs, .342 batting average and 33 home runs. Yeesh.
10
(NR)
Carlos Gonzalez
Rockies


Nope, it's not deja vu. The NL's batting-average leader had another multi-home run game Sunday ... his second this month.
11
(12)
Jose Bautista
Blue Jays


It might be the year of the pitcher, but that hasn't kept Bautista from going yard. The slugger continues to lead the league with 42 home runs.
12
(NR)
Didier Drogba
Premier League


Chelsea remains undefeated and has this guy to thank. Drogba scored yet another goal Saturday to help Chelsea get the win against Stoke City.
13
(4)
Josh Hamilton
Rangers


Josh Hamilton continues to put up video game numbers. His batting average remains a sweltering .360.
14
(NR)
Michelle Wie
LPGA


Another LPGA title for Wie. The win bolts her up to No. 7 in the world rankings.
15
(NR)
Aaron Rodgers
Packers


Fantasy football owners, try not to drool. In a single half against the Colts, the QB threw for 195 yards, three touchdowns and zero interceptions.
16
(NR)
Lauren Jackson
WNBA


Lo-Jack poured in 24 points and ripped down nine boards to help the Storm sweep the Sparks and move on to the Western Conference finals. Not bad, mate!
17
(NR)
Manny Ramirez
White Sox


Manny Ramirez and Ozzie Guillen joining forces in Chicago? Oh, boy. Whether the White Sox make the playoffs or not, you can't tell us this won't be entertaining.
18
(NR)
Brandon Morrow
Blue Jays


If you haven't been counting his K's, we'll do it for you. Of the 91 outs Morrow produced during August, 49 of them were strikeouts. K-ount it!
19
(NR)
Diana Taurasi
WNBA


What was that about taking next year off? Reigning WNBA MVP Diana Taurasi signed a multiyear contract extension with the Pheonix Mercury, then led her team to the Western Conference finals.
20
(NR)
Aroldis Chapman
Reds


Panel member Robert Flores put it best: "105 mph?! In the ninth inning?!"
Last five out: Robinson Cano (Yankees), Theo Walcott (Premier League), Adam Wainwright (Cardinals), Florent Malouda (Premier League), Andre Johnson (Texans)
Newcomers: Matt Kuchar (No. 4), Carl Crawford (No. 7), Randy Couture (No. 8)
Notable dropouts: Arjun Atwal (No. 6), Jim Thome (No. 10), Yuniesky Betancourt (No. 15)
SPONSORED HEADLINES
ESPN TOP HEADLINES
MOST SENT STORIES ON ESPN.COM
CROSS-SPORT POWER RANKINGS 2010

Cross-Sport Power Rankings compares the best athletes across all professional sports. Check out the rest of our individual sport power rankings.
MORE POWER RANKINGS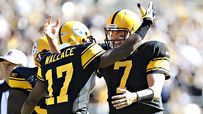 VIOLENCE IN THE NFL
MNF: Titans 30, Jaguars 3
COMMENTARY/BLOG POSTS
FANTASY
NFL BLOG NETWORK