Carlos Gonzalez bats his way to No. 1
Updated:
September 13, 2010, 10:01 PM ET
ESPN
With Week 1 of college football kicking off this past week, college quarterbacks and running backs have invaded the "Cross-Sport Power Rankings" for the very first time. So much so that the panel's top athlete from the college gridiron this week, Denard Robinson, landed all the way at No. 2. Had it not been for the dynamic performance of Carlos Gonzalez this past week, Robinson would have been crowned No. 1.
Other notable athletes on our list include two WNBA players from the Storm (buzzer-beater Sue Bird, and league MVP Lauren Jackson), three of tennis' most dominant performers from the U.S. Open thus far (Rafael Nadal, Roger Federer, Caroline Wozniacki), and the Jets cornerback with a brand new contract (Darrelle Revis).
Did the panel make the right decisions this week? See anyone who was placed way too high, unjustly low or whom we flat-out missed? Now is your chance to let us know below!
Check out Cross-Sport Power Rankings every Tuesday to see the latest rankings.
Our all-star ESPN panel: John Buccigross, Josh Elliott, Robert Flores, DJ Gallo, Jemele Hill, Dana Jacobson, Brian Kenny, Jeff MacGregor, Bram Weinstein and Trey Wingo.
Week: 1 | 2 | 3 | 4 | 5 | 6 | 7 | 8 | 9 | 10 | 11 | 12 | 13 | 14 | 15 | 16 | 17 | 18 | 19
2010-11 Power Rankings: Week 20
Rank (LW)
Player
Comment
1
(10)
Carlos Gonzalez
Rockies


Gonzalez has been lighting it up. In his past 14 games the slugger has batted .536 with 18 RBIs and 6 homers.
2
(NR)
Denard Robinson
Michigan


Well, guess we know who Michigan's starting QB is. Robinson went 19-of-22 passes for 186 yards and TD ... and also rushed for 197 yards (a school record) and a TD. No big deal.
3
(NR)
Rafael Nadal
Tennis


Nadal is just making it look easy. The world's No. 1 tennis player has yet to drop a set in the U.S. Open, and edges closer to that career grand slam.
4
(NR)
Darrelle Revis
Jets


His services are a little more costly, but Revis Island is back in business. Jets fans, you can now breathe again.
5
(NR)
Felix Hernandez
Mariners


Could the 2010 Cy Young Award be in King Felix's future? Well, if he continues to pitch like he did on Sunday (eight scoreless innings), it definitely won't hurt his chances.
6
(NR)
Kellen Moore
Boise State


A huge sigh of relief for Boise State fans. Moore's game-winning drive against Virginia Tech kept the Broncos' hopes of playing in the BCS National Championship Game alive.
7
(NR)
Kendall Hunter
Oklahoma State


Kendall Hunter's 2010 debut: Four touchdowns. 257 yards. 12.2 yards per rush attempt. Um, we'll have what he's having.
8
(NR)
Roger Federer
Tennis


Like Nadal, Federer has breezed past the competition at the U.S. Open; he hasn't dropped a single set.
9
(3)
Kevin Durant
Team USA


Thunder fans' favorite programming right now has got to be the FIBA World Championship. Durant continues to dominate, leading Team USA in scoring with 17.8 points per game.
10
(NR)
Sue Bird
WNBA


2.8 seconds left, Sue Bird for 3 ... it's gooooood! The Storm rally back and clinch the Western Conference title off Sue Bird's game winner.
11
(NR)
Caroline Wozniacki
Tennis


The women's No. 1 seed at the U.S. Open gets the 6-3, 6-4 victory over Maria Sharapova on Monday night.
12
(NR)
Stanislas Wawrinka
Tennis


Rafael Nadal, meet your new best friend. Wawrinka stunned the tennis world by booting Andy Murray out of the tournament.
13
(NR)
Jason Heyward
Braves


The rookie phenom has been heating up lately (just ask Mets fans). In the past week, his batting average has been an impressive .400.
14
(NR)
Matt Barkley
USC


Watch out Jake Locker; there's another Pac-10 quarterback making noise and his name is Matt Barkley. The USC sophomore threw for 257 yards and five TDs.
15
(16)
Lauren Jackson
WNBA


The WNBA MVP is hers. With the impressive postseason performance she's been putting on display, it should be no suprise.
16
(NR)
Tony Stewart
NASCAR


The streak has been broken! Tony Stewart takes the NASCAR Sprint Cup Series race at Atlanta and ends a 31-start winless streak.
17
(1)
Joey Votto
Reds


Since his No. 1 ranking on our list last week, Joey Votto's numbers have dropped a bit. Still, he remains in the race for the NL Triple Crown.
18
(NR)
Daniel Thomas
Kansas State


Welcome to the Daniel Thomas show, everyone. The runner piled up 234 yards and made two trips to the end zone in Kansas State's win over UCLA.
19
(NR)
Chauncey Billups
Team USA


Chauncey Billups was a 3-point machine on Monday, going 5-of-7 from behind the arc to help Team USA beat Angola.
20
(NR)
T.J. Yates
North Carolina


T.J. Yates was a human highlight reel in Week 1. The quarterback went 28-for-46 for 412 yards and three TDs against LSU. Now, if only his team would win...
Last five out: Kim Clijsters (Tennis), Jermain Defoe (Premier League), Dominique Davis (East Carolina), Venus Williams (Tennis), Kenjon Barner (Oregon)
Newcomers: Denard Robinson (No. 2), Rafael Nadal (No. 3), Darrelle Revis (No. 4)
Notable dropouts: Albert Pujols (No. 2), Matt Kuchar (No. 4), Kyle Busch (No. 5)
SPONSORED HEADLINES
ESPN TOP HEADLINES
MOST SENT STORIES ON ESPN.COM
CROSS-SPORT POWER RANKINGS 2010

Cross-Sport Power Rankings compares the best athletes across all professional sports. Check out the rest of our individual sport power rankings.
MORE POWER RANKINGS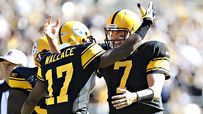 VIOLENCE IN THE NFL
MNF: Titans 30, Jaguars 3
COMMENTARY/BLOG POSTS
FANTASY
NFL BLOG NETWORK