Kevin Durant scores the top spot
Updated:
September 20, 2010, 9:25 PM ET
ESPN
Are you ready for some NFL football? The Cross-Sport Power Rankings are. With Week 1 in the books, five NFL players -- including fantasy football's newest darling, Arian Foster -- invaded the rankings. Yet due to once-in-a-lifetime records from Kevin Durant and Rafael Nadal, the NFL will have to take a backseat this week.
Other standouts this week include (once again) Michigan's Denard Robinson, women's U.S. Open champ Kim Clijsters and the most clutch shooter in the WNBA, Sue Bird.
Did the panel make the right decisions this week? See anyone who was placed way too high, unjustly low or whom we flat-out missed? Now is your chance to let us know below!
Check out Cross-Sport Power Rankings every Tuesday to see the latest rankings.
Our all-star ESPN panel: John Buccigross, Josh Elliott, Robert Flores, DJ Gallo, Jemele Hill, Dana Jacobson, Brian Kenny, Jeff MacGregor, Bram Weinstein and Trey Wingo.
Week: 1 | 2 | 3 | 4 | 5 | 6 | 7 | 8 | 9 | 10 | 11 | 12 | 13 | 14 | 15 | 16 | 17 | 18 | 19 | 20
2010-11 Power Rankings: Week 21
Rank (LW)
Player
Comment
1
(9)
Kevin Durant
Team USA


He scored 205 points (the most ever) in the 2010 FIBA World Championship, hit seven 3-pointers in the final against Turkey and pretty much won the gold medal for Team USA. Yeah, that'll do.
2
(3)
Rafael Nadal
Tennis


Nadal's U.S. Open title makes him the seventh man to earn a career Grand Slam in tennis and the youngest at age 24. He's also the first man in 41 years to win three straight majors in a calendar year.
3
(NR)
Kim Clijsters
Tennis


Clijsters became the first woman in 10 years to defend her title at the U.S. Open, by avenging a loss to Vera Zvonareva at Wimbledon earlier this year.
4
(2)
Denard Robinson
Michigan


Is he a quarterback or a running back? With all those yards (244 passing, 258 rushing), we don't think Michigan fans care.
5
(NR)
Arian Foster
Texans


If you drafted him in fantasy football, oh how lucky you were. Foster stole the show Sunday, exploding for 231 yards and 3 TDs against the Colts.
6
(NR)
Albert Pujols
Cardinals


If you can't remember the last season Pujols hit fewer than 100 RBIs, it's because it hasn't happened. The St. Louis slugger broke the 100-RBI mark Saturday for the 10th straight season.
7
(10)
Sue Bird
WNBA


When time is running out, we want the ball in Bird's hands. Yet again, the sharpshooter nailed a game-winning shot, this time to seize Game 1 of the WNBA Finals.
8
(NR)
Ryan Howard
Phillies


He turned down Turtle's offer to invest in tequila on the season finale of "Entourage," but he's turned it up at the plate: 10 hits and 11 RBIs in the past seven days.
9
(NR)
Terrelle Pryor
Ohio State


Keep your Buckeye on this one. The Ohio State QB connected for 3 TDs and 346 total yards against The U.
10
(NR)
Peyton Manning
Colts


Manning exploded for 433 yards and 3 TDs. Unbelievably, that still was not enough to beat the Texans.
11
(17)
Joey Votto
Reds


The Reds now are a demanding six games ahead of the Cardinals -- and Votto is a big reason why. The National League MVP candidate blasted a walk-off homer Saturday to beat the Pirates.
12
(NR)
Michael Vick
Eagles


A QB controversy in Philadelphia? Don't mind if we do. Vick put on a show Sunday, causing Andy Reid (and America) to ponder whether it's time to green light the former Pro Bowler full time.
13
(NR)
Marcus Lattimore
South Carolina


The Georgia defense got quite a dose of Lattimore on Saturday. South Carolina's running back put up 182 yards and 2 TDs to help pull the upset.
14
(NR)
Drew Brees
Saints


Brees picked up where he left off, completing 27 of 36 passes for 237 yards in a highly anticipated rematch of last season's NFC title game. Mardis Gras, carry on.
15
(NR)
Dustin Johnson
PGA


There would be no rules holding back Johnson this time. The golfer beat out the field and won the BMW Championship.
16
(NR)
Rashard Mendenhall
Steelers


Who needs Big Ben when you have Mendenhall? Due to his "walk-off" TD run in overtime, the Steelers start the season 1-0.
17
(1)
Carlos Gonzalez
Rockies


Just call him Mr. September. The Rockies' big bat has come up huge, batting .455 so far this month.
18
(NR)
Denny Hamlin
NASCAR


Torn ACL? No problem. Just five months removed from knee surgery, Hamlin won his sixth race of the season to surpass Jimmie Johnson and take the overall points lead for the first time in his career.
19
(NR)
Roy Oswalt
Phillies


Vintage is so in this fall. The former All-Star hurled a four-hit shutout Sunday and hasn't lost in more than a month, helping the Phillies claim the top spot in the NL East.
20
(15)
Lauren Jackson
WNBA


Teammate Sue Bird might have stolen the spotlight with her tiebreaking jumper, but Jackson led all scorers with 28 points and ripped down eight boards. League MVP indeed.
Last five out: Hakeem Nicks (Giants), Jake Locker (Washington), Miguel Cabrera (Tigers), Cliff Lee (Rangers), Tim Lincecum (Giants)
Newcomers: Arian Foster (No. 5), Ryan Howard (No. 8), Peyton Manning (No. 10)
Notable dropouts: Darrelle Revis (No. 3), Kellen Moore (No. 6), Kendall Hunter (No. 7)
SPONSORED HEADLINES
ESPN TOP HEADLINES
MOST SENT STORIES ON ESPN.COM
CROSS-SPORT POWER RANKINGS 2010

Cross-Sport Power Rankings compares the best athletes across all professional sports. Check out the rest of our individual sport power rankings.
MORE POWER RANKINGS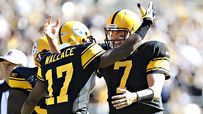 VIOLENCE IN THE NFL
MNF: Titans 30, Jaguars 3
COMMENTARY/BLOG POSTS
FANTASY
NFL BLOG NETWORK