Troy Tulowitzki powers his way to No. 1
Updated:
September 27, 2010, 11:53 PM ET
ESPN
Albert Belle did it in 1995. Barry Bonds did it in 2001. And now Troy Tulowitzki has done it in 2010. For just the third time in MLB history, a player has hit 14 homers in a 15-game span. So while Ryan Mallett, Matt Schaub, CC Sabathia and Michael Vick were all hot this week, there's no denying Tulowitzki was the hottest.
Did the panel make the right decisions this week? See anyone who was placed way too high, unjustly low or whom we flat-out missed? Did any of the last five out (Mark Sanchez, Jose Bautista, Donovan McNabb, Peyton Manning and Shin-Soo Choo) deserve to be bumped up? Now is your chance to let us know below!
FYI: We've slimmed the Cross-Sport Power Rankings down to the top 10 athletes of the week (less is so more these days). Meaning: Unless your favorite athlete does some serious damage in the sports world, don't even think about finding him or her on this list. Only the very best of the best will make the cut each week.
Our all-star ESPN panel: John Buccigross, Josh Elliott, Robert Flores, DJ Gallo, Jemele Hill, Dana Jacobson, Brian Kenny, Jeff MacGregor, Bram Weinstein and Trey Wingo.
Week: 1 | 2 | 3 | 4 | 5 | 6 | 7 | 8 | 9 | 10 | 11 | 12 | 13 | 14 | 15 | 16 | 17 | 18 | 19 | 20 | 21
2010-11 Power Rankings: Week 22
Rank (LW)
Player
Comment
1
(NR)
Troy Tulowitzki
Rockies


That unusually hot September day isn't global warming; it's the heat emanating from Tulowitzki's bat. With two home runs Saturday, the Rockies shortstop became just the third player in MLB history to launch 14 homers in a 15-game span. He has 34 RBIs this month and has helped propel Colorado to within 1½ games in the National League West.
2
(NR)
Ryan Mallett
Arkansas


What's that sound? Oh, it's just Mallett's Heisman stock exploding through the roof. Not only did the QB lead his team to victory in Georgia's house, but he did it with 15 seconds left to play.
3
(NR)
Matt Schaub
Texans


Hope you didn't have Schaub on your fantasy football bench this week! The Texans QB blew up for almost 500 yards, all while throwing 3 TDs and being a main contributor to the Texans' monster comeback.
4
(NR)
CC Sabathia
Yankees


Ubaldo Jimenez, Adam Wainwright and Roy Halladay -- eat your heart out! Sabathia became the first MLB pitcher to reach 20 wins this season.
5
(12)
Michael Vick
Eagles


"Andy Reid is the only one who doesn't think there's a QB controversy in Philly." -- Dana Jacobson
6
(NR)
Mark Ingram
Alabama


"After that return, the Heisman winner should consider getting surgery on the rest of his limbs." -- DJ Gallo
7
(NR)
Jayson Werth
Phillies


"Four HRs and 10 RBIs in his past six games -- hitting .333 with runners in scoring position since 9/5 AND walkoff shot Sunday for Phillies' seventh straight win. Postseason here we come!" -- Dana Jacobson
8
(NR)
Clint Bowyer
NASCAR


Bow-WOW! Running on fumes, Bowyer overcame a sputtering Tony Stewart to take the opening race of the Chase and move from last to second in the Sprint Cup standings. As Dana Jacobson puts it, the No. 33 car is "NASCAR's version of a wild-card team."
9
(NR)
Jahvid Best
Lions


Holy Barry Sanders! The Lions actually have a good running back? It sure looks that way. Best put on one of his best performances, racking up three TDs and 232 total yards.
10
(20)
Lauren Jackson
WNBA


Lo-Jack doesn't recover your stolen vehicle, but she does help bring in WNBA hardware. The Seattle Storm didn't lose a single playoff game en route to capturing the WNBA title, and MVP Jackson is the biggest reason. She averaged 22.3 points and eight rebounds per game.
Last five out: Mark Sanchez (Jets), Jose Bautista (Blue Jays), Donovan McNabb (Redskins), Peyton Manning (Colts), Shin-Soo Choo (Indians)
Newcomers: Troy Tulowitzki (No. 1), Ryan Mallett (No. 2), Matt Schaub (No. 3)
Notable dropouts: Kevin Durant (No. 1), Rafael Nadal (No. 2), Arian Foster (No. 5)
SPONSORED HEADLINES
ESPN TOP HEADLINES
MOST SENT STORIES ON ESPN.COM
CROSS-SPORT POWER RANKINGS 2010

Cross-Sport Power Rankings compares the best athletes across all professional sports. Check out the rest of our individual sport power rankings.
MORE POWER RANKINGS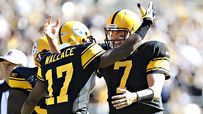 VIOLENCE IN THE NFL
MNF: Titans 30, Jaguars 3
COMMENTARY/BLOG POSTS
FANTASY
NFL BLOG NETWORK