Denard Robinson is No. 1
Updated:
October 11, 2010, 11:45 PM ET
ESPN
Does Denard Robinson ever have an off game ... or just a so-so game, for that matter? The answer, of course, is no. The star of Michigan football (and college football) continued to make it look easy this week. Robinson torched Indiana for five touchdowns and 494 yards of total offense Saturday, and became the first player in college football history to pass and rush for 200 yards in a regular-season game twice. Not to mention he did it all with his shoelaces untied.
So really, D-Rob at No. 1 was the only choice. It was the other nine spots that had our panel debating up a storm. Is Donovan McNabb too high? Is Tom Brady too low? Now is your chance to let us know below!
Our all-star ESPN panel: John Buccigross, Josh Elliott, Robert Flores, DJ Gallo, Jemele Hill, Dana Jacobson, Brian Kenny, Jeff MacGregor, Bram Weinstein and Trey Wingo.
Week: 1 | 2 | 3 | 4 | 5 | 6 | 7 | 8 | 9 | 10 | 11 | 12 | 13 | 14 | 15 | 16 | 17 | 18 | 19 | 20 | 21 | 22 | 23
2010-11 Power Rankings: Week 24
Rank (LW)
Player
Comment
1
(NR)
Denard Robinson
Michigan


Were you really expecting anyone else? The current king of college football continues to tear it up one defense at a time.
2
(NR)
Jonathan Sanchez
Giants


Phew! Thanks to five shutout innings thrown by Sanchez, the Giants are back in the playoffs for the first time since 2003.
3
(NR)
Donovan McNabb
Redskins


"Who knew all he had to do to get Eagles fans to cheer for him was to come out of the other locker room?" -- Dana Jacobson
4
(NR)
Graeme McDowell
Golf


His reaction said it all. The reigning U.S. Open champ sank a 15-foot birdie putt to help lift Europe over the United States in a thrilling Ryder Cup finale.
5
(NR)
Josh Scobee
Jaguars


Saints fans, try not to be too jealous. Scobee nailed a game-winning 59-yard field goal (a club record) to stun the Colts.
6
(NR)
Buster Posey
Giants


When you need to win the National League West, who ya gonna call? Posey. The Giants catcher homered Sunday to help secure the division title for San Francisco.
7
(NR)
LaMichael James
Oregon


Well hello, LaMichael James! The Ducks offensive weapon ran for three TDs and more than 200 yards to beat Stanford and fly past Boise State in the rankings.
8
(NR)
LaDainian Tomlinson
Jets


Thought he was too old? Washed up? Done for? Well, he sure showed you. LT looked like his 2007 self again, rushing for 133 yards (on 19 carries) and two TDs.
9
(NR)
Tom Brady
Patriots


With a little help from special teams, Brady became the fastest (and youngest) QB to reach 100 wins. 41-14 over a division rival, on the road? Statement made.
10
(NR)
Jimmie Johnson
NASCAR


Greg Biffle notched a big win at Kansas, but JJ's second-place finish motored him right past Denny Hamlin and into the points lead. For the four-time defending Sprint Cup champ, there's no place like home.
Last five out: Mark Ingram (Alabama), Joe Flacco (Ravens), Didier Drogba (Chelsea), Arian Foster (Texans), Greg Biffle (NASCAR)
Newcomers: Jonathan Sanchez (No. 2), Donovan McNabb (No. 3), Graeme McDowell (No. 4)
Notable dropouts: Michael Vick (No. 1), Ichiro Suzuki (No. 4), Adrian Peterson (No. 5)
SPONSORED HEADLINES
ESPN TOP HEADLINES
MOST SENT STORIES ON ESPN.COM
CROSS-SPORT POWER RANKINGS 2010

Cross-Sport Power Rankings compares the best athletes across all professional sports. Check out the rest of our individual sport power rankings.
MORE POWER RANKINGS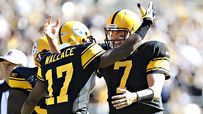 VIOLENCE IN THE NFL
MNF: Titans 30, Jaguars 3
COMMENTARY/BLOG POSTS
FANTASY
NFL BLOG NETWORK