Roy Halladay no-hits his way to No. 1
Updated:
October 18, 2010, 11:24 PM ET
ESPN
Roy Halladay didn't just make the most of his first playoff start -- he made the record books. The Phillies ace tossed the second no-hitter in MLB postseason history, making him a no-brainer for the top spot in this week's power rankings. But not without a little friendly competition ...
Tim Lincecum took the mound one night later and put on one of the most dominant pitching performances of the year, hurling 119 pitches and blowing 55 of them past Braves bats for a complete game shutout. Cole Hamels followed suit with a complete game of his own: series-clinching and oh-so-2008 of him.
So which playoff pitcher deserves the most cross-sport cred? Did our panel accurately rank a trio of impressive college QBs? Make your voice heard and sound off in the comments section below.
Our all-star ESPN panel: John Buccigross, Josh Elliott, Robert Flores, DJ Gallo, Jemele Hill, Dana Jacobson, Brian Kenny, Jeff MacGregor, Bram Weinstein and Trey Wingo.
Week: 1 | 2 | 3 | 4 | 5 | 6 | 7 | 8 | 9 | 10 | 11 | 12 | 13 | 14 | 15 | 16 | 17 | 18 | 19 | 20 | 21 | 22 | 23 | 24
2010-11 Power Rankings: Week 25
Rank (LW)
Player
Comment
1
(NR)
Roy Halladay
Phillies


Some pitchers struggle in their first-ever playoff start. Roy Halladay throws the first postseason no-hitter in 50-plus years.
2
(NR)
Tim Lincecum
Giants


Roy Halladay wasn't the only pitcher making waves this past week. "The Freak" put up a two-hit, 14-strikeout gem on Thursday to take down the Braves in Game 1 of the NLDS.
3
(NR)
Taylor Martinez
Nebraska


241 yards rushing. Four rushing TDs. 128 yards passing. One passing TD. "He's the new Denard Robinson. Untied shoes are soooooo September 2010." -- DJ Gallo
4
(NR)
Cole Hamels
Phillies


Are the Phillies serious with their starting rotation? The Phillies' No. 3 guy (Cole Hamels) looked more like their No. 1 guy, throwing nine scoreless innings to sweep the Reds.
5
(NR)
Matt Forte
Bears


Put it this way: Matt Forte made a lot of fantasy owners very happy this week. The Bears RB put on a show, racking up 188 total yards and two TDs.
6
(NR)
Stephen Garcia
South Carolina


He exposed Alabama's defense. He took down the No. 1 team in the country. And he put up stats like woah: 17-for-20 for 201 yards and 3 TDs. It's good to be Stephen Garcia right now.
7
(NR)
Terrelle Pryor
Ohio State


Time for Terrelle Pryor to start striking that famous pose? Perhaps. He passed for a career-high 334 yards with 3 TDs and no interceptions against Indiana.
8
(NR)
Brett Favre
Vikings


In typical Favre fashion, Brett staged a second-half comeback against the Jets and threw for 3 TDs, becoming the first NFL quarterback to register over 500 career touchdown passes. Also in typical Favre fashion, he threw a crucial late-game interception. 1-3 it is.
9
(NR)
Terrence Toliver
LSU


We have no idea how LSU keeps winning game after game, but we know Terrence Toliver has something to do with it. The Tigers WR had 111 yards and the game-winning TD reception to stun Florida.
10
(NR)
Rick Ankiel
Braves


Talk about making a splash. Ankiel sank a postseason extra-inning, game-winning homer in McCovey Cove to win Game 3 of the NLDS. The more compound words, the better.
Last five out: Alshon Jeffery (South Carolina), Nelson Cruz (Rangers), Max Hall (Cardinals), Buster Posey (Giants), LaMichael James (Oregon)
Newcomers: Taylor Martinez (No. 3), Cole Hamels (No. 4), Matt Forte (No. 5)
Notable dropouts: Denard Robinson (No. 1), Jonathan Sanchez (No. 2), Donovan McNabb (No. 3)
CROSS-SPORT POWER RANKINGS 2010

Cross-Sport Power Rankings compares the best athletes across all professional sports. Check out the rest of our individual sport power rankings.
MORE POWER RANKINGS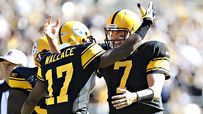 VIOLENCE IN THE NFL
MNF: Titans 30, Jaguars 3
COMMENTARY/BLOG POSTS
FANTASY
NFL BLOG NETWORK
MOST SENT STORIES ON ESPN.COM