Cliff Lee rises to the top spot
Updated:
October 25, 2010, 11:41 PM ET
ESPN
If there's one fact in life, it's this: Come postseason time, do not mess with Cliff Lee. Just ask Yankees fans. The Rangers pitcher threw an insane 13-strikeout, two-hit gem on Monday night to give the Rangers a 2-1 series lead in the American League Championship Series. So really, it was a matter of which nine players to select under No. 1 Cliff Lee.
With a performance that outshined Roy Halladay, the panel went with Tim Lincecum at No. 2, home run master Cody Ross at No. 3, Heisman front-runner Cameron Newton at No. 4 and Rangers spark plug Josh Hamilton at No. 5
Did the panel make the right decisions this week? See anyone who was placed way too high, unjustly low or whom we flat-out missed? Now is your chance to let us know in the comments below!
Our all-star ESPN panel: John Buccigross, Josh Elliott, Robert Flores, DJ Gallo, Jemele Hill, Dana Jacobson, Brian Kenny, Jeff MacGregor, Bram Weinstein and Trey Wingo.
Week: 1 | 2 | 3 | 4 | 5 | 6 | 7 | 8 | 9 | 10 | 11 | 12 | 13 | 14 | 15 | 16 | 17 | 18 | 19 | 20 | 21 | 22 | 23 | 24 | 25
2010-11 Power Rankings: Week 26
Rank (LW)
Player
Comment
1
(NR)
Cliff Lee
Rangers


There are three certainties in life: death, taxes and Cliff Lee dominating in the playoffs. He became the first pitcher to reach double digits in strikeouts three times in one postseason. Move along, everyone. Nothing new to see here.
2
(2)
Tim Lincecum
Giants


Lincecum finishes second for the second week in a row, but he's No. 1 in San Francisco. That'll happen when you outduel Roy Halladay and fool the Phillies' lineup for a clutch Game 1 victory.
3
(NR)
Cody Ross
Giants


So far, he has been Mr. Mid-October. As Dana Jacobson put it: "Three HRs in three NLCS games. Oh yeah, and they're off Roy Halladay and Roy Oswalt!!!"
4
(NR)
Cameron Newton
Auburn


He Au-burned the Arkansas defense for 188 yards rushing, 140 yards passing and four TDs. Time to practice that Heisman pose.
5
(NR)
Josh Hamilton
Rangers


Let us sum up the ALCS offensive action for you thus far: Josh Hamilton, Josh Hamilton and more Josh Hamilton. The Rangers bat came up big in Game 3, blasting a 2-run homer in the first inning.
6
(NR)
Kevin Kolb
Eagles


It's always sunny in Philadelphia ... especially when you've got Michael Vick and Kevin Kolb as your quarterbacks. The Eagles' backup QB completed 23 of 29 passes and threw for 326 yards and 3 TDs against the 4-1 Falcons on Sunday.
7
(NR)
John Clay
Wisconsin


We have a feeling John Clay is pretty popular in Oregon and Oklahoma right now. Thanks to Clay's 2 TDs and 104 yards rushing against Ohio State, the Ducks and Sooners each claim a No. 1 ranking.
8
(NR)
Pierre Garcon
Colts


Never mind his 103 yards and TD, we want to talk about that catch! Garcon's one-handed grab defied logic (and possibly physics) to become the best catch of the year. Sorry Randy.
9
(NR)
Marian Hossa
Blackhawks


If you have yet to watch any hockey this season, Marian Hossa is a good reason to start. The Blackhawks right wing has 4 goals and 2 assists in four games.
10
(NR)
Deion Branch
Patriots


Didn't think he still had it in him, did you? (Seahawks fans shaking their heads.) With Branch back on the Patriots, the rejuvenated WR exploded for almost 100 yards and a TD against the Ravens.
Last five out: Devin Hester (Bears), Blake Griffin (Clippers), Cristiano Ronaldo (Real Madrid), Jeremy Maclin (Eagles), Michael Young (Rangers)
Newcomers: Cody Ross (No. 2), Marian Hossa (No. 9), Deion Branch (No. 10)
Notable dropouts: Roy Halladay (No. 1), Taylor Martinez (No. 3), Terrelle Pryor (No. 7)
CROSS-SPORT POWER RANKINGS 2010

Cross-Sport Power Rankings compares the best athletes across all professional sports. Check out the rest of our individual sport power rankings.
MORE POWER RANKINGS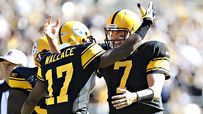 VIOLENCE IN THE NFL
MNF: Titans 30, Jaguars 3
COMMENTARY/BLOG POSTS
FANTASY
NFL BLOG NETWORK
MOST SENT STORIES ON ESPN.COM