Josh Hamilton is No. 1
Updated:
November 1, 2010, 7:57 PM ET
ESPN
If Rangers center fielder Josh Hamilton were standing in the ESPN offices right now, he'd surely plead for all of his teammates to top the Cross-Sport Power Rankings with him. Sorry, Captain Humble, this is a ranking of athletic individuals and you're getting all the credit. Over the past week, Hamilton went 4-for-10 with two homers to help take Texas to its first World Series in franchise history. Because of this, our all-star panel agreed that the slugger deserved to be No. 1.
Rounding out the top five is Giants home run hero Juan Uribe at No. 2, Heisman favorite Cam Newton at No. 3, NLCS MVP Cody Ross at No. 4 and interception machine DeAngelo Hall at No. 5.
Did the panel make the right decisions this week? See anyone who was placed way too high, unjustly low or whom we flat-out missed? Now is your chance to let us know in the comments below!
Our all-star ESPN panel: John Buccigross, Josh Elliott, Robert Flores, DJ Gallo, Jemele Hill, Dana Jacobson, Brian Kenny, Jeff MacGregor, Bram Weinstein and Trey Wingo.
Week: 1 | 2 | 3 | 4 | 5 | 6 | 7 | 8 | 9 | 10 | 11 | 12 | 13 | 14 | 15 | 16 | 17 | 18 | 19 | 20 | 21 | 22 | 23 | 24 | 25 | 26
2010-11 Power Rankings: Week 27
Rank (LW)
Player
Comment
1
(NR)
Josh Hamilton
Rangers


The ALCS MVP was so destructive against Yankees pitching that New York opted to intentionally walk him three times in Game 6. The ultimate sign of respect for the ultimate all-around player.
2
(NR)
Juan Uribe
Giants


When your sacrifice fly gives your team a 3-1 series lead in the NLCS, you're having a good week. When your eighth-inning home run sinks the once seemingly unbeatable Phillies and sends your team to the World Series, you're having the week of your career.
3
(4)
Cam Newton
Auburn


If you're a Florida Gators fan, watching Cam Newton can't be fun. The Gator-turned-Tiger has made Auburn not only into the No. 1 team in the SEC, but the No. 1 team in the country.
4
(2)
Cody Ross
Giants


Talk about the waiver-wire pickup of the year! The NLCS MVP blasted three homers in six games against the Phillies to advance San Francisco to its first World Series since 2002.
5
(NR)
DeAngelo Hall
Redskins


We can't imagine Jay Cutler is a big DeAngelo Hall fan after Sunday. With four interceptions against Cutler, Hall becomes the highest-ranked NFL player on our list this week. week.
6
(NR)
Brian Wilson
Giants


He uses words like "delicious" to describe big moments. His beard has its own catchphrase. And in seven playoff games, he has given up just one unearned run in nine innings as the closer for the Giants. Why isn't he No. 1, again?
7
(NR)
David Bowens
Browns


Saints fans around the world got well-acquainted with David Bowens on Sunday. With two interception returns for touchdowns (not to mention, one pretty incredible leap into the end zone), Bowens helped the Browns rock New Orleans at home.
8
(NR)
Cain Velasquez
MMA


He outwrestled and dethroned the mammoth Brock Lesnar by TKO to become the new UFC heavyweight champ. Don't think it's legit? Try spending 4 minutes and 12 seconds in a cage with these guys.
9
(NR)
Denny Hamlin
NASCAR


Hamlin told us the Chase wasn't over, then he went out and proved it. The No. 11 car took the checkered flag for the seventh time this season at Martinsville, cutting Hamlin's 41-point Chase deficit to six. Making Jimmie Johnson nervous? Now that's power.
10
(NR)
Jonathan Byrd
PGA


A hole-in-one is pretty impressive in mini golf. But when it happens in real golf -- and on the PGA Tour, mind you -- you get a spot on the Cross-Sport Power Rankings. Jonathan Byrd, welcome to our list.
Last five out: Cristiano Ronaldo (Real Madrid), Darren McFadden (Raiders), Tim Lincecum (Giants), Kenny Britt (Titans), Taylor Martinez (Nebraska)
Newcomers: Juan Uribe (No. 2), DeAngelo Hall (No. 5), Brian Wilson (No. 6)
Notable dropouts: Kevin Kolb (No. 6), John Clay (No. 7), Pierre Garcon (No. 8)
CROSS-SPORT POWER RANKINGS 2010

Cross-Sport Power Rankings compares the best athletes across all professional sports. Check out the rest of our individual sport power rankings.
MORE POWER RANKINGS
Complete MLB postseason schedule »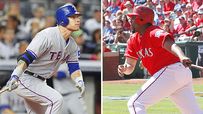 GAME 1: RANGERS-GIANTS, WED., 7:57 ET