Edgar Renteria blasts to No. 1
Updated:
November 8, 2010, 10:19 PM ET
ESPN
A plethora of San Francisco players take over the Cross-Sport Power Rankings this week after putting up some giant World Series performances. The biggest of them all? Veteran Edgar Renteria, whose three-run blast off Cliff Lee was enough to give the Giants their first Commissioner's Trophy since 1954.
Rounding out the top five is the freakishly clutch Tim Lincecum, earned-runs-banisher Matt Cain, rookie pitcher extraordinaire Madison Bumgarner and speedy Oregon sensation LaMichael James.
Are World Series performances more powerful than someone with ridiculous regular-season numbers? See anyone who was placed way too high, unjustly low or perhaps someone we flat-out missed? Don't be shy: Let us know in the comments below!
Our all-star ESPN panel: John Buccigross, Josh Elliott, Robert Flores, DJ Gallo, Jemele Hill, Dana Jacobson, Brian Kenny, Jeff MacGregor, Bram Weinstein and Trey Wingo.
Week: 1 | 2 | 3 | 4 | 5 | 6 | 7 | 8 | 9 | 10 | 11 | 12 | 13 | 14 | 15 | 16 | 17 | 18 | 19 | 20 | 21 | 22 | 23 | 24 | 25 | 26 | 27
2010-11 Power Rankings: Week 28
Rank (LW)
Player
Comment
1
(NR)
Edgar Renteria
Giants


Edgar Renteria does his best 1997 Edgar Renteria impression and comes up with a game-changing hit to help seal the series. Batting .412 and hitting two homers over five games? That'll get you a World Series MVP nod every time.
2
(NR)
Tim Lincecum
Giants


Tim Lincecum was brilliant in Game 5 -- throwing eight innings while striking out 10 and allowing only one run. Outdueling Cliff Lee twice to bring home a World Series title is pretty powerful in our book.
3
(NR)
Matt Cain
Giants


We could do without another "Cain is able" pun, but there's no denying the Giants right-hander had a good week, pitching seven shutout innings against the Rangers to seize a crucial Game 2 victory.
4
(NR)
Madison Bumgarner
Giants


He might be a rookie, but he sure didn't play like one Sunday night. Taking down the Rangers' lineup one by one, the Giants hurler gave up zero runs and struck out six to bring San Fran one game away from World Series glory.
5
(NR)
LaMichael James
Oregon


USC-ya later. The Heisman hopeful put the Trojans in their place, rushing for 239 yards and three TDs to lead the Ducks to first place in the BCS standings.
6
(3)
Cam Newton
Auburn


Does anyone else even need to play offense for the Tigers? The quarterback, who is also currently a top-five college football rusher, has now successfully caught a touchdown as a wide receiver.
7
(NR)
Rajon Rondo
Celtics


Over the past week, Rondo helped squash the Heat hype and light up the stat sheet, collecting an absurd 24 assists, 10 rebounds and 10 points against the Knicks.
8
(NR)
Tim Thomas
Bruins


The 2008-09 Vezina Trophy winner is back to his old form, winning all six of his games in October and allowing only three goals this season. Guess that 36-year-old hip is doing just fine.
9
(NR)
Roy Helu Jr.
Nebraska


Well Helu, Roy Helu Jr.! The Nebraska stud ran circles around Missouri's defense, burning the Tigers for 307 yards and three touchdowns.
10
(NR)
David Garrard
Jaguars


Talk about highs and lows! Just when you think Garrard is the worst QB in the world (33.0 passer rating versus Titans) he goes out and looks like the best (157.8 passer rating at Dallas). Go figure.
Last five out: Kellen Moore (Boise State), Kevin Harvick (NASCAR), Abby Wambach (soccer), Buster Posey (Giants), Joe Thornton (Sharks)
Newcomers: Matt Cain (No. 1), Madison Bumgarner (No. 2), LaMichael James (No. 3)
Notable dropouts: Josh Hamilton (No. 1), Juan Uribe (No. 2), Cody Ross (No. 4)
SPONSORED HEADLINES
ESPN TOP HEADLINES
MOST SENT STORIES ON ESPN.COM
CROSS-SPORT POWER RANKINGS 2010

Cross-Sport Power Rankings compares the best athletes across all professional sports. Check out the rest of our individual sport power rankings.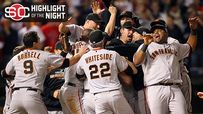 GIANTS 3, RANGERS 1