Zach Randolph scores No. 1 spot
Updated:
May 9, 2011, 10:31 PM ET
ESPN
The month of May brings flowers, sunshine and -- of course -- heated Cross-Sport comparisons. With the NBA and NHL kicking into second-round gear, the stakes are higher and the performances more crucial. But could one hot bat trump all of that? Not quite.
Grizzlies standout Zach Randolph put the power in both power forward and Cross-Sport Power Rankings this past week, sending the Spurs packing and beating out Andre Eithier for the top spot on our list. Did jaw-dropping goal-scorers like David Krejci and Lionel Messi deserve better placement? Should UFC welterweight champion Georges St. Pierre get some love for drawing the largest crowd in MMA history?
Our new panel of ESPN on-air personalities and ESPN.com contributors can handle the criticism, so sound off in the comments section below.
Our all-star panel: John Buccigross, Robert Flores, DJ Gallo, Dana Jacobson, Jim Basquil, Kevin Connors, Will Selva, Jeff MacGregor and Trey Wingo.
Last week's rankings | Archive: Weeks 1-51
2010-11 Power Rankings: Week 52
Rank (LW)
Player
Comment
1
(9)
Zach Randolph
Grizzlies


As Will Selva put it, "With all due respect to B.B. and Elvis, there's a new King in Memphis: Z-Bo." Randolph's dominant Game 6 (31 pts and 11 reb) knocked out the top-seeded Spurs and his equally dominant Game 1 (34 pts and 10 reb) lifted the Grizzlies over the Thunder. Kevin Durant, who had a pretty good view of the performance, called Z-Bo the best power forward in the game.
2
(NR)
Andre Ethier
Dodgers


You can't spell Ethier without an H, an I and a T. The right fielder set an MLB record for the longest April hit streak, and at 28-and-counting, he's closing in on the Dodgers' record.
3
(NR)
Tim Thomas
Bruins


We'd like to introduce you to Tim Thomas, the human wall. After letting two quick goals past him in the first period of Game 2, Thomas stopped 46 straight shot attempts by the Flyers. As Bruins coach Claude Julien put it: "If it wasn't for Timmy, we wouldn't be standing here with a win."
4
(NR)
Joe Johnson
Hawks


We're guessing the city of Atlanta isn't boo-ing Joe Johnson anymore. The Hawks star looked nothing like his 2010-playoff counterpart, putting up huge numbers (34 points, four rebounds, three assists, three steals) and leading his team to victory against the Bulls in Game 1. You can file this one under: ridiculously expensive contract, semi-earned!
5
(NR)
Dwyane Wade
Heat


All the attention was given to LeBron James before the series, but after averaging just 12 points per game against the Celtics this year, Dwyane Wade had just as much to prove. He eclipsed that mark in the first quarter Sunday en route to a dazzling 38-point performance.
6
(NR)
David Krejci
Bruins


The Boston Bruins' goal-scoring machine has been every Flyers fan's worst nightmare, putting up two goals in Game 1 and the OT game-winner in Game 2. But we all know what happened last year...
7
(NR)
Lionel Messi
Barcelona


Another big game, another couple of clutch goals from the world's best player. Messi scored twice in the final 15 minutes of the first leg of the Champions League semifinal. He's now one goal away from a single-season Champions League record and moved into a tie for third on Barca's all-time scoring list. Oh, and he's 23 years old.
8
(NR)
Dwayne Roloson
Lightning


There are higher-profile goalies out there, but 41-year-old Dwayne Roloson is keeping up. He closed out Pittsburgh with a 1-0 shutout and is the foundation behind Tampa Bay's 2-0 series lead over Alex Ovechkin and the Capitals.
9
(NR)
Ben Zobrist
Rays


Zobrist became the fourth player to record at least seven hits and 10 RBIs in a single day since RBIs became an official stat in 1920. He tallied a franchise record eight RBIs in the first game of a doubleheader, then followed with two more in the second game. By the end of the day, he had outscored 18 MLB teams.
10
(NR)
Cam Newton
Panthers


We know, we know. He hasn't actually played a real football game since January. But there's something powerful about being selected as the No. 1 overall pick. Plus, if he can tackle the NFL the way he tackles marshmallows, we're pretty sure he's got a bright future ahead of him. Pass the spoon!
Last five out: Kevin Durant (Thunder), James Jones (Heat), George St. Pierre (MMA), Kyle Busch (NASCAR), Dirk Nowitzki (Mavericks)
CROSS-SPORT POWER RANKINGS 2011

Cross-Sport Power Rankings compares the best athletes across all professional sports. Check out the rest of our individual sport power rankings.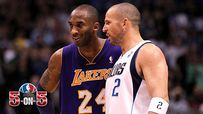 Follow the NBA on ESPN: Twitter / Facebook
LATEST CONTENT
FEATURES