Andy Dalton jumps to No. 1
Updated:
January 11, 2011, 1:24 AM ET
ESPN
New year, new Cross-Sport Power Rankings. Last year, our top-10 list was hand-picked by our all-star ESPN panel. This year, we're throwing YOU into the mix. That's right; every Monday, you will have the opportunity to log on to the ESPN Facebook page and select your own Cross-Sport list. We'll then combine your rankings with those of our ESPN panelists, and voila! -- the result will be recorded below.
But back to business: At No. 1 this week, the fans and the panel selected TCU quarterback Andy Dalton. With a 247-yard, two-touchdown performance Saturday, Dalton helped the Horned Frogs win the Rose Bowl Game presented by Vizio, complete an undefeated season and prove TCU can play with the best of them.
Do you agree with our list this week? Let us know in the comments section below whether we got things totally right or totally wrong.
Our all-star panel: John Buccigross, Josh Elliott, Robert Flores, DJ Gallo, Jemele Hill, Dana Jacobson, Brian Kenny, Jeff MacGregor, Bram Weinstein, Trey Wingo and YOU.
Week: 1 | 2 | 3 | 4 | 5 | 6 | 7 | 8 | 9 | 10 | 11 | 12 | 13 | 14 | 15 | 16 | 17 | 18 | 19 | 20 | 21 | 22 | 23 | 24 | 25 | 26 | 27 | 28 | 29 | 30 | 31 | 32 | 33 | 34 | 35
2010-11 Power Rankings: Week 36
Rank (LW)
Player
Comment
1
(NR)
Andy Dalton
TCU


Little guys everywhere -- rejoice! The TCU Horned Frogs are Rose Bowl champs, thanks to a 247-yard, two-TD performance from star quarterback Dalton. Who's doubting them now?
2
(NR)
Andrew Luck
Stanford


Better luck next time, Virginia Tech. With a four-TD performance by Heisman runner-up Luck, Stanford routed VT and claimed the Discover Orange Bowl victory.
3
(NR)
Dwyane Wade
Heat


We think it's safe to say Wade has pulled his weight this week. The red-hot guard has scored 31 points or more in three of his past four games, helping extend the Heat's win streak to six.
4
(NR)
Tank Carder
TCU


You have to give a hand to TCU linebacker Carder. Had he not batted down Wisconsin's 2-point conversion, the Rose Bowl might have had a different ending. Luckily for the Horned Frogs, Carder was there, and the rest is history.
5
(NR)
Blake Griffin
Clippers


Is there anyone Griffin hasn't posterized this season? Anyone? The electrifying rookie started off the new year where he left off: slamming down an alley-oop.
6
(NR)
Jeanette Pohlen
Stanford


Oh, snap! With a career-high 31 points, Pohlen and the Stanford Cardinal ended the UConn Huskies' historic 90-game win streak.
7
(NR)
Ahmad Black
Florida


Ahmad Black is a name Penn State fans won't be forgetting anytime soon. The Florida safety's 80-yard pick-six sealed the bowl victory for the Gators and ensured Urban Meyer would end his coaching career as a winner.
8
(NR)
Arian Foster
Texans


Did someone forget to tell Foster that most fantasy football championships were played last week? Foster put up a gem of a performance Sunday, rushing for two TDs and almost 200 yards against the Jaguars.
9
(NR)
Eric Fehr
Capitals


The Winter Classic was supposed to be about Alex Ovechkin and Sidney Crosby. Instead, it was all about Fehr. The Capitals' unlikely star put up two goals outside in the rain to take down the Penguins in prime time.
10
(NR)
Charlie Whitehurst
Seahawks


No, he wasn't perfect. But backup QB Whitehurst did what he had to do -- 192 yards, one TD and no picks -- to get the Seahawks past the Rams and into the playoffs. And for that, he edges his way into our top 10.
Last five out: Landry Jones (Oklahoma), Justin Blackmon (Oklahoma State), Thiago Silva (MMA), Steven Stamkos (Lightning), LeBron James (Heat)
Facebook fan results: 1. Andy Dalton, 2. Blake Griffin, 3. Tank Carder, 4. Dwyane Wade, 5. Arian Foster
Make sure to visit the ESPN Facebook page every Monday to cast your vote!
CROSS-SPORT POWER RANKINGS 2010

Cross-Sport Power Rankings compares the best athletes across all professional sports. Check out the rest of our individual sport power rankings.
MORE POWER RANKINGS
FACEBOOK FAN RESULTS

1. Andy Dalton
2. Blake Griffin
3. Tank Carder
4. Dwyane Wade
5. Arian Foster
BOWL GAME COVERAGE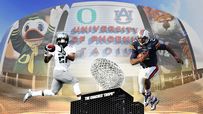 College football Bowl-a-rama! Bowls Home »
BCS TITLE GAME
ROSE BOWL
FIESTA BOWL
ORANGE BOWL
SUGAR BOWL
VIDEO
GAME HOME PAGES
MOST SENT STORIES ON ESPN.COM