Michael Dyer rolls to No. 1
Updated:
January 17, 2011, 11:54 PM ET
ESPN
Who would have thought Michael Dyer -- or anyone, for that matter -- would outshine Cam Newton in the BCS National Championship Game? Anyone? With an impressive 37-yard run that had him rolling over a defender to stay on his feet, Dyer locked up the national title for Auburn and claimed the offensive MVP award. Because of this, he rushes to the top of our panel's rankings this week, past Marshawn Lynch and his earth-shattering run, past James Starks and his game-changing performance, and past Matt Hasselbeck and his four touchdowns.
But ESPN's Facebook faithful didn't exactly see it that way, giving the No. 1 nod to Marshawn Lynch and showing some unexpected love for a defensive lineman -- Auburn's fairly unblockable Nick Fairley.
Do you agree with the panel's decision to put three running backs at the top three spots this week? Did Fairley get the ol' Cross-Sport snub? Sound off below!
Our all-star panel: John Buccigross, Josh Elliott, Robert Flores, DJ Gallo, Jemele Hill, Dana Jacobson, Brian Kenny, Jeff MacGregor, Bram Weinstein, Trey Wingo and YOU.
Week: 1 | 2 | 3 | 4 | 5 | 6 | 7 | 8 | 9 | 10 | 11 | 12 | 13 | 14 | 15 | 16 | 17 | 18 | 19 | 20 | 21 | 22 | 23 | 24 | 25 | 26 | 27 | 28 | 29 | 30 | 31 | 32 | 33 | 34 | 35 | 36
2010-11 Power Rankings: Week 37
Rank (LW)
Player
Comment
1
(NR)
Michael Dyer
Auburn


2010 might have been Cam Newton's year, but Monday was Michael Dyer's night. Dyer refused to be brought to the ground, and his crucial run late in the fourth quarter locked up the BCS national championship for Auburn.
2
(NR)
Marshawn Lynch
Seahawks


What's power? The ability to shake the earth might be up there. In perhaps the greatest run in NFL history, Marshawn Lynch broke eight tackles, scored the game-winning TD, and made the Seahawks' 12th man erupt and cause a seismic shift. Not a bad day at the office.
3
(NR)
James Starks
Packers


If you didn't know who James Starks was before Sunday, you definitely know who he is now. The Packers' playoff hero had the most rushing yards (123) in the postseason by a rookie in franchise history.
4
(NR)
Matt Hasselbeck
Seahawks


He's throwing for four TDs. He's sprinting down the field and blocking for Marshawn Lynch. He's outdueling last season's Super Bowl MVP, Drew Brees. Who is this Matt Hasselbeck? And can we have what he's having?
5
(NR)
Aaron Rodgers
Packers


If you still don't think Aaron Rodgers has stepped out of Brett Favre's shadow, we present to you Sunday's wild-card game. Rodgers put on a show, throwing for 180 yards and three TDs to knock off the Eagles.
6
(NR)
Cameron Newton
Auburn


Move over, Mark Ingram. There's another Heisman-winning, national-title-claiming player in town. While Cam Newton's performance didn't cause fireworks (he threw for 265 yards and two TDs and ran for 64 yards), it was just enough to propel his team to a national championship. And if that's not power, we don't know what is.
7
(NR)
Nick Folk
Jets


With seconds left in the fourth quarter and the Jets down by two, it all came down to a field goal. No pressure. Luckily, Nick Folk came through when it mattered most and connected on a 32-yarder to beat the Colts. You can now exhale, Jets fans.
8
(NR)
LaDainian Tomlinson
Jets


If Rex Ryan can talk the talk, LaDainian Tomlinson can walk the walk. Rushing for 82 yards and two TDs, LT became the NFL's active leader in playoff rushing scores (6) and proved age really is nothing but a number.
9
(NR)
LeBron James
Heat


LeBron is so powerful the Cavs are switching hotels this week to avoid staying under the same roof. Seriously. He posted a season-high 44 points and 13 boards against the Trail Blazers and has the Heat on a red-hot, 13-game road win streak.
10
(NR)
Terrelle Pryor
Ohio State


Despite a cloud of controversy, Terrelle Pryor's performance was as bright as could be. With 221 passing yards and two TDs (not to mention 115 yards on the ground), the Sugar Bowl MVP award was his. Sweet, indeed.
Last five out: Nick Fairley (Auburn), Kemba Walker (UConn), Dwyane Wade (Heat), Jimmer Fredette (BYU), Darrelle Revis (Jets)
Facebook fan results: 1. Marshawn Lynch, 2. Michael Dyer, 3. Cam Newton, 4. Nick Fairley, 5. Aaron Rodgers
Make sure to visit the ESPN Facebook page every Monday to cast your vote!
CROSS-SPORT POWER RANKINGS 2010

Cross-Sport Power Rankings compares the best athletes across all professional sports. Check out the rest of our individual sport power rankings.
FACEBOOK FAN RESULTS

1. Marshawn Lynch
2. Michael Dyer
3. Cam Newton
4. Nick Fairley
5. Aaron Rodgers
Auburn won its second national championship on the game's final drive. BCS Championship »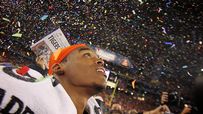 BCS TITLE GAME
VIDEO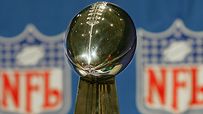 Last year's Super Bowl teams, the Saints and Colts, are done. Who's going to win it all in Super Bowl XLV in Arlington, Texas on Feb. 6?
DIVISIONAL-ROUND COVERAGE
WILD-CARD COVERAGE
Ravens 30, Chiefs 7
Packers 21, Eagles 16
Seahawks 41, Saints 36
Jets 17, Colts 16
MOST SENT STORIES ON ESPN.COM