Jimmer jumps to No. 1 spot
Updated:
March 29, 2011, 1:34 PM ET
ESPN
Thought Jimmer Fredette would take a backseat to Kemba Walker for a second straight week on the Cross-Sport Power Rankings? Fredette about it. With a 34-point performance against Gonzaga in the round of 32, the BYU sensation rises to the top of our rankings and sends the Cougars to the Sweet 16 for the first time in 30 years. Following the Jimmer is Butler's calm, cool and collected forward Matt Howard, inspirational ASU wrestler Anthony Robles, dunk master Derrick Williams and bracket buster Joey Rodriguez.
What do you think of this week's rankings? Let us know in the comments below!
Our all-star panel: John Buccigross, Josh Elliott, Robert Flores, DJ Gallo, Jemele Hill, Dana Jacobson, Brian Kenny, Jeff MacGregor, Bram Weinstein, Trey Wingo and YOU.
Last week's rankings | Archive: Weeks 1-45
2010-11 Power Rankings: Week 47
Rank (LW)
Player
Comment
1
(2)
Jimmer Fredette
BYU


Jimmer!
2
(NR)
Matt Howard
Butler


Howard was directly involved in two of the most exciting finishes of the young NCAA tournament. His buzzer-beating putback dropped Old Dominion, and he finished off Pitt with late -- albeit controversial -- free throws. But the real story here is that Butler's English bulldog mascot won't be permitted to travel to New Orleans for the Sweet 16. Free Blue II!
3
(NR)
Anthony Robles
NCAA wrestling


The Arizona State wrestler, born without a right leg, claimed a national title this weekend in the 125-pound weight class. No jokes here. Simply inspiring.
4
(NR)
Derrick Williams
Arizona


If Arizona is in a close tournament game with the clock winding down, look for Williams. He came through with a game-saving block as time expired against Memphis, and then beat Texas with the 'ol pick-and-roll three-point play. We have more proof, but our five seconds is up.
5
(NR)
Joey Rodriguez
VCU


The 5-foot-10 guard, nicknamed "Boo Boo," has been the spark plug behind VCU's Cinderella run, scoring 37 points and dishing out 23 assists in three games. His biggest admirers? The selection committee.
6
(1)
Kemba Walker
UConn


Yes, there's another potential national player of the year candidate who's known by one name and is dominating the NCAA tournament. Kemba dished out a career-high 12 assists and nearly missed a triple-double in UConn's first win. He followed that up with 33 points and eight boards to down Cincy. Dare we say … Kemba!
7
(NR)
LeBron James
Heat


After dropping 43 points in a win in Atlanta on Friday, James was asked what led to his big game. His response: "Just the road." He's made a habit this season of tuning out the boos and performing well on the road. Keep this in mind.
8
(NR)
Kyle Busch
NASCAR


Speaking of hostility, Busch was greeted at the Bristol Motor Speedway by a hearty round of boos. No matter -- he won for the fourth and fifth consecutive times there this weekend. One guy goes to South Beach and now everybody wants to be a villain.
9
(NR)
Courtney Vandersloot
Gonzaga


Vandersloot dropped a career-high 34 points in Gonzaga's tournament-opening win. Then two days later scored 29 points while handing out 17 assists to lead the Zags to their second straight Sweet 16 appearance. Not to mention she also became the first women's college basketball player to amass 2,000 points and 1,000 assists in a career. Maya who?
10
(NR)
Jon Jones
MMA


"Bones" became the youngest UFC fighter to win a divisional championship, dominating Mauricio Rua to take the light heavyweight belt. Pretty epic, but perhaps his second-best effort of the night. Hours before the fight, Jones tracked down and pinned a purse thief. On foot. Near a waterfall. #EPIC.
Last five out: Charlie Davies (MLS), Darius Johnson-Odom (Marquette), Markieff Morris (Kansas), Nolan Smith (Duke), Tyler Hansbrough (Pacers)
SPONSORED HEADLINES
ESPN TOP HEADLINES
MOST SENT STORIES ON ESPN.COM
CROSS-SPORT POWER RANKINGS 2010

Cross-Sport Power Rankings compares the best athletes across all professional sports. Check out the rest of our individual sport power rankings.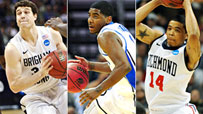 We've seen 68 whittled down to 16. Which teams have the best path to Houston?
Tournament home » Bracket » Challenge »
COLUMNS AND FEATURES
HOW WE GOT HERE
SPECIAL SECTIONS
VIDEO