Kemba Walker back at No. 1
Updated:
April 5, 2011, 1:00 AM ET
ESPN
Another week, another dose of cross-sport domination from the college kids. With their super elite (and sweet) March Madness performances, Kemba Walker, Jamie Skeen, Shelvin Mack, Brittney Griner and Brandon Knight all shot up to the top of our rankings this week. But did the panel get the order right? Were Walker's numbers really that great? And did Kobe Bryant deserve a higher ranking with his 42-point performance in triple-OT against the Suns?
Let us know your thoughts in the comments below!
Our all-star panel: John Buccigross, Robert Flores, DJ Gallo, Jemele Hill, Dana Jacobson, Brian Kenny, Jeff MacGregor, Bram Weinstein, and Trey Wingo.
Last week's rankings | Archive: Weeks 1-46
2010-11 Power Rankings: Week 48
Rank (LW)
Player
Comment
1
(6)
Kemba Walker
Connecticut


Walker has dominated the Big East and NCAA tournaments despite having only 21 total minutes of rest during UConn's remarkable nine-game tear. (Plus he played five extra minutes of OT in the conference semis.) Imagine what he'll do in Houston after six full days off.
2
(NR)
Jamie Skeen
VCU


Although Joey Rodriguez has been singled out by the media as VCU's leader and coach Shaka Smart has a cooler name, it was Skeen who put up 26 points and 10 boards to take down Kansas in the Elite Eight. The Cinderella Rams are in the Final Four, and our brackets are ruined.
3
(NR)
Shelvin Mack
Butler


Mack went to the sideline in the second half against Florida with blood running from his forehead, unable to remember getting hit. No matter -- he came back to total 27 points and is a large reason nobody has been able to KO the Bulldogs en route to another Final Four.
4
(NR)
Brittney Griner
Baylor


Griner is having an unbelievable tournament, averaging 29 points and six blocks, including 40 and six with 10 rebounds in Baylor's Sweet 16 win over Green Bay. According to ESPN Sport Science, she's 6-foot-8, dunks with 300 pounds of force and has bigger hands than LeBron James. The scary thing is, she's only a sophomore.
5
(NR)
Brandon Knight
Kentucky


After a game-winning shot against Ohio State in the Sweet 16, the freshman's 22-point, eight-rebound performance against UNC did something five NBA first-round picks couldn't do last year: put Kentucky in the Final Four.
6
(NR)
Kobe Bryant
Lakers


Kobe started this week strong, with 42 points, 12 boards and nine assists in a triple-overtime win over the Suns. He followed that up with only 37 points and six assists, and really slowed down to finish the week with a meager 30 points and five assists against the Hornets. The Lakers have managed to win eight games in a row despite his steadily declining performance.
7
(NR)
Derrick Rose
Bulls


Rose's 30 points and career-high 17 assists against the Bucks made him the first player in NBA history to score 30 and dish 17 in a game in which his team scored fewer than 95 points. He's appeared so many times in our Cross-Sport Power Rankings that we've exhausted all our Derrick Rose jokes.
8
(NR)
Blake Griffin
Clippers


Griffin registered the first triple-double of his career this past week, going for 33 points, 17 rebounds and a career-high 10 assists in a double-OT win over the Wizards on Wednesday. The rookie of the year award looks like a done deal.
9
(9)
Courtney Vandersloot
Gonzaga


The undersized guard claims to be uncomfortable in the spotlight, but her play says quite the opposite. Vandersloot carried the 11-seed Zags en route to their first trip to the Elite Eight in school history.
10
(NR)
Henrik Lundqvist
Rangers


The Rangers goalie earned his league-leading 11th shutout Saturday (his 10th came this week too). He might have ranked higher on this list, but he had some help -- his teammates actually blocked more shots (29) than he saved (26).
Last five out: Skylar Diggins (Notre Dame), Dwyane Wade (Heat), Juan Agudelo (US soccer), Derrick Williams (Arizona), Daniel Sedin (Canucks)
CROSS-SPORT POWER RANKINGS 2011

Cross-Sport Power Rankings compares the best athletes across all professional sports. Check out the rest of our individual sport power rankings.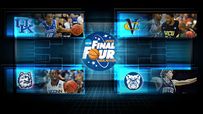 The road has led us to Houston. Who takes home the prized hardware?
Tournament home » Bracket » Challenge »
COLUMNS AND FEATURES
HOW WE GOT HERE
SPECIAL SECTIONS
VIDEO