Kemba remains at No. 1
Updated:
April 12, 2011, 12:22 AM ET
ESPN
It wasn't exactly the NCAA title game we were expecting (18 percent shooting from Butler?!), but it did prove one thing: Kemba Walker refuses to lose in tournament play. The Connecticut star put up 16 points in the Huskies' 53-41 win against Butler to claim the program's third national championship. Because of his impressive tournament run, Walker lands at No. 1 on our list this week, followed by cricket World Cup champion Sachin Tendulkar.
Did the panel get this week's list totally right or totally wrong? Let us know in the comment section.
Our all-star panel: John Buccigross, Robert Flores, DJ Gallo, Jemele Hill, Dana Jacobson, Brian Kenny, Jeff MacGregor, Bram Weinstein and Trey Wingo.
Last week's rankings | Archive: Weeks 1-47
2010-11 Power Rankings: Week 49
Rank (LW)
Player
Comment
1
(1)
Kemba Walker
Connecticut


Teach me how to Jimmer? More like teach me how to Kemba! (Especially in tournament play.) The household name finished his illustrious season by cutting down the nets in Houston. Most Outstanding Player indeed.
2
(NR)
Sachin Tendulkar
Cricket


He's been a national hero, a world-class player, a bearer of otherworldly expectations and arguably the most famous man in India. Now, finally, he's a World Cup champion, thanks to India's win over Sri Lanka in the final.
3
(NR)
Skylar Diggins
Notre Dame


A UConn three-peat? Not on Diggins' watch. The sophomore guard upstaged Maya Moore and the Huskies to send the Fighting Irish to their first title game since 2001. She hit clutch shots down the stretch, posted a season-high 28 points and even exchanged postgame tweets with Lil' Wayne. Big. Timer.
4
(NR)
Jeremy Lamb
Connecticut


Kemba Walker might be the star of UConn's show, but Lamb isn't too bad himself. From finger rolls to smooth shooting, Lamb has proved he's just as highlight-reel-worthy as Mr. Walker.
5
(NR)
Tyra White
Texas A&M


Danielle Adams may be Texas A&M's All-American, but it's White who still has her team dancin'. After knocking off No. 1-seeded Baylor for a trip to the Final Four, White helped the Aggies slay yet another top seed in Stanford. With 3.3 seconds left, White hit the go-ahead basket, giving her a team-high 18 points and leading the Aggies to their first NCAA title game.
6
(NR)
Carmelo Anthony
Knicks


It's rare that a player can help two teams clinch playoff berths in one day. But his presence in N.Y. (35-plus points in three straight games) and his absence in Denver (15-4 since trading him away) might have done just that. The Knicks will play postseason basketball for the first time since the 2003-04 season.
7
(NR)
Carlos Quentin
White Sox


After Opening Day, Quentin was on pace to drive in 810 runs this season. He's slowed down a little since then, but the White Sox slugger's seven RBIs and .545 average are still the talk of this very young 2011 season.
8
(NR)
Nelson Cruz
Rangers


Cruz opened the MLB season with a home run in each of the Rangers' first four games. Not only did he become the third major leaguer to ever do that, joining Willie Mays and Mark McGwire, but he sent Red Sox fans home in panic mode.
9
(NR)
Corey Perry
Anaheim Ducks


No, the NHL goal-scoring leader is not named Crosby or Ovechkin. Or Stamkos, for that matter. Perry's currently riding a nine-game points streak, and closed out the week with a three-goal lead.
10
(NR)
Wayne Rooney
Manchester United


This placement is meant simply to recognize Rooney's first hat trick since January 2010 and his 100th career EPL goal, and not to endorse his, ahem, vocabulary. Regardless, we bet he'd think making the list is pretty bleeping great.
Last five out: Alex Oriakhi (UConn), Maya Moore (UConn), Felix Hernandez (Mariners), Novak Djokovic (Tennis), LeBron James (Heat)
SPONSORED HEADLINES
ESPN TOP HEADLINES
MOST SENT STORIES ON ESPN.COM
CROSS-SPORT POWER RANKINGS 2011

Cross-Sport Power Rankings compares the best athletes across all professional sports. Check out the rest of our individual sport power rankings.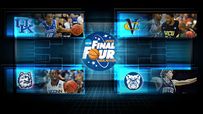 The road has led us to Houston, and UConn took home the prized hardware.
Tournament home » Bracket » Challenge »
NATIONAL CHAMPIONSHIP GAME
COLUMNS AND FEATURES
VIDEO
WOMEN'S FINAL FOUR
VIDEO