Commentary
Second week may be brutal for Bonds
Testimony offered in trial may be as damaging as it is embarrassing
SAN FRANCISCO -- A change in his hat size, eyewitness testimony of an injection, a positive drug test and sexual dysfunction will be the feature attractions as federal prosecutors continue on Monday to present their evidence that Barry Bonds lied to a grand jury about his use of steroids.
The week's witnesses will add to a surprisingly powerful case against Bonds that has already presented the jury with a nasty picture of Bonds himself, has shown meticulous preparation by the prosecutors and has included a continuing courtroom presence of Bonds trainer Greg Anderson even though he has steadfastly refused to testify and sits in a jail in Dublin, Calif.
[+] Enlarge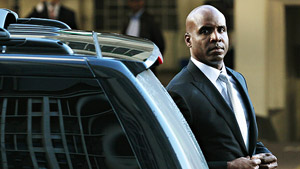 Justin Sullivan/Getty ImagesFormer Major League Baseball player Barry Bonds arrives for trial last week.
Although prosecutors Matthew Parrella and Jeff Nedrow can change their witness lineup from day to day, they likely will present at least six witnesses this week. The first is likely to be Mike Murphy, a San Francisco Giants clubhouse manager who will describe a change in the size of Bonds' head that led to an order for a larger cap. Growth in head size is a known side effect of steroid use, according to a government expert who testified last week.
In direct contradiction to Bonds' sworn testimony to the grand jury in December 2003, his former personal shopper, Kathy Hoskins, will tell the jury that she saw Anderson inject Bonds in his navel. She's the sister of Bonds' former business manager and childhood friend Steve Hoskins, who testified last week.
Although the Bonds legal team will score a few points this week in its cross examination of Kathy Hoskins, suggesting that she is avenging the loss of her job, her testimony is one of the centerpieces of the government's case and offers dramatic support for one of the four charges of false testimony Bonds faces.
Two federal agents are also in the week's schedule. They'll tell the jury that they were part of the chain of custody of a urine sample that agents seized in a raid on a laboratory that was processing samples during MLB's steroid testing survey in 2003. Although an agreement between MLB owners and the players' association provided that the testing was supposed to be anonymous, U.S. District Judge Susan Illston has already ruled that the Bonds test seized in 2004 may be used in the trial.
A re-test of Bonds' sample done at the UCLA Olympics testing lab at the request of the government showed evidence of two steroid drugs and a masking agent.
But the most dramatic testimony of the week will come from Kimberly Bell, a former Bonds girlfriend who will describe Bonds' own discussion of his steroid use and what she saw the drugs do to his sexual function and to the size of his testicles. Whether it's Bonds lead lawyer Allen Ruby or Cristina Arguedas who cross-examines Bell, it will be one of the more entertaining and dramatic chapters of an investigation and prosecution that began nine years ago. The Bonds legal team has already insisted that the only possible accurate measurement of any testicular atrophy must come from an instrument known as an "orchidometer," an assertion that had some jurors rolling their eyes and others suppressing giggles.
A former Giants trainer will tell the jury Bonds conferred with him before his grand jury appearance. Stan Conte, no relation to BALCO founder Victor Conte, will tell the jury, according to prosecutor Parrella's opening statement, that they discussed two separate and distinct things -- what Bonds knew about BALCO and Anderson and their selling of steroids, and what he would actually say to the grand jury.
The seven-lawyer Bonds legal team, led by the formidable Ruby, will do what it can to reduce the impact of these witnesses, but the multiple mentions of steroids, side effects and injections will add to the impressive showing the prosecutors and lead agent Jeff Novitzky made last week.
Here is the nasty picture of Bonds that the jury of eight women, many of them in their 20s and 30s, and four older men saw in the trial's first week: two girlfriends, two marriages to two other women, two Bentleys, three lockers in the Giants' clubhouse and three personal trainers.
It's hard to imagine that the womanizing and the excess endeared Bonds to the jury, but the details are even worse. Steve Hoskins told the jury that one of the issues that led to the end of their business partnership was a $400,000 autograph contract. Bonds erupted in anger, Hoskins testified, when he learned that Hoskins agreed to a price of $100 per autographed baseball.
"He thought the price was too low and was not happy," Hoskins told the jury. Although one juror has purchased sports memorabilia, it may be difficult for others to understand that price of $100 for a Bonds autograph is too low.
Hoskins also told the jury that his management responsibilities included scheduling the spring training arrivals and departures of girlfriend Bell and a second girlfriend, Piret Aava, an Estonian model who lives in New York.
In addition to painting a derogatory portrait of Bonds for the jury, the prosecutors demonstrated remarkably thorough preparation in the trial's first week. Nedrow showed impressive mastery of scientific knowledge of steroids in his questioning of Larry Bowers, the top scientist at the U.S. Anti-Doping Agency.
After defense attorney Ruby cross-examined Bowers with a medical text and a peer-reviewed article by another steroids expert, Nedrow came back with his own excerpts and explanation from the same text and the same article. He had anticipated Ruby's questions and was ready with responses that undid any damage Ruby did to the expert's testimony. For Nedrow, who has endured three attacks on his courtroom presentation and syntax from Judge Illston, it was nothing less than a walk-off home run.
Not all of the prosecutors' preparation was successful. They spent hours in three pre-trial sessions with Steve Hoskins going over his testimony, but Ruby caught him in several glaring inconsistencies as Hoskins struggled to tell his story, frequently forgetting dates and jumbling the chronology of events.
Faced with Anderson's continuing refusal to testify against Bonds, the prosecutors managed to bring Anderson into the courtroom even as he sat in a federal penitentiary.
They used his plea agreement effectively when they read portions to the jury, including Anderson's confessions that "I knowingly distributed steroids and other performance-enhancing drugs to athletes."
Steve Hoskins also brought Anderson into the courtroom when he described Anderson and Bonds coming out of a master bedroom in a spring training residence with Anderson holding a syringe in his hand. Hoskins also described a conversation at the batting cage in what was then known as Pac Bell Park in which Anderson said he was worried about infections and would not do any more injections for Bonds. Irritated with Anderson, Bonds replied: "Then I'll do them myself."
In a tape that Hoskins made in May 2003 and played for the jury last week, Anderson's voice is heard clearly describing how he moved the injections around on Bonds' body to avoid infection and bragging that the drug he was using was undetectable.
It cannot be easy for Bonds sitting at a table in the courtroom, resplendent in dark, tailored suits, as he watches his life and his career described only in terms of side effects, injections and positive drug tests. He may own some of the greatest records in sports, but no one mentions them in the courtroom. A parade of witnesses and dozens of documents, drug vials, syringes and other exhibits are telling a different story.
Lester Munson, a Chicago lawyer and journalist who reports on investigative and legal issues in the sports industry, is a senior writer for ESPN.com.
Legal Analyst
Senior Writer and Legal Analyst, ESPN.com
13 years as investigative reporter at Sports Illustrated
Adjunct Instructor, Northwestern's Medill School of Journalism
BARRY BONDS TRIAL

Barry Bonds is on trial for perjury and obstruction of justice, charged with lying when he told a federal grand jury that he did not knowingly use performance-enhancing drugs.
News
•
Feds deciding whether to try Bonds again
•
Barry Bonds found guilty of obstruction
•
Bonds jury enters fourth day
•
Jury deliberates for third day
•
What the jury wasn't told
•
Prosecutors, defense offer closing arguments
•
Charge dropped; Bonds' defense rests
•
Judge rules jury can't hear audio tape
•
Ex-aide says she saw trainer inject Bonds
•
MLB keeps its distance from trial
•
Velarde says he got HGH from Bonds' trainer
•
Conte: Bonds saw team trainers as 'spies'
•
Bonds' ex-mistress takes the stand
•
Bonds' estranged friend testifies
•
Witness: Trainer seen with syringe
•
Defense: Bonds unaware he used steroids
•
At long last, the Bonds trial is set to start
•
Bonds' trainer a key, but quiet, figure
•
Five factors that could determine the outcome
•
Barry Bonds perjury trial cast of characters
•
Troy Ellerman discusses BALCO leaks
•
Judge bars Bonds voicemails from evidence
•
Judge grants access to juror info in case
•
Bonds pleads not guilty again to charges
•
Judge unseals Bonds testimony
|
Read it (pdf)
Analysis
•
The game is shamed by the Bonds verdict
•
Barry Bonds trial reveals ease of PEDs
•
In the end, Barry Bonds hurt himself
•
Courtroom bubble shields Bonds jury
•
Saving best for last in Barry Bonds trial
•
Last, best hope in convicting Bonds
•
Two surprises that could affect trial
•
Defense putting them through the motions
•
Prosecution swings and misses on Day 6
•
Former mistress Kimberly Bell holds up
•
Second week may be brutal for Bonds
•
Handicapping the Bonds witnesses
•
Munson: Questions to jurors hint at strategies
•
Bonds' personality will save him in trial
ESPN Video
•
Roger Cossack on Bonds verdict
•
Bonds attorney speaks about verdict
•
Why is Anderson protecting Bonds?
•
How the opening statements went
•
Barry Bonds perjury trial begins
•
Barry Bonds pleads not guilty
•
OTL: Attorney breaks silence
•
2003 Greg Anderson recording
•
Judge allows audio tape
The indictment
•
United States v. Barry Lamar Bonds
The steroids era
•
An ESPN compilation of MLB's dark era
Background
•
The Dope On Steroids
MOST SENT STORIES ON ESPN.COM