Commentary
Surprise, surprise
Two developments Tuesday in Bonds trial could have major impact on trial's outcome
SAN FRANCISCO -- Federal prosecutors and the Barry Bonds legal team have spent countless hours preparing for the perjury trial that has now completed its 10th day. One of the principal goals of their endless preparation was to eliminate the chance of a surprise during the trial.
On Tuesday, two major surprises occurred -- a court ruling that barred a tape-recorded conversation that would have been blockbuster evidence for prosecutors, and a statement from Bonds' lead lawyer that Bonds may testify. Here's a look at the surprises and the circumstances that produced them: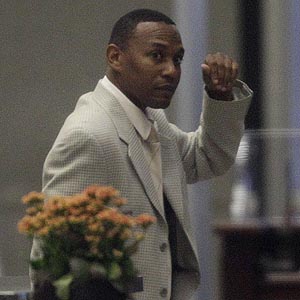 AP Photo/Jeff ChiuThe testimony of Barry Bonds' childhood friend and estranged business partner Steve Hoskins has been a key part of the perjury trial.
Judge bars secret tape recording: Dr. Arthur Ting, Bonds' personal orthopedic surgeon, ambushed prosecutors Jeff Nedrow and Matthew Parrella last week when he denied that he had discussed Bonds' use of steroids with Steve Hoskins, Bonds' former business manager and a key government witness.
It was a serious blow to the prosecution. Hoskins earlier testified that he had discussed Bonds' use of steroids with Ting on numerous occasions and had asked Ting for help in persuading Bonds to stop relying on the drugs. Surprised and flummoxed by Ting's testimony, prosecutor Nedrow failed to use the legal techniques that would have allowed him to attack Ting as an adverse witness and confront him with his own ethics violations and previous versions of his testimony.
If he had asked for a declaration that Ting was a hostile, adverse witness (he was), he could have cross-examined him on findings that Ting had given unauthorized drugs to athletes and been found guilty of other "unprofessional conduct." And he could have questioned him on the eight surgeries he did for Bonds and the fees he collected, showing Ting's bias in favor of his patient and his profit center.
Hoskins, after Ting attacked him in court, managed to locate a tape recording Hoskins made of a Ting-Hoskins conversation. The pair discussed steroids and the BALCO investigation with several references to Bonds. If the jurors listened to the tape, they would hear Ting's own voice contradicting what Ting had told them from the witness stand only a few days earlier. It would have allowed the prosecutors to recover from the serious damage Ting had done to their case.
But U.S. District Judge Susan Illston refused to allow the prosecutors to play the tape. Based on the government transcript of the recording, the tape clearly showed contradictions to Ting's testimony in court, inconsistent statements that are routinely used as evidence in any trial. Despite its importance in evaluating the veracity of Ting, the judge was clearly annoyed that the tape would require hours of court time.
"It would complicate the case," she said from the bench as she announced her ruling. "We would need time to sort out its authenticity, and we would need to conduct a hearing on it."
Even though the judge acknowledged that the tape had some "probative" value, she said its value was "low." It was clear from her statements and her demeanor that she was annoyed by the late discovery of the tape and its effect on her schedule.
Follow the trial

ESPN.com's Mark Fainaru-Wada will tweet live from the courtroom during the Barry Bonds sentencing. Follow along with our up-to-the-minute Twitter coverage.
She also knew, as a federal judge who enjoys lifetime tenure in her job, that the government could not appeal her ruling and would be forced to accept it.
Judge Illston, in questions to both sets of lawyers later in the day, made it clear that she would like to finish the case with final arguments to the jury on Thursday. She has a vacation scheduled for April 25.
Faced with a choice between listening to two witnesses and a 15-minute tape recording that would give jurors an accurate picture of the credibility of an important witness or maintaining her schedule, Judge Illston decided that she would maintain her schedule.
Will Bonds testify? If there was a certainty at the outset of the trial, it was that Bonds would not testify to the jury in his own defense. A combination of his toxic personality and the evidence against him led to only one possible conclusion: There was no chance that there would be any testimony from Bonds.
When defense attorney Allen Ruby mentioned the possibility in court on Tuesday afternoon, heads snapped in incredulity. Prosecutors Nedrow and Parrella looked at each other in disbelief, and the normally impassive Jeff Novitzky, the federal agent who led the investigation, looked up and shook his head from side to side.
Was Ruby bluffing? Was it just a head fake to throw off the prosecutors? The answers to these questions are "yes" and "yes."
Clearly anticipating a favorable jury verdict, the Bonds legal team has been euphoric since the surprise testimony from Ting. It would violate all of the canons of conventional courthouse wisdom if the lawyers permitted Bonds to testify in a trial that they had already won.
On top of the lead that the defense enjoys, there is Bonds' personality. He is abrasive under the best of circumstances. How would he react to cross-examination about two wives, at least two girlfriends, two Bentleys, three trainers, three lockers, and the other extravagances of the life of the millionaire ballplayer?
But Ruby's mention of the possibility may have been a warning. Would Bonds insist to his lawyers that he be permitted to testify in an attempt to recapture his legacy and remove the taint of steroids? Would the lawyers submit to Bonds' insistence even when they knew it was not a good idea?
The government's best chance to obtain a conviction against Bonds is in Count 2 of the five-count indictment. He told the grand jury that personal trainer Greg Anderson had never used a syringe to inject him with anything. Bonds swore that only Ting had ever injected him with anything.
But Kathy Hoskins, sister of Steve Hoskins and former personal shopper for Bonds, told the jury that she saw Anderson inject Bonds in his navel using a small syringe. She was a powerful witness for the government and left Bonds' mother, Pat, in tears as she left the courtroom.
Would Bonds as a witness have some answer to the Kathy Hoskins testimony? Maybe. What could he say? He could claim it was a vitamin B-12 injection. It's a favorite claim of steroid users. But, if he testifies about anything, he opens himself to cross-examination about everything.
It would be yet another surprise, even bigger than the two surprises on Tuesday, if Bonds left his seat in the courtroom where he is surrounded by seven lawyers and sat alone in the witness chair and tried to tell his story.
Lester Munson, a Chicago lawyer and journalist who reports on investigative and legal issues in the sports industry, is a senior writer for ESPN.com.
Legal Analyst
Senior Writer and Legal Analyst, ESPN.com
13 years as investigative reporter at Sports Illustrated
Adjunct Instructor, Northwestern's Medill School of Journalism
BARRY BONDS TRIAL

Barry Bonds is on trial for perjury and obstruction of justice, charged with lying when he told a federal grand jury that he did not knowingly use performance-enhancing drugs.
News
•
Feds deciding whether to try Bonds again
•
Barry Bonds found guilty of obstruction
•
Bonds jury enters fourth day
•
Jury deliberates for third day
•
What the jury wasn't told
•
Prosecutors, defense offer closing arguments
•
Charge dropped; Bonds' defense rests
•
Judge rules jury can't hear audio tape
•
Ex-aide says she saw trainer inject Bonds
•
MLB keeps its distance from trial
•
Velarde says he got HGH from Bonds' trainer
•
Conte: Bonds saw team trainers as 'spies'
•
Bonds' ex-mistress takes the stand
•
Bonds' estranged friend testifies
•
Witness: Trainer seen with syringe
•
Defense: Bonds unaware he used steroids
•
At long last, the Bonds trial is set to start
•
Bonds' trainer a key, but quiet, figure
•
Five factors that could determine the outcome
•
Barry Bonds perjury trial cast of characters
•
Troy Ellerman discusses BALCO leaks
•
Judge bars Bonds voicemails from evidence
•
Judge grants access to juror info in case
•
Bonds pleads not guilty again to charges
•
Judge unseals Bonds testimony
|
Read it (pdf)
Analysis
•
The game is shamed by the Bonds verdict
•
Barry Bonds trial reveals ease of PEDs
•
In the end, Barry Bonds hurt himself
•
Courtroom bubble shields Bonds jury
•
Saving best for last in Barry Bonds trial
•
Last, best hope in convicting Bonds
•
Two surprises that could affect trial
•
Defense putting them through the motions
•
Prosecution swings and misses on Day 6
•
Former mistress Kimberly Bell holds up
•
Second week may be brutal for Bonds
•
Handicapping the Bonds witnesses
•
Munson: Questions to jurors hint at strategies
•
Bonds' personality will save him in trial
ESPN Video
•
Roger Cossack on Bonds verdict
•
Bonds attorney speaks about verdict
•
Why is Anderson protecting Bonds?
•
How the opening statements went
•
Barry Bonds perjury trial begins
•
Barry Bonds pleads not guilty
•
OTL: Attorney breaks silence
•
2003 Greg Anderson recording
•
Judge allows audio tape
The indictment
•
United States v. Barry Lamar Bonds
The steroids era
•
An ESPN compilation of MLB's dark era
Background
•
The Dope On Steroids
MOST SENT STORIES ON ESPN.COM