Commentary
In the end, Barry Bonds hurt himself
Defense team tried hard, but jury's decision validates government investigation
It wasn't the testimony from a former girlfriend about sexual dysfunction. It wasn't the allegations of steroid use from his former business manager. And it wasn't the eyewitness account from a former personal shopper about an HGH injection.
No, it was Barry Bonds himself who made the damaging statements that resulted in his conviction Wednesday for obstruction of justice.
In four hours of testimony before a grand jury in San Francisco in December 2003, Bonds rarely offered a direct answer to a direct question. When prosecutors tried to interrogate him about BALCO and steroid distribution, he tried to avoid any conclusive answers. He rambled into discussions of his father's terminal illness. He offered his ideas on the obligations of friendship. He explained that he was reluctant to talk baseball and would rather talk fishing. And he offered bizarre, often incoherent, theories on his life as a "celebrity child."
[+] Enlarge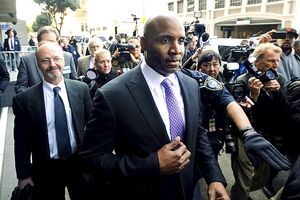 AP Photo/Noah BergerFormer baseball player Barry Bonds leaves federal court Wednesday in San Francisco after being found guilty of one count of obstruction of justice.
Many observers noted that the prosecutors' questions were frequently awkward and clumsy. They were. But the jury that reached a decision Wednesday noticed something else: That Bonds was evasive and misleading in his answers, which is exactly what Count 4 in the indictment had accused him of.
Once jurors realized that, their work was done.
The unanimous verdict that Bonds was guilty of obstruction of justice is a major triumph for federal agent Jeff Novitzky and prosecutors Jeff Nedrow and Matthew Parrella. It is also a bit of an upset. The members of the federal team started the trial with two strikes against them. Greg Anderson, Bonds' personal trainer, refused to testify for the government. If he had testified, its case against Bonds likely would have been overwhelming.
But his refusal to testify and his willingness to go to jail to help Bonds left Novitzky and the prosecutors with major obstacles. Without Anderson to identify the positive drug tests, the drug calendars, the syringes and the vials of steroids that the Novitzky-led agents had seized in their lightning raid on Anderson's house, a powerful case for the prosecutors became a difficult, almost impossible case.
The federal prosecutors were forced to rely on the testimony of two dubious witnesses, Kimberly Bell, the mistress whom Bonds dumped after a nine-year romance, and Steve Hoskins, the business manager whom Bonds fired after suspecting Hoskins of theft and fraud.
But prosecutors Nedrow and Parrella did what they could with what they had. They were up against a formidable Bonds legal team, seven lawyers led by Allen Ruby and Cristina Arguedas, two of the finest trial lawyers in California. The defense lawyers demonstrated prodigious preparation for the trial, obtaining pretrial rulings from U.S. District Judge Susan Illston that did heavy damage to the prosecution.
Arguedas was so confident of victory during the trial that she once suggested that the government would have dismissed the case if prosecutors had followed rules governing disclosure of witnesses and evidence before trial. "If we knew before the trial what we know now [about Bell's two conflicting diaries], they would have dismissed this case," she shouted indignantly to Judge Illston.
In her final argument to the jury, Arguedas pointed to the prosecutors, accused them of misconduct, and asked, "Why are we even here?"
I've been around lawyers and judges for more than 30 years, and I have never before seen that level of scorn and contempt for agents and prosecutors who were doing what they could to enforce the nation's laws.
When the trial ended on Wednesday, however, the reasons for the prosecution were apparent. In their report to the judge, the jurors made it very clear: Bonds was guilty of a serious felony. The defense team was not victorious on even one of the four counts of the indictment. In a case that many observers expected Bonds to win, he and his lawyers went 0-for-4. There were jurors who wanted to convict Bonds on all four counts, but the jurors were unanimous only on the obstruction of justice count.
The conviction came more than seven years after Bonds appeared before the grand jury, and it appears to mark the end of the BALCO investigation, the most important probe into the use of performance-enhancing drugs in the history of sports.
In her final argument to the jury, Arguedas told the jurors that the federal effort was not "worth the time and the money they have expended." The jurors clearly did not agree with that assertion.
A close look at the history of the Bonds prosecution shows that the enormous efforts by the Bonds legal team added years to the process. The lawyers filed hundreds of pages of papers known as "motions in limine." These motions demanded that Judge Illston issue her rulings on trial evidence in advance of the trial. The Bonds lawyers wanted evidence suppressed even before it was presented.
In an ordinary case, there may be one or two motions in limine. The Bonds lawyers filed at least 12, each of them meticulously briefed and argued, and each of them causing trial delays.
When Judge Illston agreed with the lawyers and eliminated BALCO business records, drug calendars and drug tests from the trial, the prosecutors had no choice but to appeal to the notoriously slow U.S. Court of Appeals for the 9th Circuit. It was yet another delay.
Even after years of litigation and the preparation of thousands of pages of legal documents, there is a significant point to be derived from the prosecution's victory.
Any citizen who is caught up in a federal investigation is obligated to tell the truth when federal agents show up to ask questions. It is a fundamental duty of citizenship, and it is the foundation of any federal investigation. A failure to tell the truth is an attack on the federal justice system and should be prosecuted. Most agents and most prosecutors view a failure to tell the truth as something that is almost personal.
If agents and prosecutors looked the other way when Bonds or any other witness offered evasive and misleading testimony, it would damage the entire justice system. The jury's verdict upholds the integrity of that system, and it is worth the time, money and effort that Novitzky, Nedrow and Parrella invested.
Lester Munson, a Chicago lawyer and journalist who reports on investigative and legal issues in the sports industry, is a senior writer for ESPN.com.
Legal Analyst
Senior Writer and Legal Analyst, ESPN.com
13 years as investigative reporter at Sports Illustrated
Adjunct Instructor, Northwestern's Medill School of Journalism
BARRY BONDS TRIAL

Barry Bonds is on trial for perjury and obstruction of justice, charged with lying when he told a federal grand jury that he did not knowingly use performance-enhancing drugs.
News
•
Feds deciding whether to try Bonds again
•
Barry Bonds found guilty of obstruction
•
Bonds jury enters fourth day
•
Jury deliberates for third day
•
What the jury wasn't told
•
Prosecutors, defense offer closing arguments
•
Charge dropped; Bonds' defense rests
•
Judge rules jury can't hear audio tape
•
Ex-aide says she saw trainer inject Bonds
•
MLB keeps its distance from trial
•
Velarde says he got HGH from Bonds' trainer
•
Conte: Bonds saw team trainers as 'spies'
•
Bonds' ex-mistress takes the stand
•
Bonds' estranged friend testifies
•
Witness: Trainer seen with syringe
•
Defense: Bonds unaware he used steroids
•
At long last, the Bonds trial is set to start
•
Bonds' trainer a key, but quiet, figure
•
Five factors that could determine the outcome
•
Barry Bonds perjury trial cast of characters
•
Troy Ellerman discusses BALCO leaks
•
Judge bars Bonds voicemails from evidence
•
Judge grants access to juror info in case
•
Bonds pleads not guilty again to charges
•
Judge unseals Bonds testimony
|
Read it (pdf)
Analysis
•
The game is shamed by the Bonds verdict
•
Barry Bonds trial reveals ease of PEDs
•
In the end, Barry Bonds hurt himself
•
Courtroom bubble shields Bonds jury
•
Saving best for last in Barry Bonds trial
•
Last, best hope in convicting Bonds
•
Two surprises that could affect trial
•
Defense putting them through the motions
•
Prosecution swings and misses on Day 6
•
Former mistress Kimberly Bell holds up
•
Second week may be brutal for Bonds
•
Handicapping the Bonds witnesses
•
Munson: Questions to jurors hint at strategies
•
Bonds' personality will save him in trial
ESPN Video
•
Roger Cossack on Bonds verdict
•
Bonds attorney speaks about verdict
•
Why is Anderson protecting Bonds?
•
How the opening statements went
•
Barry Bonds perjury trial begins
•
Barry Bonds pleads not guilty
•
OTL: Attorney breaks silence
•
2003 Greg Anderson recording
•
Judge allows audio tape
The indictment
•
United States v. Barry Lamar Bonds
The steroids era
•
An ESPN compilation of MLB's dark era
Background
•
The Dope On Steroids
MOST SENT STORIES ON ESPN.COM