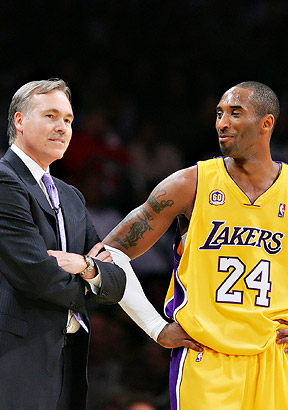 Lisa Blumenfeld/Getty Images
Lakers Pick Mike
In a stunning turnabout, the Lakers hired Mike D'Antoni (not P-Jax) to be their coach. Story »
READERS' CORNER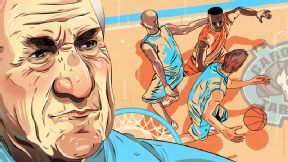 PRECIOUS MEMORIES
Dementia has taken its toll on former North Carolina coach Dean Smith, but family and devoted friends stand by the beloved coach. Tommy Tomlinson
• Just Cheer, Baby: A Raiderette cheerleader named Lacy T. recently filed a lawsuit in search of fair pay. She might just end up changing the system. Amanda Hess
• Jim Irsay -- like father, like son? : Colts' owner was sensitive to his father's substance-abuse issues. Elizabeth Merrill
• The Whistleblower's Last Stand: In Mike McQueary, some see a hero who brought down a monster. Others see a liar who railroaded a legend. Don Van Natta, Jr.
• Out Route: Tony Gonzalez did not lead Atlanta to a Super Bowl and ride off with a ring. A final season spent with the tight end tells a much different tale. Seth Wickersham
• Back to Earth: As he prepares for his fifth and likely final Olympic Games, U.S. skier Bode Miller wonders whether anyone will ever understand him. Wayne Drehs
• Wardrobe Malfunction: Ten years ago, 90 million people watching Super Bowl XXXVIII saw Janet Jackson's breast for nine-sixteenths of a second. Our culture would never be the same. Marin Cogan
• Generation June: Fury, anarchy, martyrdom: Why the youth of Brazil are (forever) protesting, and how their anger may consume the World Cup. Wright Thompson
• Tommy Morrison's latest big fight: Former heavyweight contender has waged battles inside and outside the ring. Elizabeth Merrill
• Portrait of a Rescue: A photograph captured the swift response after the Boston Marathon bombings. It also showed Devin Wang doing what she could to help. Bonnie D. Ford
• Breaking Good: Even after he was sent away as a monster, Joe O'Brien held on to the dream that he would coach again. Paul Kix
• The Match Maker: Bobby Riggs, The Mafia and The Battle of the Sexes Don Van Natta, Jr.
• The Losses of Dan Gable: Wrestling's most famous winner is taking on one final battle: To save his sport and all he's ever been. Wright Thompson
• Trouble Beneath the Surface: Triathlons have hit the mainstream and brought along an increasing number of deaths. What's happening? Bonnie D. Ford
• Marathon of Their Lives: One runner was known as Superman. One was nine months' pregnant. At Mile 26, their paths diverged. David Fleming
• Unity With The Universe: Can a fly rod really hold the secret of life? A paralyzed man and his wife are proving the answer be yes. Wright Thompson
FROM THE ARCHIVES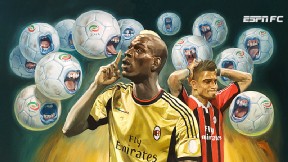 WHEN THE BEAUTIFUL GAME TURNS UGLY
A journey into the world of Italy's racist soccer thugs. Wright Thompson » Video

| ESPN FC
HERE & GONE
The strange relationship between global soccer superstar Leo Messi and his hometown of Rosario, Argentina. Thompson » Watch


In Spanish » ESPN FC »
"OUTSIDE THE LINES" SCHEDULE ALERT
"Outside the Lines" will
next air on Sunday,
Feb. 1 on ESPN2
at 8 a.m. ET.
Full TV schedule »
OTL PODCAST

The Outside the Lines team investigates the most important trends and topics in sports.
OUTSIDE OPINION
Have questions, comments or a show idea? Viewers please call us at 1-866-ESPN-OTL (866-377-6685).
LISTEN TO THIS …

THE SPORTING LIFE, Fridays, 10 p.m. ET
Jeremy Schaap hosts this ESPN Radio program, which probes issues in sports and tells compelling stories. Listen

OTL WINS PRESTIGIOUS DuPONT AWARD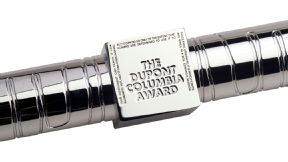 From the Columbia Journalism School: "With solid writing, reporting and research, this series of three reports uncovered serious problems with youth football in America, where three million children play annually, including a player paralyzed after being coached to use a dangerous tackling technique, coaches offering cash prizes for big hits and rampant gambling.
"This important investigation added to the growing body of coverage about concussions and football with stories that graphically illustrated the problems and featured exclusive interviews with those involved in the controversies. ESPN's reporting had an impact by identifying abuses and policy gaps as well as prompting an 18-month police investigation into corruption and gambling."
The stories
•
South Florida football gambling

•
Safe youth football?

•
Bounties in Pop Warner

CONCUSSIONS AND THE NFL
A new book, "League of Denial," reveals the moment the NFL could no longer ignore concussion science. Excerpt »
Also see:
•
Frontline film excerpt Part 1
|
Part 2

•
Frontline film excerpt 2, Part 1
|
Part 2

•
Book: NFL crusaded against science
•
Goodell touts NFL safety in email to fans
•
NFL's history of confronting the issue

•
The authors on "League of Denial"

•
"Outside the Lines" with Bill Polian