Commentary
Sports figures not inclined to talk about their politics
Even though pro sports execs and athletes have given more money to presidential candidates, few were willing to offer public praise.
No one in the NBA, NFL, NASCAR or MLB executive offices would comment on their donations.
[+] Enlarge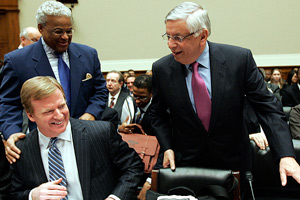 AP Photos/Susan WalshNFL commissioner Roger Goodell, left, the son of a late Republican congressman, declined to talk about his donation to John McCain. NBA commissioner David Stern, right, declined a request to discuss his support of Obama.
Yet that's not to say that the leagues aren't talking politics. They pay lobbyists to court members of Congress, and they donate to both sides of the aisle.
Major League Baseball has a political action committee that has donated $254,000 to candidates and other committees since 2007, with a preference for Democrats. But the committee does not plan to contribute to or endorse a presidential candidate, according to its treasurer, William Schweitzer.
NASCAR president Mike Helton and NFL commissioner Roger Goodell, who is the son of a late Republican congressman, declined to talk about their personal donations to John McCain.
The silence is bipartisan.
NBA commissioner David Stern and his wife are top Obama donors among the pro-sports set, and in general, but Stern declined an interview. MLB commissioner Bud Selig is a primarily Democratic donor, although records show he hasn't donated to Obama. He refused to comment as well.
Asked and answered
ESPN reporter Paula Lavigne submitted questions to Sen. Barack Obama and Sen. John McCain campaigns, asking where each candidate stood on some recent political issues related to sports. Click here to read their responses.
• Republicans maintain the lead in presidential campaign contributions from professional sports figures, but the gap is narrowing. Read here why analysts point to the candidates' popularity, and Capitol Hill's interest in steroids, spying and cheating in sports.
• Click here for a sortable database of pro-sports donors to presidential candidates John McCain and Barack Obama.
The database includes donors who have given more than $200 during the current election cycle collected by the Center for Responsive Politics, a non-partisan, non-profit research group that has information on campaign finance and donations for all industries at www.OpenSecrets.org.
PGA Tour commissioner Tim Finchem issued a carefully worded nonpartisan statement in an answer to questions about his donation to Obama.
"He contributes to support campaigns with credible candidates, including those he has relationships with," said Ty Votaw, executive vice president of the PGA Tour, who pointed out that Finchem also donated to other candidates, including former Republican presidential candidate Mitt Romney.
Top McCain donors from the San Diego Chargers, Dallas Cowboys and Houston Texans refused to comment, with one representative saying that it wouldn't be appropriate to vocally take sides when the team -- the Texans -- has a partially-publicly funded stadium.
Wyc Grousbeck, owner of the NBA champion Boston Celtics and a leading Obama donor, also wouldn't comment.
Rick Karcher, director of the Center for Law and Sports at the Florida Coastal School of Law, said sports executives might be keeping quiet because they don't want associates to wonder why they donated to one candidate and not another.
"They might tend to think that it will be viewed as they're trying to influence somebody," he said. "That just subjects them to more scrutiny than they already otherwise have."
Athletes similarly dodged questions.
Miami Heat player Alonzo Mourning, who donated to Obama and Hillary Clinton, declined an interview. So did McCain donor Cullen Loeffler, a Minnesota Vikings long snapper who is the son of a former Republican congressman and supporter of a nonprofit that teaches Minnesota kids about voting.
Even McCain's friend and Boston Red Sox pitcher Curt Schilling did not respond to requests for interviews.
Athletes who side with one candidate instead of another could risk upsetting sponsors, teams, conferences or agents, said Dave Czesniuk, director of operations for the Center for the Study of Sport in Society at Northeastern University in Boston.
Individual/couple donors
Here are all the individual or couple donors who gave $4,600 or more to John McCain or Barack Obama. Individual donors can give up to $4,600 to a candidate's campaign for the primary and general elections combined.
Barack Obama
Contributor
Affiliation
Sum of amount
David and Dianne Stern
NBA
$9,200
Herbert L. and Gisele Washington
Youngstown SteelHounds
$7,100
Derrek L. and Christina Solomon Lee
Chicago Cubs
$6,900
Robert and Celia Blackwell
Killerspin
$4,600
Clarence A. Daniels Jr.
Concession Management Services Inc.
$4,600
Arn Tellem
Wasserman Media Group
$4,600
Wycliffe Kent and Corinne Basler Grousbeck
Boston Celtics
$4,600
Adam Silver
National Basketball Assn.
$4,600
Clarence and Monet Daniels
Concession Management Services Inc.
$4,600
Simon Chong
Killerspin
$4,600
Bradley Firestone
NFL
$4,600

John McCain
Contributor
Affiliation
Sum of amount
Robert C. and Janice C. McNair
Houston Texans
$9,200
Alice and Philip Burguieres
Houston Texans
$9,200
Dean and Susan Spanos
San Diego Chargers
$9,200
Jeff and Jann Moorad
Arizona Diamondbacks
$6,900
Robert and Sandra Bahre
New Hampshire Int'l Speedway
$6,900
Gene and Jerry Jones
Dallas Cowboys
$6,900
William and Nancy J. Bidwill
Arizona Cardinals
$6,900
B.J. McCombs
Minnesota Vikings
$6,700
Peter O'Malley
Los Angeles Dodgers
$4,600
Michael Bidwill
Arizona Cardinals
$4,600
Stephen and Karen Jones
Dallas Cowboys
$4,600
George III and Joan Steinbrenner
New York Yankees
$4,600
Mark T. Tatum
Genesco Sports Enterprises
$4,600
Dennie L. McCrary
Sea Island Co.
$4,600
Greta and Jeff Shumway
Phoenix Coyotes
$4,600
Michael and Michelle Tannenbaum
New York Jets
$4,600
Gerald and Joan Colangelo
Phoenix Suns
$4,600
A.J. and Susan Smith
San Diego Chargers
$4,600
Jason Maynard
San Francisco Giants
$4,600
Norval Turner
San Diego Chargers
$4,600
Harold Z. Steinbrenner
New York Yankees
$4,600
As of July 31
SOURCE: ESPN analysis of 2007 and 2008 election cycle data as of the end of July, from the Center for Responsive Politics. Look up other donors at www.OpenSecrets.org. Includes federal campaign contributions of more than $200.

"Their name is a brand and their performance is a brand," he said. "Politicians looking to benefit from an athlete's status are more likely to have the political sense and savvy necessary for navigating such terrain in a way that lets the athlete use their leadership or status in advocating for a cause without necessarily risking damage to their professional relationships."

The resistance harkens back to Michael Jordan's refusal to back Harvey Gantt, a black Democrat who challenged Republican Jesse Helms in the 1990 Senate race in Jordan's home state of North Carolina. Jordan, who already had deals with Nike, pointed out that "Republicans buy shoes, too."

Taking sides also can be dicey because allegiances can be split within organizations. Take the Denver Broncos, for example. Legendary quarterback John Elway is a McCain donor, and coach Mike Shanahan is a well-known supporter of President George W. Bush. Recently retired Broncos wide receiver Rod Smith spoke at an Obama rally earlier this year and donated to the campaign, as did tight end Nate Jackson.

"It's hard to make a political statement in the NFL," Jackson said as his teammates headed to the locker room after a recent practice.

Athletes need to be well informed on the issues, and they should be aware of when and where it's OK to talk politics, he said. Jackson said he sometimes tries to talk to his teammates about Obama, but they're mostly conservative.

Sports agent and attorney Leigh Steinberg is trying to recruit athletes for his Athletes for Obama group, but he has run into a few agents who are wary of letting their players speak publicly about politics.

He does have some big names lined up, and he expects that Obama's youthful appeal and the fact that he's African-American will encourage more athletes to shed their apolitical ways.

"Once that happens, it will stimulate a very rapid wave of athletic supporters. It will take the fear factor out of the involvement," he said. "It's going to be the most powerful display of athletic support for a political candidate ever."

Steinberg is clearly pushing Obama but said he hopes that encouraging athletes to use their influence in the presidential election will open the dialog for both parties.

Sports figures have an image and relationship with the public that can be a powerful benefit, Czesniuk said.

"Any time somebody of public stature speaks out and is very clear where they stand, they take some risk, and in a way it should be commended," he said. "It's more about getting people interested and getting involved.

"It used to be 'Rock the Vote' back in the '90s. Now maybe it's 'Jock the Vote.'"

Talking about politics contradicts the stereotype that athletes are a bunch of brutes who go around hitting each other and then go home to play Xbox, Jackson said.

"It's good for kids to see athletes are into 'nerdy' things. Or at least what they think are nerdy," he said, grinning.

On the Broncos' practice-field sideline, Justin Best of Garden City, Kan., had been watching his friend and Broncos rookie center Kory Lichtensteiger. Best said that he sometimes pays more attention to political issues when athletes talk about them. Their opinions won't make up his mind, but they might inspire younger fans, he said.

"I definitely think that when [athletes] speak up, young kids listen," he said.

Nearby in a shady spot, fans Taylor Piper and Ian Miller also watched the morning drills. Athletes' stand on political matters don't matter to Piper, "but they have a right to talk about it," he said.

Miller said he's convinced that some die-hard fans could be swayed to vote in line with their favorite players.

"People hold them up higher," he said. "They believe [athletes'] opinions matter more than anyone else."

Paula Lavigne is a reporter in the Enterprise Unit. Her work appears on "Outside the Lines."

Data analyst and reporter for ESPN's Enterprise and Investigative Unit.
Winner, 2014 Alfred I. duPont Columbia University Award; finalist, 2012 IRE broadcast award; winner, 2011 Gannett Foundation Award for Innovation in Watchdog Journalism; Emmy nominated, 2009.