Duke basketball endowed scholarships
Originally Published:
December 23, 2009
ESPN.com
Under head coach Mike Krzyzewski, Duke University's basketball program has enjoyed tremendous success on the court over the years. It hasn't done poorly off the court, either, when it comes to fundraising. In fact, Duke has raised enough money from private donors to endow 11 basketball scholarships as well as a scholarship for a team manager. The university provided ESPN.com with the names of the recipients, as well as the names of the scholarships they've received.
The Grant & Tamia Hill Scholarship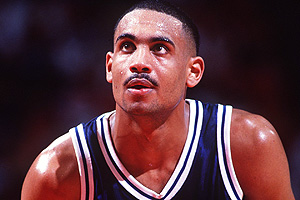 Doug Pensinger/Getty ImagesGrant Hill is 10 years into his scholarship giving.
2001: Nate James
2002: Mike Dunleavy
2003: Dahntay Jones
2004: Chris Duhon
2005: J.J. Redick
2006: Shelden Williams
2007: Josh McRoberts
2008: Gerald Henderson
2009: Greg Paulus
2010: Jon Scheyer
The David T. Borman Memorial Scholarship
2003: Andy Borman
2004: Andy Borman
2005: Shavlik Randolph
2006: Sean Dockery
2007: Jamal Boykin
2008: Martynas Pocius
2009: Brian Zoubek
2010: Ryan Kelly
The Kevin & Gayla Compton Scholarship
2004: J.J. Redick
2005: Shelden Williams
2006: DeMarcus Nelson
2007: Greg Paulus
2008: Nolan Smith
2009: David McClure
2010: Andre Dawkins
The Gunnar Peterson Scholarship
2004: Sean Dockery
2005: Lee Melchionni
2006: Greg Paulus
2007: Lance Thomas
2008: Brian Zoubek
2009: Gerald Henderson
2010: Nolan Smith
The Captain Bill Krzyzewski Scholarship
2004: Nick Horvath
2005: Daniel Ewing
2006: J.J. Redick
2007: DeMarcus Nelson
2008: DeMarcus Nelson
2009: Jon Scheyer
2010: Kyle Singler
The Christian Laettner & Brian Davis Scholarship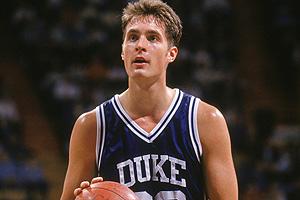 Rick Stewart/Getty ImagesChristian Laettner teamed up with Brian Davis.
2006: Josh McRoberts
2007: Gerald Henderson
2008: David McClure
2009: Kyle Singler
2010: Mason Plumlee
The Michael & Candace Olander Scholarship
2006: Lee Melchionni
2007: David McClure
2008: Greg Paulus
2009: Nolan Smith
2010: Miles Plumlee
The Class of 1986 Scholarship
2007: Jon Scheyer
2008: Kyle Singler
2009: Elliot Williams
2010: Lance Thomas
The Steve & Melinda Duncker Scholarship
2008: Jon Scheyer
2009: Lance Thomas
2010: Brian Zoubek
The Goodman Family Scholarship
2010: Olek Czyz
The Jeremy Mario Scholarship
2010: Jordan Davidson
The Gopal Varadhan Memorial Manager Scholarship
2004: Max Perkins
2005: Six senior managers
2006: Brian DeStefano
2007: Kevin Cullen, Chris Lauten, Scott Naturman
2008: Chris Lauten
2009: Griffin Tormey, Joey McMahon
2010: TBD
SPONSORED HEADLINES
ESPN TOP HEADLINES
MOST SENT STORIES ON ESPN.COM
NCAA: MIXED MESSAGES

"Outside the Lines" and ESPN.com present a month-long series that examines several hot-button issues facing the NCAA.
VIDEO
ANALYSIS
SEARCHABLE DATABASE