League taking action after report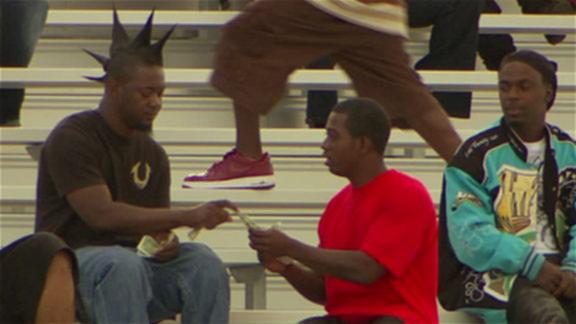 OTL: Gambling On Youth Football
OTL examines the issue of gambling on youth football in South Florida
OTL: Gambling On Youth Football
The South Florida Youth Football League announced Tuesday that it will take a more aggressive stance against gambling at league games, including the formation of a task force, holding parent meetings and penalizing teams that do not follow rules.
The league announced the measures in response to an "Outside the Lines" report on May 1 that exposed rampant gambling in the league.
The league's board also decided to suspend Pompano Cowboys coach Osbert Small, who was shown on video shot by ESPN exchanging cash with men who appeared to be gambling. League president Michael Spivey wrote in an email that the board would continue to investigate Small's conduct. Small has said previously that he was only holding money and was not placing bets.
The "Outside the Lines" investigation found men holding stacks of bills -- often in large denominations -- as they watched games. Using hidden cameras, OTL recorded the men openly exchanging money with one another, even as they were just a few feet from a uniformed police officer in one instance. But the exchange of money in the stands was the small stuff, OTL found -- sometimes the games had tens of thousands of dollars bet on them, and players were often paid for making big plays.
Former players and coaches said the gambling and paying of players and their parents has gone on for years.
Spivey said during the May 1 report that the problem was out of the league's control and that law enforcement officers should be responsible for cracking down on such illegal activity. In interviews with local sheriff and police department officials, they said that officers were busy looking out for other illegal, and possibly dangerous, activity at the games.
A league statement Tuesday points out the positive impact its teams have on children and the community but then states that the "long history of success and future prospect for achievement has recently come into question." It cites the league's rapid growth in gambling, and says the league is "compelled to make a renewed effort to address this issue with more focus and a higher level of diligence."
Spivey promised to take a more aggressive approach to confronting gamblers, as well as penalizing anyone who recruits or pays a player or parent, an activity closely linked to gambling.
Spivey outlined plans for this season:
• Form a Stop Youth Gambling Task Force in concert with law enforcement and community organizations to develop ways to address gambling on youth sports.
• Launch an educational campaign to help parents understand how gambling, recruiting and accepting money can harm their children and their future athletic career.
• Enforce current bylaws that call for zero tolerance of gambling, and assess penalties against teams in violation that could include canceled games, forfeits and possible expulsion from the league.
• Hire undercover off-duty law enforcement officers at the league's larger games. In many cities, the league's teams play at city-owned parks, which gives cities some authority over the league, including requiring background checks on coaches and security staffing at games.
Fort Lauderdale Acting City Manager Phil Thornburg said city and police officials plan to meet in early June with representatives from all the leagues whose teams plan in Fort Lauderdale to discuss the gambling issue. He said the city could require them to pay for additional police officer presence at games if necessary. They will be required to sign an agreement that they will abide by the rules, and if they don't, Thornburg said the city could take action.
"We'll tell them you can't have a permit for the field. You'll have to find another place to play football," he said. "Now that league, coaches and other people are aware of this, the hope is that they'll clean it up, with our help, and it won't become an issue."
Spivey said he met with all of the city parks and recreation leaders in the league's area and informed them of the plans to pay closer attention to gambling.
Paula Lavigne is a reporter in ESPN's Enterprise Unit. Her work appears on "Outside the Lines." She can be reached at paula.lavigne@espn.com
Data analyst and reporter for ESPN's Enterprise and Investigative Unit.
Winner, 2014 Alfred I. duPont Columbia University Award; finalist, 2012 IRE broadcast award; winner, 2011 Gannett Foundation Award for Innovation in Watchdog Journalism; Emmy nominated, 2009.
MOST SENT STORIES ON ESPN.COM