Commentary
Clemens' attorney one of the best
Rusty Hardin finds comfort in courtroom, connects with jurors and usually wins
In a jury trial that may be Roger Clemens' last chance to recapture a lost legacy, the disgraced pitcher will be relying on one of America's greatest trial lawyers, Rusty Hardin, a courtroom charmer who has demonstrated his prowess with triumphs in numerous high-profile cases.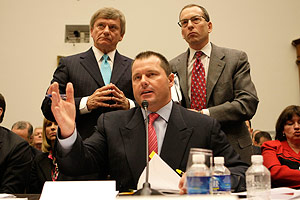 AP Photo/Pablo Martinez MonsivaisFormer pitcher Roger Clemens gestures as his attorneys Rusty Hardin, left, and Lanny Breuer, right, address questions during testimony on Capitol Hill in Washington in 2008.
As the trial begins Wednesday in Washington, D.C., the 68-year-old Hardin will bring a rare combination of meticulous pretrial investigation, an uncanny ability to connect with jurors and a mastery of drama and humor that can transform an apparent defeat into victory.
Hardin is no stranger to cases involving celebrity athletes. He has succeeded in defending Steve Francis (charged with DUI), Rudy Tomjanovich (DUI), Scottie Pippen (DUI), Warren Moon (domestic violence), Wade Boggs (sexual harassment) and Calvin Murphy (molesting five daughters). Hardin not only won favorable verdicts for his clients who were facing serious charges, he won them quickly and decisively: The Moon jury deliberated less than 30 minutes, the Boggs jury only four minutes and the Murphy jury less than two hours.
In addition to his success in the courtroom, Hardin has developed an impressive media savvy that has resulted in a wall of favorable clippings in his Houston office.
But defending Clemens has become Hardin's greatest challenge. Despite Hardin's best efforts, the defense of Clemens has already resulted in a series of public blunders -- a disastrous press conference in December 2007 in which an indignant Clemens stalked out in rage; a shouting match with members of the U.S. House of Representatives at a congressional hearing in February 2008; and a humiliating loss in an ill-conceived defamation lawsuit against Brian McNamee, Clemens' former personal trainer who has become his principal accuser.
Rallying from those setbacks will be an uphill battle for Hardin and his team of skilled lawyers and investigators.
Follow the trial

ESPN's T.J. Quinn will provide live coverage from the courtroom during the Clemens trial. Follow along with our up-to-the-minute Twitter coverage.
Hardin's aggressive style of investigation was apparent early in the Clemens scenario. Even before the release of the Mitchell report, with its highly damaging assertions of Clemens' use of performance-enhancing drugs, two of Hardin's top investigators (Jim Yarbrough and Billy Belk) were knocking on the door of McNamee's home in Long Beach, N.Y.
Yarbrough and Belk are veterans of the Houston Police Department, for which they served as detectives and worked with Hardin during his 15 years as a top Harris County prosecutor.
The investigators taped more than two hours of conversation with McNamee, alternately cajoling and confronting him. The interview will be a centerpiece of the Clemens trial and will provide Hardin with considerable ammunition for his cross-examination of McNamee.
Relying on the interview, Hardin was able to come out swinging when the Mitchell report was publicly released. In a typically assertive media statement, he said: "Roger Clemens vehemently denies allegations in the Mitchell report that he used performance-enhancing steroids and is outraged that his name is included in the report based on the uncorroborated allegations of a troubled man threatened with federal criminal prosecution."
In addition to a lightning-quick team of investigators, Hardin establishes rapport with jurors as well as any American trial lawyer.
It's not a courtroom, it's your living room, Hardin told young prosecutors in training sessions.
"He told them you must be approachable, you must look approachable and you must sound approachable," said Justice Cathy Cochran of the Texas Court of Criminal Appeals, who served with Hardin in the Harris County Prosecutor's Office before she ascended to the highest criminal court in Texas.
"He really meant it when he said the jurors are guests in your living room, and you must give them what they need to find the truth."
Details of the indictment

Roger Clemens was indicted by a federal grand jury in August 2010 on six counts (one for obstruction of justice, three for making false statements and two for perjury). These charges relate to statements he made in a deposition to the House Committee on Oversight and Government Reform on Feb. 5, 2008 and to statements he made during the hearings on Feb. 13, 2008, in which he is accused of lying:

Count 1: Obstruction of Justice:
• Four separate denials that he'd never used HGH or steroids
• Never spoken to Brian McNamee about HGH or steroids
• Denial about his knowledge of HGH
• Two separate denials he'd been injected by McNamee with vitamin B-12
• Two denials he'd been injected by McNamee with lidocaine
• Said needles were lined up in the clubhouse after games, ready for B-12 injections
• Said Yankees teammate Andy Petitte misheard or misremembered Clemens telling teammate in or around 1999 of HGH use
• Said Clemens didn't know McNamee was injecting Clemens' wife
• Said Clemens had "no idea" former Sen. George Mitchell wanted to talk to him for his 2007 report on performance-enhancing drugs in baseball
• Said he was not in [Jose Canseco's] house on or about June 9, 1998

Count 2: False statements, HGH
• Based on denial he used HGH

Count 3: False statements, steroids
• Based on denial he used steroids

Count 4: False statements, B-12
• Said McNamee injected him with B-12

Count 5: Perjury, HGH
• Based on denial he received HGH from McNamee

Count 6: Perjury, steroids
• Based on denial he received steroids from McNamee
Hardin will arrive in court in Washington this week wearing suits in beige and other light colors, avoiding the dark suits favored by most lawyers. "He knows that you would never wear a dark blue suit entertaining people in your living room, and he knows that a dark suit separates him from the jury," said Larry Finder, a Houston trial lawyer who has opposed Hardin in court on some cases and worked with him on others.
After concluding their verdicts, jurors have frequently asked for photographs with Hardin. On his office wall is a photo with signatures of the 12 jurors who ruled that Hardin's client, the estate of Texas millionaire J. Howard Marshall, owed nothing to Marshall's widow, former Playboy bunny and stripper Anna Nicole Smith, who married Marshall when he was 89 years old.
In addition to establishing his rapport with jurors, Hardin does not hesitate to do whatever it takes to make an impression on them.
Unlike many lawyers, for example, he will rely on his intuition and his insight to ask questions to which he doesn't know the answers.
Cross-examining the voluptuous Smith, for example, after she delivered a suspiciously glib answer to a question, Hardin asked, "Miss Marshall, have you been taking new acting lessons?"
"Screw you, Rusty," was Smith's instantly famous reply. When he is recognized at a game or a restaurant, Hardin will hear people happily shouting to him, "Screw you, Rusty."
Cross-examining one of former basketball player Murphy's accusers, Hardin impetuously asked another question with no knowledge of its answer.
"Do you sometimes make things up?" he asked one of the five Murphy daughters accusing him of molestation.
"Yes," was the surprising answer from the young woman.
Hardin was not finished. He asked another question for which he could not have known the answer.
"Is there any way for the jury to tell when you're making something up?" he inquired.
"No," she answered.
Despite dramatic and damaging testimony from five young women, Hardin convinced the Houston jury Murphy, once a popular basketball star and broadcaster, was not guilty.
"He took a case that was virtually unwinnable and pulled a rabbit out of the hat," Houston criminal defense attorney Brian Wice said.
Hardin explains his unconventional questioning techniques with relish. "Not asking questions you don't know the answer to is one of the dumbest goddamn things I ever heard," he told Houston journalist Stan Sinberg. "I ask questions all the time I don't have the answers to. If I dodge those questions, juries can see right through that. I am not afraid of the answers because I don't go to trial unless I think I'm right."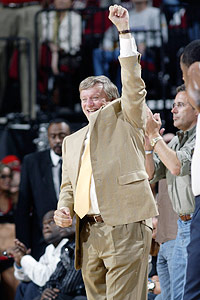 Bill Baptist/NBAE/Getty ImagesRusty Hardin reacts to a play during a Houston Rockets game at the Toyota Center in Houston in March 2009.
Hardin's manner in questioning witnesses can be casual and disarming, but he can be confrontational when necessary.
"If he catches McNamee in any kind of evasive or inconsistent statement, God help [McNamee]," Finder said. "Rusty has a strong sense of truth and justice, and he knows how to show it."
Hardin also has a flair for the dramatic. When, as a prosecutor, he was trying to show how a pickax murderer killed his victim, he swung the pickax into a telephone book, leaving it stuck deep into the pages for the jury to see. When he wanted to show the fearsome circumstances of a rape on a dark night, he turned off all the lights in the windowless courtroom and described in detail what the rapist did to the victim.
When Smith tried to say she was the light of her late husband's life in support of her claim to a share of his $1.6 billion estate, Hardin played Debby Boone's "You Light Up My Life" for the jury with appropriate scornful and frequently hilarious gestures.
Hardin's charm and technique, as impressive as they are, are not always guarantees of victory, though. He worked hard to defend Arthur Andersen against federal charges resulting from the Enron scandal and managed only to prolong the jury's deliberations for 10 days until the jurors reached a unanimous verdict of guilty.
In the Clemens trial, Hardin will face powerful evidence of Clemens' obstruction of Congress and false statements. McNamee managed to convince the Democrats and the Republicans on the House committee he was truthful and Clemens was lying.
Will the jury in the District of Columbia agree? It may not be possible to convince anyone Clemens is telling the truth. But if any lawyer can convince a jury Clemens is truthful, Hardin is that lawyer.
Lester Munson, a Chicago lawyer and journalist who reports on investigative and legal issues in the sports industry, is a senior writer for ESPN.com.
Legal Analyst
Senior Writer and Legal Analyst, ESPN.com
13 years as investigative reporter at Sports Illustrated
Adjunct Instructor, Northwestern's Medill School of Journalism
SPONSORED HEADLINES
ESPN TOP HEADLINES
MOST SENT STORIES ON ESPN.COM
ROGER CLEMENS TRIAL

The judge declared a mistrial July 14 in Roger Clemens' perjury trial after prosecutors showed jurors evidence that the judge had ruled inadmissible. A Sept. 2 hearing will determine whether to hold a new trial.
News
•
Judge declares mistrial in Clemens' case
•
Feds: DNA, steroids on Clemens evidence
•
Defense to question validity of hearings
•
Jury selection resumes; Clemens focused
•
Judge: Others' testimony should result
•
Clemens team to push blackmail theory
•
Who's who in Clemens trial courtroom
•
Clemens' attorney one of the best
•
McNamee a key but assailable witness
•
Moment of truth for Roger Clemens
Analysis
•
Munson: Clemens may walk after mistrial
•
Munson: Boring but effective start
•
Munson: Attorneys not after impartiality
•
Did Rocket aim too high and hard?
ESPN Video
•
Jury selection begins
The indictment
•
United States v. Roger Clemens
The steroids era
•
An ESPN compilation of MLB's dark era
Background
•
The Dope On Steroids