EDITOR'S NOTE: "24 College Avenue'' is a new fictional series describing the lives of 11 college students sharing a filthy old Victorian house near the campus of State College. The series will run on Page 2 three times a week throughout the school year. If you miss a chapter, don't worry. You can catch up in our archive of installments.
Like so many eventual disasters, the party seemed like a good idea at the time. With one final weekend remaining before Autumn Quarter began at State College, the 11 housemates at 24 College Avenue wanted to say goodbye to summer with a costume party. Danny Edmonds suggested the party should have a theme, with everyone dressing as a sexual fetish. He assured his housemates they didn't have to go as their own personal fetishes, "but if they are, that's even better."
Naturally, he got the idea from Maxim magazine. Where else? Other than the daily betting line, the only thing Danny ever read either appeared in Maxim or began with the words, "I never believed your letters were real until this happened to me." And a fetish party was precisely the sort of thing he
would
suggest. Everyone else in the house thought it was the best idea ever, even Ahmed Muhammad, the civil engineering student from Tunisia. And Ahmed disapproved of most everything other than soccer. "I know just what to wear, my friend," he told Danny, blushing slightly. So they invited their friends, reserved the kegs from the Blue Moon Pub and prepared their costumes. Jenn Robbins chose the Sparky costume (complete with cape and pitchfork) that she usually wore as the school's Red Devil mascot. "I'm not gonna lie to you -- the way some guys act when I wear this, I
know
this must be some pervert's fetish." Likewise, Katie Maynard wore her ROTC fatigues, insisting that "I've seen how guys get turned on by camouflage -- and it's kind of scary." Of course, it was hard to imagine conservative Katie dressing in anything risqué. Jill Thomas, the point guard on the women's basketball team, dressed up as prep school girl, complete with plaid skirt and knee-high socks, and somehow convinced her boyfriend, Dwayne Patterson, the lone senior on the men's basketball team, to wear nothing but an enormous diaper. "Damn," Cheryl Bellamy said looking them over during a spirited game of Beer Pong. "Haven't you two ever heard of camera phones? You're going to be all
over
your rivals' blogs by Monday morning."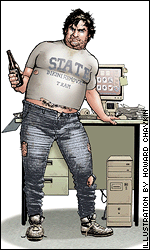 A sexual fetish costume party might not have been Danny Edmonds' best idea.
Cheryl, a trim, 22-year-old with mocha skin, was in a good mood. She was beginning medical school in two days; so for her, the party was an incredible release. She could forget med school for an evening by dressing in her high school cheerleader uniform and waving her pom-poms again.
"I haven't seen you this relaxed all summer," said her roommate, Nicollette Mayle. "Girl, I haven't
felt
this relaxed all summer. Get me another beer." Nicollette, a sprinter on State's track team with legs from a James Bond movie poster, was dressed as a dominatrix, complete with thigh-high boots and a black whip that she cracked in front of Steve Hamilton. "Crawl on your knees to the porch and get us a beer, you pathetic male!" "Only if you promise to use that on me later," Steve said with a mischievous wink. A photographer for the school paper, he was dressed in a leather vest, leather chaps and a dog collar. Steve squeezed his way past the crowded entryway, where Danny, dressed as Winnie-the-Pooh, was relating a story about "furverts" -- people with a fetish for animal costumes -- to a woman in a French maid uniform. "Not that I'm into anything that sick and disgusting myself. Unless you are. In which case, I'm open." Out on the porch, Kenan Hill, the second-string linebacker on the Red Devils' football team, was sweet-talking a woman dressed as a Hooters waitress. He didn't need to do much sweet-talking -- he wore a fireman's helmet and suspenders over his otherwise bare and muscular chest. John Higgins, the house's middle-aged mystery man (why was a white-haired man living with college students, anyway?), stood beside Kenan, fiddling with his costume: a bizarre serape festooned with shoes of all kinds -- high heels, loafers, running shoes, leather oxfords, rubber galoshes, etc. "I'm a shoe fetish," he explained. "I once wore something similar when I was stationed in the Philippines and Imelda Marcos had us over to the palace for a costume party. She was all over me that night." Ahmed joined them on the porch. He wore a Tunisian national soccer uniform with an abaya shawl wrapped around his head. Steve looked at him quizzically. "I've always considered the shawl to be very sensual, my friend," Ahmed said. "What it hides is far more suggestive and erotic than all the flesh your precious Britney Aguilera shamelessly displays in her videos." "He's got a point," Higgins said, nodding. "I remember one time when I was stationed in Marrakech and I picked up a prostitute and told her to make my wildest dreams come true. And all she did was lower her shawl so I could see her face and then tell me that I owed her 2,000 Moroccan Dirhams."
At least Josh came up with a creative way of asking Nicollette out.
Oh, it was a great party. The Victorian house had survived much during its century near the State College campus, but its walls had never held night as wild as this -- although that time in the late '50s, when a goat bit off a pledge's left testicle in a bizarre fraternity hazing ritual, came close.
There were two kegs, plus a galvanized tub of punch made from equal parts ice cream, Hawaiian Punch and Everclear (the bottle's label warned: "Contents may ignite or explode"), plus a little Absinthe and dry ice for effect. And so many people showed up that the crowd's body heat raised the temperature in the house to more than 90 degrees. There were so many people sending digital photos over their camera phones that you couldn't get a signal. The problems began about midnight, when Gary Singleton, the recluse on the third floor, suddenly emerged wearing a pair of black stockings, a garter belt, black lace panties and a wonder bra. The sight was both horrendous and hilarious -- Gary was 6-foot-5 with body hair like a shag carpet and alabaster skin that looked as if he hadn't been in the sun the entire summer. And he probably hadn't -- he stayed in his room with the door locked virtually 24/7. The only thing more stunning than the sight of him outside his room was his presence on the stairway looking like a Wookie in a Victoria's Secret catalogue. Everyone laughed and congratulated Gary on both his choice in costume and his courage for wearing it. Then Nicollette got to looking closer and realized that he was wearing
her
underwear.
NEXT: Chapter 2, Burning Down the House
Jim Caple is a senior writer at ESPN.com. His first book, "The Devil Wears Pinstripes," is on sale at bookstores nationwide. It can also be ordered through his Web site, Jimcaple.com.
Howard Chaykin
pioneered the graphic novel in the United States and is best known for his groundbreaking series, "American Flagg!" He has worked as a writer/producer on several television series (including "The Flash" and "Viper"), and freelanced in feature films, pilots, and episodic television. He is currently back in comics full time as a writer and artist. The theme song for "24 College Avenue" is "Threefold" by
AUTOLOGIC.
Download the free MP3 in its entirety by
clicking here
.