Previously at 24 College Avenue: The filthy old Victorian house at 24 College Avenue is home to 11 residents, including Steve Hamilton and Nicollette Mayle. Steve is a photographer for the student paper, The Daily, and Nicollette is a gorgeous sprinter on the track team …
Allen Y. Porter scrolled to the bottom of the game story, the one his Red Devils beat writer had just e-mailed him, and wrote his favorite four-word response -- "CRAP! DO IT OVER'' -- and then hit the "send" button.
God,
the Daily sports editor thought,
these new writers are so bad with their tortured cultural references. Can't anyone just write a tight, simple story about what the game was like without trying to show how hip they are with some forced metaphor about Angelina Jolie?
(Not that Porter had anything against Angelina Jolie.) He opened the next e-mail, along with the attachments that Steve Hamilton had just sent. Now this would be good. Hamilton was a great photographer; and unlike most shooters, he also had a feel for sports. He understood the ebb and flow of games and anticipated where the big play would be, so he would be in position for the shot. Better yet, he always supplied great photos of the cheerleaders. "What do you think?'' Steve asked, setting his camera bag down at Porter's desk. "Great as usual. I especially like this one of Alexis kicking her leg up. That's a very, mmmm, interesting angle.'' Steve smiled. "Thanks. But I was wondering more about what you thought of the photos we can actually run.'' "Oh, they're fine, fine,'' Porter said, saving the cheerleader shots in his special T&A file. "I might lead with this shot of Kenan Hill howling in pain. Did you hear how he got his big toenail ripped off? Crap, that must have hurt like hell. Maybe that's why he played so badly.'' "Yeah, he's been in pretty bad shape around the house since the game. Any chance you run the photo on the front page?''
At least Josh came up with a creative way of asking Nicollette out.
Porter shook his head. "Not today. Big news day.''
The lead story was about graduate research student Tim Prosser, who had disappeared after leaving the research complex the previous week while working on a project. At first, the joke was that he was trying to get out of a wedding. But four days later, there still was no sign of him. "Couldn't you pair the two stories?'' Steve suggested. "Run my photo with the headline: 'Red Devils Lose to Monroe State' and a subhead, 'Prosser Misses Game.'" He and Porter laughed. The very irreverent Daily was infamous for its tasteless headlines. One editor had been placed on probation for printing an AP story about a 12-year-old who had been killed when he was hit by a train while playing chicken on a railroad track, under the headline, 'He Played to Win.' "Sorry,'' Porter said. "But you would still lose out. The new issue of Maxim hit the stands.'' "So?'' "Well, they sort of copied Playboy's 'Girls of the Big Ten' idea and ran a feature on the hottest chicks in college athletics. Which reminds me: The news editor wants you to help with the story. She wants you to help get a reaction.'' "Why me?'' Steve asked. "I mean, yeah, I'd love to do it. Get some more shots for my 'portfolio.' But since when does she do me any favors?" Porter handed him a copy of the new issue. "Take a look for yourself.''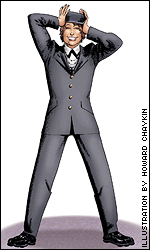 Better not mess with this dairy farmer!
Steve quickly leafed through the magazine until he came to the two-page photo spread. "And They Can Kick Your Ass, Too,'' the headline ran over a group shot of a dozen beautiful athletes from across the country. On the next page was a volleyball player, suggestively holding two balls in front of her otherwise bare chest. Below that was a soccer player beginning to peel off her sports bra, showing just the lower portion of her breasts. On the next page was a softball player wearing her jersey and apparently nothing else.
"Nice,'' Steve said. "But why do they want me to help with the story?'' "Keep looking. You'll see.'' He turned the page, and there was a photo of a diver standing on the high platform. She had been photographed in silhouette, but it was obvious she wasn't wearing a swimsuit. And when Steve looked at the
next
page, it instantly became clear why they wanted him to help with the story. For there was a full-page photo, taken from behind, of a State sprinter poised in the starting blocks, looking back toward the camera and winking. She wore black stiletto heels instead of running shoes. And that was nothing compared to what she wore in place of her regulation school shorts. "Holy @#$%! It's Nicollette,'' Steve whistled. "I'd recognize that underwear anywhere.''
WEDNESDAY: Chapter 8, The Juice
Jim Caple is a senior writer at ESPN.com. His first book, "The Devil Wears Pinstripes," is on sale at bookstores nationwide. It can also be ordered through his Web site, Jimcaple.com.
Howard Chaykin
pioneered the graphic novel in the United States and is best known for his groundbreaking series, "American Flagg!" He has worked as a writer/producer on several television series (including "The Flash" and "Viper"), and freelanced in feature films, pilots, and episodic television. He is currently back in comics full-time as a writer and artist. The theme song for "24 College Avenue" is "Threefold" by
AUTOLOGIC.
Download the free MP3 in its entirety by
clicking here
.