It couldn't have felt any better or been any more poignant and still have been a television commercial. As Tiger Woods fought off excruciating pain and Rocco Mediate to win his most improbable, most dramatic major title, Nike's poetic new spot, "Never," featuring the words of Tiger's father, Earl, revealed the roots of his legendary mental toughness and brought chills to viewers' spines.
It was as if Nike had composed not only the spot but the tournament, too. Debuting on Father's Day, the ad played like cut-away commentary and analysis, helping to explain some of the incomprehensible golf Woods was playing, reminding the audience that every shot he gutted out was laden not only with physical pain but with some deep memory of his dad and the games they played that prepared him for the daunting situation in which he found himself, spraying balls into the rough and dueling a relentless, resourceful competitor.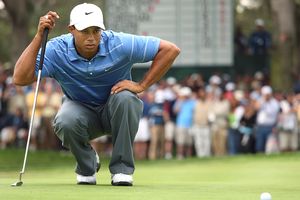 Ross Kinnaird/Getty Images
Making putts is tough enough. But even lining them up must have been difficult for Tiger last week.
And though the commercial felt perfectly orchestrated, that was in many ways just good luck for Nike and the ad team at Wieden+Kennedy that produced it. "We started working on the ad early on in the year," said Cindy Davis, U.S. general manager of Nike Golf. "It really came out of his winning the seven PGA Tour events in a row." Nike was interested in somehow explaining Tiger, in somehow making sense of his remarkable feats. "We wanted to tell a story 'about' Tiger," Davis said, "because he gives us so many amazing stories to tell about what he does on the course." We now know that Tiger's knee was barking even during his seven-tournament streak. We now know that the damage to his knee was compounding tournament by tournament. Nike's focus on what he was able to do in terms of making shots under pressure and fending off all comers paralleled what must have been rising doubts in Woods' mind and the growing concerns of his doctors. By the time the spot aired as an interlude between shots of Woods grimacing and hobbling up and down the fairways at Torrey Pines, it had taken on added meaning and added emotion for anyone who saw it. "It played beautifully to have it coincide with his remarkable performance at the U.S. Open," Davis said. "Any time your advertising becomes part of the context of an event or a story, you know that you've created something that connects." It played so beautifully, seemed so organic, so of its moment, that you could make the argument it should be allowed to resonate in memory. You could make the argument Nike should put the spot in the vault and never run it again, a la the famous "1984" Apple Macintosh spot from way back when; and in fact, Nike planned all along to peg it exclusively to Father's Day and the U.S. Open weekend.
But Davis said that maybe the most remarkable thing about the tournament Tiger played and the way the spot echoed and amplified his on-course heroics was that it really wasn't so remarkable at all.
"If you think about the mental toughness of Tiger," she said, "that's a story we could tell at just about any moment in his career, and it would have played, or will play, just as well as it did this past weekend." It played so beautifully that the prospect of a tournament without Tiger (now that he's out for the rest of the season) feels like the end of the world -- for the tour, for fans, for Nike. But Davis says the swoosh can survive it. "It goes without saying that the temporary absence of an athlete with Tiger's vast influence will be felt at all levels throughout the game," she says. "But Tiger's enduring impact on the Nike brand and business is so enormous that it resonates positively even when he's not competing."
Eric Neel is a senior writer for ESPN.com and ESPN The Magazine. You can reach him here.