Commentary
Chad Ochocinco: Spreading the word
Originally Published:
February 3, 2010
By
Chad Ochocinco
| Special to Page 2
I know I'm filing this late, but I'm having an awesome time here in Miami.
I started my day out on radio row at the Super Bowl media center.
Know what that is? That's when I get a chance to go on live radio with all the stations who have come to the Super Bowl. I spent most of my morning doing that. I was tired. But it was worth it. I got a chance to spread the message about the Ochocinco News Network.
Then it got really interesting. I had a pool party with Terrell Owens, Ludacris and a bunch of other athletes and celebrities. It really was a lot of fun. There was a lot of laughter and a good time.
But I still act as a reporter. Yeah, I'm working.
OCHOCINCO REACHES OUT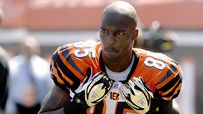 Chad Ochocinco's connection with a fan through social media holds significant meaning for surviving family, friends.
• Amy K. Nelson: Connecting with Chad
I know you reporters out there reading this have fun. So don't judge me.
You can have fun and still do your job.
I didn't stay out all last night. I was a good boy. I hung out with a few friends. And I turned in early. I don't mean before midnight. But I turned in at 1 a.m.
I knew I had to get up and do some work and promote OCNN.
See, you just don't understand: OCNN has access in places that you can't get. We can be anywhere at anytime and we get people to tell us stuff. That's what I was telling those people in radio.
It's just like when I first got started in football in the NFL. No one expected me to go and do certain things. I proved them wrong. Everyone talked about me in the NFL and everyone is talking about OCNN.
Thursday is going to be a big day for me. I'm going to continue doing radio interviews and make myself available to anyone who wants to talk.
And then I'm going to play some video games as part of the Madden Challenge.
See, Chad and Ochocinco News Network is everywhere.