Commentary
Crews left football to focus on acting
Originally Published:
February 17, 2010
By
Kelley Carter
| Page 2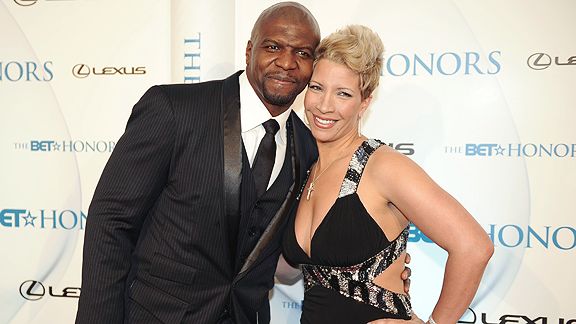 AP Photo/Nick WassTerry, and his wife Rebecca, will be putting their lives on display on a reality show.
Terry Crews laughs at the thought of getting the last laugh.
"The 'Longest Yard'? That was my revenge on the NFL," he says with a chuckle. "I got cut so many times and I end up being a famous football player anyway."
That's pretty much accurate -- that remake film in 2005 is one of the highest-grossing sports films ever made, raking in more than $190 million worldwide.
And when the film was released and reached that accolade, it was a crowning glory for the 41-year-old Crews, who'd struggled for years with his wife Rebecca and their five kids.
Crews came out of Western Michigan University in 1991 and was drafted by the Rams in the 11th round, ultimately playing three seasons in the league (1991, '93 and '95). He played defensive end and linebacker for the Rams, Chargers and Redskins. It was an up-and-down time for him, to be sure, but now that his life has turned around, he wouldn't change a thing. He's got a laundry list of projects on the way.
"Everything has been really rolling steady, and I just thank God to have this opportunity. I'm an old football player, you know? That's just what I am, and a lot of times, that transition is really hard," he says. "I'm one of the few that made it out and still love what I do."
Having spent the past 11 years acting in sitcoms and co-starring in films alongside some of the biggest names in Hollywood, Crews finally has it made. For years, he laughs, Crews has been putting caricatures of beefcake athletes center stage, and scoring rave reviews for doing so, in movies like "White Chicks."
"The locker room is the funniest place you'll ever be. The thing about the locker room is that you have the preachers. The pimps. The players. The comedians. It's like a little microcosm. It's almost like prison; you get everything from every walk of life and a lot of comedy in the locker room," he said. "I definitely based 'White Chicks' on at least three football players that I knew personally. They looked at me and I was like, 'Come on, G, you know that's you.' I really told on a lot of people."
On Sunday, Crews puts his entire family in the spotlight, with a new reality show featuring their life in Los Angeles airing on BET. "The Family Crews" will be unlike other reality shows, in that Crews wanted to actually show his family's reality, which isn't always Hollywood glamour.
"When you look at the tabloids and they always have sections where it's like, 'Stars! They're just like us! We go to the grocery store! They wear hats!' This goes a long way to demystifying what this is," Crews said. "I'm like, 'Guys, I go to work! Just like you, and when a job is done, I'm unemployed.' They think celebrities, all we do is eat cake. And don't want to be bothered. That's far from the truth. … We decided to keep it real."
Kelley L. Carter is a freelance entertainment reporter. She can be reached at thekelleylcarter.com.