Commentary
'South Park,' Tiger and Sunday Brunch
Originally Published:
March 14, 2010
By
Jerry Greene
| Special to Page 2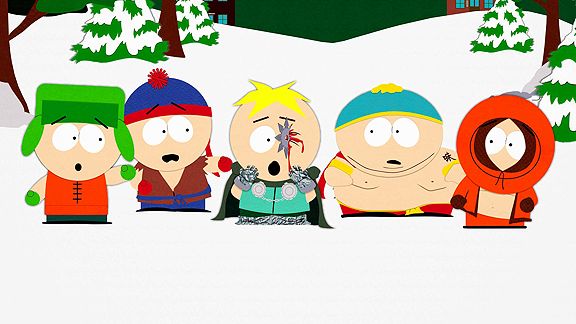 AP PhotoWhat are the chances that 'South Park' goes too far talking about Tiger Woods?
"Oh my God, his caddie killed Kenny!"
We may hear that line Wednesday when "South Park" opens its 14th season with a Tiger Woods episode. And one thing is for sure: If Tiger Woods has one fan left in this universe, it will be Cartman. We're guessing that the show's creators -- Matt Stone and Trey Parker -- looked at each other and yelled in unison: "Sex addiction!"
And the Sunday Brunch wants to give a shout-out to Ari Fleischer, who is spin-doctoring Tiger's return to golf. Add Tiger to Ari's list of former clients that includes George W. Bush, Mark McGwire and the BCS. It's too bad Ari doesn't have a time machine. He could have done wonders for some leaders of the past.
Other Brunch appetizers:
• Lakers forward Lamar Odom and his wife, Khloe Kardashian, were on TBS's "Lopez Tonight" talking to host George Lopez about Lamar's, uh, habits in bed. Apparently he really likes Double Stuf Oreos. Khloe said: "He sleeps on them so they melt in the sheets." All together now: Ewwweeee.
• Jake Delhomme is going to throw his interceptions in a Cleveland Browns uniform this season. Perfect.
• We keep having this nightmare. We're driving in the rain and we look into the rearview mirror to see Carl Edwards -- in a Prius.
• Tweet of the Week from Globe & Mail's Jeff Blair: "They found Sidney Crosby's equipment. The search for his personality continues."
• The Jacksonville Jaguars polled season-ticket holders about whether they should draft Tim Tebow -- and were shocked when 55 percent said "no." The Jags then scratched the next question on the list: "Do you want us to stay in Jacksonville?"
[+] Enlarge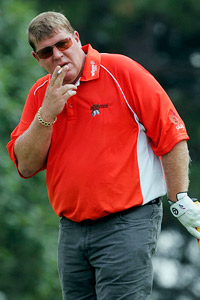 AP Photo/Michael ConroyThink Will Ferrell could play John Daly in a movie?
• Just finished reading the 456-page John Daly PGA Tour disciplinary file. Can't wait for the movie starring Will Ferrell.
• Speaking of sports flicks, the top three all-time based on earnings are (1) "The Blind Side," (2) "The Waterboy," and (3) "The Longest Yard" -- the 2005 remake. That's so depressing.
• Back to Edwards, who intentionally wrecked Brad Keselowski and barely had his wrist slapped by NASCAR. In defending Edwards, Texas Motor Speedway president Eddie Gossage said: "Would we [have] this conversation had Brad's car not gotten upside down? Probably not." -- And would we still be talking about the Titanic if it had not sunk? Probably not.
Enough of the bits of breakfast. On to the main courses:
• Let's get the Brunch rolling with one of our favorite curmudgeons -- Phil Mushnick of the New York Post -- as he makes his case for fewer timeouts at the end of college basketball games. Who can argue with that?
• Jumping to the Left Coast and to baseball but sticking with curmudgeons, here's T.J. Simers of the Los Angeles Times dismantling the Dodgers long before the season has even begun -- but he does show sympathy for Chad Billingsley's unnamed dog.
• Bruce Jenkins of the San Francisco Chronicle talks some NBA hoops including wondering if Matt Barnes of the Orlando Magic will regret tweeting that he might stuff a soiled diaper into the "potty" mouth of the Lakers' Lamar Odom -- which sounds worse than melted Double Stuf Oreos.
• We're going with Charles P. Pierce of The Boston Globe to close the Brunch with a weekend rundown that starts with Sunday night's NCAA Selection Show or, as Charles calls it, CBS's salute to Jim Nantz's ability to read.
Jerry Greene is a retired columnist for the Orlando Sentinel. He can be reached at osogreene@aol.com.
SPONSORED HEADLINES
ESPN TOP HEADLINES
MOST SENT STORIES ON ESPN.COM