Commentary
Figure skating meets reality TV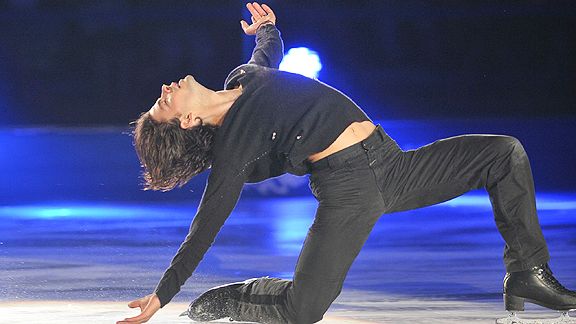 Susan Russell/International Figure Skating Swiss skater Stéphane Lambiel, the 2006 Olympic silver medalist, is a competitor on ABC's "Thin Ice."
MASHANTUCKET, Conn. -- Figure skating has never been short on storylines, tension or skimpy outfits. In other words, it's made for reality TV.
And in the span of just two nights, ABC hopes to pack its "Thin Ice" skating special with a season's worth of drama.
"'Dancing with the Stars,' 'So You Think You Can Dance,' those shows are just wildly popular," "Thin Ice" judge (and DWTS winner) Kristi Yamaguchi said. "I think the elements that make those shows popular is something skating absolutely has."
It was just a matter of finding a way to tap into it.
"Thin Ice," which begins Friday, brings together 10 of the world's top professional skaters (from singles, pairs and ice dancing) to face off in a couples competition with a total of $220,000 on the line. The catch -- because with reality TV, there's always a catch -- is that competitors are paired with new partners, performing to everything from Lady Gaga to Ne-Yo.
Beyond that, literally the only guidelines skaters and their choreographers -- a group that includes celebrity choreographer Fatima Robinson, Yamaguchi's "Dancing with the Stars" partner Mark Ballas and hip-hop choreographer Hi-Hat -- were given by "Thin Ice" executive producer Terry O'Neill was "Entertain us." Defining what ranks as entertaining is going to be the challenge, skating legend and "Thin Ice" judge Dick Button said. But it's one Button, likely much to the fans' delight, is ready to take head on.
"It would be very unfair for one of us judges to just go, 'Ooh, ooh, it was lovely, you're my good friend and I love you,'" Button said. "Uh-uh, that ain't the name of the game. As a judge, you have to be willing to state your opinions.
"And unfortunately, I do that too often."
The scoring from the judges (Olympic gold medalist Katarina Witt joins Yamaguchi and Button) will count for 50 percent, while viewer and audience votes will comprise the other half. The latter is what sets this competition apart from previous skating events.
"It's putting a number to the applause," skater John Zimmerman said. "That will be interesting to see how that compares to the judges' scores. If you look at the [reality] shows that are long lasting, the audience has an impact."
[+] Enlarge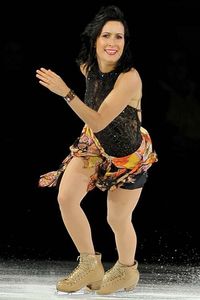 Susan Russell/International Figure Skating Marie-France Dubreuil will skate with Michael Weiss on "Thin Ice" instead of her usual partner, husband Patrice Lauzon.
For 2002 Olympic gold medalists Jamie Sale and David Pelletier (pairs) and two-time world silver medalists Marie-France Dubreuil and Patrice Lauzon (ice dancing), taking part in "Thin Ice" means not only giving up their on-ice partners, but taking a break from skating with their spouses. Sale and Lauzon are skating together while Dubreuil is skating with U.S. singles skater Michael Weiss and Pelletier is skating with Elena Berezhnaya. (If you feel like you need a flow chart to keep it all straight, you're likely not alone.)
The key is setting oneself apart from the competition -- be it through technical elements like jumps and spins, choreography or good old-fashioned type-casting.
"We're totally the underdogs," Pelletier said, already practicing his pitch. "We live at the other ends of the world. We didn't have a chance to meet until like two weeks ago on the ice. She has two children. I have one child. I just lost my pregnancy weight. We are in for a tough time."
It might almost sound like a convincing plea if you didn't know that between him and his partner, they have three world titles and two Olympic gold medals.
Lauzon, who like Pelletier is skating against his wife, is simply relying on the time-tested reality show staple, the alliance.
"One way or another, [the prize money] still goes in the same bank account," he said.
Part 1 of "Thin Ice" airs Friday at 8 p.m. on ABC and will feature a special performance by Vancouver bronze medalist Joannie Rochette. Fan voting opens at the start of the show and ends Saturday at noon. The special concludes Sunday at 7 p.m.
Maria Burns Ortiz is a Page 2 contributor and writes for ESPNSoccernet. She can be reached at mariamburns@gmail.com.