Commentary
NCAA should follow BCS model
Originally Published:
April 1, 2010
By
Jim Caple
| Page 2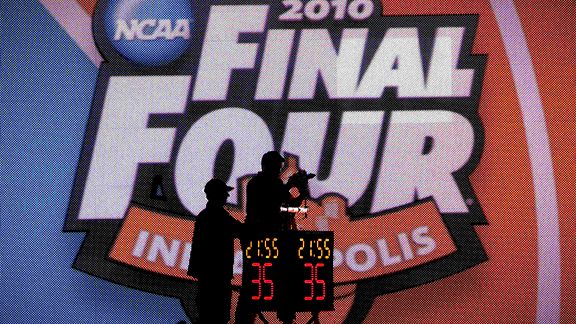 AP Photo/Michael Conroy
Some people want to "improve" the NCAA college basketball tournament by expanding it by 32 teams to 96 schools. Some even suggest "improving" it by doubling the field to 128 teams. Nonsense. I say the best way to improve the tournament is to follow the tried and tested model that so many NCAA officials and coaches say works best for them:
Duplicate the college football bowl system for basketball.
The bowl system, as the NCAA vehemently insists each football season, is the best model for postseason play … and it's easy to see why. Under the current schedule, 65 teams reach the basketball tournament, and 64 of those teams go home losers. If they expand the tournament as expected, 95 teams would go home losers. Under the bowl system, however, 68 teams go to a bowl and 34 come home winners. And isn't that what NCAA sports should be about, making as many schools as possible feel like winners?
That's why the NCAA BasketBowl System would be such a hit.
For one thing, copying the BCS would assure the best possible matchups. No one wants to see Duke blow out Arkansas-Pine Bluff in the first round of the tournament any more than they want to watch USC rout Marshall in the Rose Bowl. The BasketBowl system would end those lopsided games by matching teams evenly. Say goodbye to overpowering Goliaths turning overwhelmed Davids into Roadkill to the Final Four.
This also would eliminate the risk of a top seed losing in an early round. No longer would we lose a great program such as Kansas early with a loss to a lowly No. 9 seed that just happened to get hot at the right time. Cinderella stories are fine and all, but the lesson of Cinderella is that eventually pumpkin time arrives, and it's never pretty. Much better to avoid any of that nonsense by simply pitting those Cinderellas in the Meinke Car Care BasketBowl and the top teams in the BasketBowl Championship Game. This way, what you do during the regular season holds a lot more meaning than what happens one weekend in March. Sure, you may lose an occasional upset, but that pales in comparison to gaining a truly undisputed national champion.
The BasketBowl system also would be easier on the wallet, and who doesn't need a little help there these days? Rather than scrambling at the last minute for airfares and tickets for Indianapolis, fans would know where their teams are going weeks ahead of time, allowing them to buy lower fares or drive and build entire spring breaks around tourist destinations such as Phoenix for the Fiesta BasketBowl, New Orleans for the Sugar BasketBowl and Detroit for the Little Caesars BasketBowl.
And in addition to games, the BasketBowl system would give us so much more off the court. It would give us parades! Think what a warm glow you'll feel when you wake up on a rainy March morning, turn on the TV and watch the spectacular floats, marching bands, baton twirlers, clowns and Shriners in the grand floral parade before the Granddaddy of Them All, the Rose BasketBowl. I assure you, as good as that will feel, it will pale in comparison to how special a young woman will feel when she is crowned Rose BasketBowl Queen.
Not convinced yet? Then imagine teams and fans gathering on the sidelines and waiting eagerly on BasketBowl Bid Tuesday to hear where they're going.
"Northern Iowa and Wake Forest are going to Nashville for the Gaylord Hotels Music City BasketBowl. Lehigh and Ohio are going to Fort Worth for the Bell Helicopter Armed Forces BasketBowl. Wofford and Montana are going to Boise for the Roady's Humanitarian BasketBowl. Vermont and Sam Houston are going to Shreveport for the AdvoCare V100 Independence BasketBowl. …"
Tell me that doesn't excite you.
Finally, the BasketBowl system would be patriotic. Every year you read about America's lost productivity due to office pools, costing this country hundreds of millions of dollars it cannot afford. I know some people enjoy these pools, but it is nothing more than gambling and it is hurting our already fragile financial system. Plus, you're going to lose anyway. Better to save that money and put it back into the economy.
I suggest a nice Washington Huskies Chick-fil-A BasketBowl sweatshirt.
Jim Caple is a senior writer for ESPN.com. You can follow him on Twitter at jimcaple.