Commentary
Training with a Gladiator
Originally Published:
April 19, 2010
By
Katie Barry
| Special to Page 2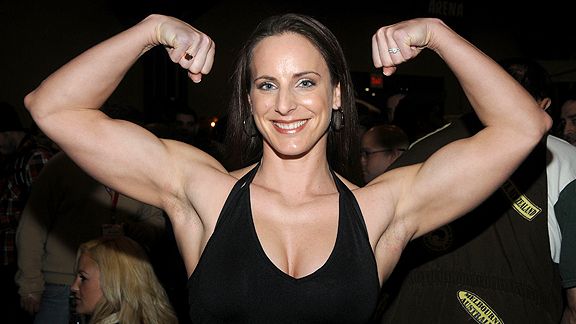 George Napolitano/FilmMagicJamie "Fury" Kovac spent some time training one of the Page 2 writers.
As a 10-year-old, I was glued to "American Gladiators."
It was as campy as it was competitive. Watching Diamond demolish a gangly girl on Gauntlet or Nitro bomb a junior accountant from Missouri with tennis balls left me in awe.
When the show was resurrected, I fell in love all over again.
But the show was canceled in 2009 after two seasons and 21 episodes.
After hearing talks of it coming back in 2011, I find Fury (aka Jamie Kovac), who offers to show me what it takes to be a gladiator other than a spray tan, a snazzy latex suit and a one-word moniker.
She's bigger and better than ever now.
She's lean and mean and is the most chiseled female I've ever seen.
Nothing jiggles.
The 32-year-old body buff graduated with honors from Cornell, where she met her hockey-player husband of four years, Frank Kovac. The Slovakian embraces her competitive side, which includes throwing a guy out of a cab and chasing down her mugger. Wouldn't you?
"That's why I love her," he says.
She rigorously trains every day and is mulling options with three networks for a reality show and waiting for word from NBC on the rumored third season of "American Gladiators."
I know I'm in for it when she says she'll train me at both her gyms. As we enter Retro Fitness in Sayersville, N.J., the man behind the counter waves her on. "Go on, you know this place better than any of us." It's like watching my grandpa shop at AutoZone.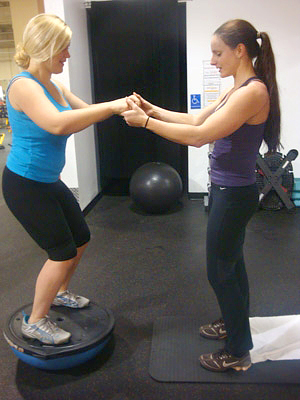 Courtesy Kristy Barry Katie Barry works out with Jame Kovac.
After elliptical, treadmill and bike, we do up to 20 concentrated workouts in reps of 30 on yoga mats. "This can't be all that bad," I'm thinking. An ache starts growing, and soon my pride slips away with my sweat.
I'm huffing, puffing and forgetting my name. She skips to a stack of weights, attaches a straight bar to a cable and starts into reps, attributing her jousting success to this exercise.
"Fury would just wild out on the joust," former fellow gladiator Mayhem (aka William Romero) recalls. "She has that fire that's always lit."
Minutes into a workout at Real Gymm, I am dangling like a wombat from a horizontal rope ladder attached to the ceiling feeling like easy prey. Chalk doesn't help the calluses; nor do my sister's cackles.
There are all sorts of gadgets and gizmos straight out of "Rocky."
We use tires, sledgehammers and boat ropes for arm work.
We do pull-up sequences on steel pipes and gymnastic rings. My arms are wet noodles by the time we do push-up handstands. Then comes the ab roller coupled with the ab dolly, the PVC piping for technique, the Kettle bells …
Not your typical trip to the gym, but Fury and her Real Gymm owner friend Donnie Banks devise such off-beat workouts to keep things fresh and work all sorts of muscle groups.
I often wake up, stare at my stomach and ask, "Did the abs fairy come yet?"
The morning after Fury's abuse, everything from my hips to my ribs to my quads are begging for mercy, but the gentle giant checks in daily: "More or less still sore? ;-)" Mayhem offers some sympathy, having trained with her for three years.
"Oh no, you didn't do legs with her? I refuse. It's like, 'Damn, girl, I thought we were friends!' She's really the perfect athlete."
Fury never stops, easily explaining how she has only 8 percent body fat on a 160-pound, 5-foot-7 frame.
She gave skeleton and bobsled a shot but missed the Olympics. Formerly a structural engineer, she says unemployment has made her more focused and domesticated -- from power-cleaning 175 pounds to admitting that "vacuuming the whole house is actually a tough workout."
She grocery-shops as if she's on "Supermarket Sweep," and cooks as if wolves are waiting. Well, just her husband and two cats, both of which she keeps on a strict diet.
"Getting the gig was a dream come true," she says of winning one of five female spots. "In the beginning, we were like, 'You have to stop treating us like a high school boys' football team.' It was a tricky balance but amazing to be in this crazy spotlight."
Coiled up in bed with knotted muscles, I hear singing monks chanting my new gladiator name: Crazy.
"We could be a tag team," she suggests. "Crazy Fury. I got my name because I don't have warning signals. I go from smiling to me trying to smile to me looking constipated to me being furious."
And somehow, we wouldn't have it any other way.