Commentary
Ragnar Relay is not a run of the mill race
Originally Published:
May 19, 2010
By
Robert Booth
| Special to Page 2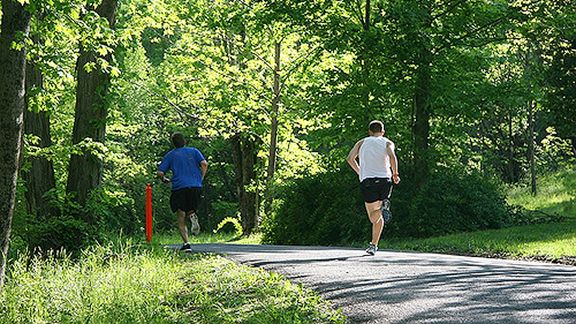 Karen Lee for ESPN.comESPN.com associate editor Rob Booth (right) runs with Ragnar founder Dan Hill.
DOBBS FERRY, N.Y. -- I sit around a table with new friends, all exhausted from the combination of sleep deprivation and the fact that over the past 25 hours and 55 minutes we had pushed our bodies to the limits.
The sound and beauty of the Hudson River just a few feet away calms me. Then the band begins to sing "Sweet Caroline, good times never seem so good …."
I am at the Ragnar Relay New York presented by NordicTrack, a 184.1 mile running relay that begins in Woodstock, N.Y. and ends just outside of New York City. The way the relay works is that each runner is assigned three legs of the course, each with varying distances and degrees of difficulty.
Teams of 12 people continually run throughout the day and night until the distance is complete. As a matter of fact, Day Two, 6:45 a.m., found me face first on the floor of a middle school gymnasium, with hundreds of others, all trying to get a few winks of sleep before our next legs.
While one teammate is running, the others drive in two designated vans along the route, supporting and aiding the runners along the way -- or in our team's case, blasting Miley Cyrus at every stop.
I was part of team ESPNNewYork.com, and we were joined by the co-founder of the Ragnar Relays, Dan Hill. I was lucky enough to run my first leg of the adventure with Hill. Over the 8.2 mile run, I was able to get a feel for the Ragnar history and culture.
"When I was 14 years old, I went and mapped some routes in Utah with my father. He wanted to a do a race similar to the Hood to Coast, but in Utah," Hill said. "Problem was he could never quite get it together, having to support a family and everything."
In 2004, Hill and longtime friend Tanner Bell, finishing up college, decided to start the Wasatch Back Relay in Utah. The race was rather small at first, with just 22 teams and about 260 runners. "We were two really young guys with no event experience at all," Hill said, "and just $1,000 of startup money."
As teams continued to return and word spread, the Ragnar Relay Series became a huge success and continues to grow in popularity across United States. The events are growing so rapidly that the original Wasatch Back Relay had to be capped off this year at 1,050 teams, with 200 teams on the waiting list.
With this success, charity has become an important initiative for the Ragnar Relay Series. All the money raised at the New York event will go to the Marathon Project. This program pairs adult mentors with at-risk youth to reduce risk factors such as childhood obesity, school drop-out and substance abuse with the ultimate goal being the completion of a marathon.
As we continued to pound the paths and pavement, Hill described how the New York race came to be.
"We don't just want to go to New York and piece together 180 miles," Hill said. "We usually look for cool landmarks. In this case, Woodstock was about the right mileage … running from the tiny yet artfully historic town to one of the greatest cities in the world just seemed like poetry."
The next day, as the last few miles and memories passed, I couldn't wait to finish, but in a way I didn't want it to end.
"There are probably about a thousand sports clichés that could say this better than I can, but to sum it up," Hill said, "we weren't meant to sit at cubicles all day and then go home and sit in front of the TV."
Rob Booth is an associate editor at ESPN.com.