Commentary
Cricket coming to America this weekend
Updated:
May 21, 2010, 9:14 PM ET
By
Amar Shah
| Special to Page 2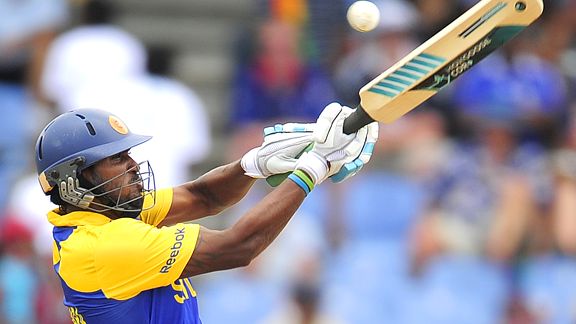 Emmanuel Dunand/Getty ImagesSri Lanka, New Zealand, Jamaica and the U.S. are playing cricket this weekend on ESPN3.com.
A historical bat and ball matchup takes place in Florida this weekend. No, it doesn't include the Marlins. They're in Chicago playing the White Sox. Nor is it the Rays. They're in Houston playing the Astros. In fact, it's not even baseball related.
It's Sri Lanka against New Zealand, a battle of two powerhouses in international cricket. Yes, cricket, that odd bat and ball sport which Sports Illustrated writer Paul Gallico described, "takes three days to play, in which runs are scored by the dozens and Centuries, and batting stands of one hundred are not uncommon. And the break for tea is considered the most deliciously funny business this side of a comic valentine."
Sri Lanka and New Zealand will be the first International Cricket Council teams to play on American soil. It will also be the first time an American audience will get a glimpse at cricket stars like Daniel Vettori, New Zealand's young captain, and Sri Lankan batsman Mahela Jayawardene.
The teams will play each other in The Pearls Cup at the Broward County Regional Park in Lauderhill along with the United States against Jamaica in a doubleheader of matches that will air live on ESPN3.com at 3:30 p.m. ET Saturday and noon ET Sunday.
Cricket is considered the second most popular sport in the world and has more than 15 million fans in the United States, where baseball is still the national pastime. But cricket has historical roots that outdate baseball. Soldiers in the Revolutionary War played cricket at Valley Forge.
In 1844, the United States and Canada went head-to-head in the first international sporting event between two nations in world history. Even Abe Lincoln reportedly turned out to watch Chicago play Milwaukee in a cricket match in 1849. The United States had one of the finest cricket players of all time in Philadelphia born Bart King, known as one of the fastest bowlers (pitchers) of his generation.
On Monday, the New Zealand cricket team, known as the Black Caps, visited the Marlins during batting practice. All-Star shortstop Hanley Ramirez wore knee guards and swung a cricket bat. In the outfield, members of the New Zealand cricket team caught fly balls. Later that night they would throw out the first pitch. So in the roots of sports genealogy, baseball and cricket are brothers from another mother.
CRICKET PRIMER
"Baseball and cricket are beautiful and highly stylized medieval war substitutes, chess made flesh, a mixture of proud chivalry and base - in both senses - greed"
-- John Fowles, English novelist, author of The Collector
Let's get to the basics. In cricket there are 11 players; in baseball, nine. The object of both games is to score the most runs and to get the other team out. Baseball is played on a diamond-shaped field with foul lines, whereas cricket is played on an oval-shaped area about 450 feet in diameter.
Pitching/fielding
Both sports are battles between a batter and a pitcher, called a bowler in cricket. The distance between both is relatively similar; 60 feet, 6 inches is the distance between the pitching mound and home plate, while the distance between two wickets is about 66 feet.
In cricket, the bowler gets a running start and on most occasions hurls the ball on a bounce to the batter. In baseball, unless your Carl Lewis throwing out the first pitch, the ball is usually thrown directly to the catcher in a set motion.
Cricket, like baseball, also has its speed and offspeed pitches. In cricket, slower bowlers are called spinners. In baseball, they're called Orlando Hernandez.
There are a number of similar ways to record an out in cricket and baseball, whether by a catching a ball in the air or tagging a runner. In cricket, a player can also get out on a leg before wicket, which is as esoteric to a baseball fan as the infield fly rule is to a cricket aficionado.
In baseball, defensive positions are standardized, whereas in cricket they are fluid. Sure, you can play the shift with David Ortiz at bat, but in cricket a batter can use the entirety of the field to place shots.
In baseball, a manager can make defensive decisions, but in cricket only the captain can.
Fielders in baseball use mitts to catch a ball. In cricket, where the ball is harder, it's your bare hands in every position but the wicket keeper, which is similar to playing catcher.
Batting
When it comes to batting, writer Roger Bate wrote,"baseball's emphasis is on power. In cricket, consistent contact." Meaning Indian batsman Virender Sehwag would be a solid slugger in the MLB and Ichiro a terrific cricket player.
Runs are much easier to score in cricket. You can easily see batters accumulate dizzying run totals. The record for a test match is 400 runs, held by former West Indies star Brian Lara, described by President Obama as the "Michael Jordan of cricket."
The fact you can hit the ball in any direction in cricket makes it easier run up the score. Ted Williams said hitting a baseball is the hardest thing to do in sports, Tell that to a cricket batsman, who has to incorporate a number of strokes and techniques from a slog to leg glance and who can stay at bat for hours at a time drenched in sweat.
In cricket, runs can be scored hitting the ball and running from one wicket to another or smacking the ball past the boundary line in the field. By air it's six runs and by ground it's four runs.
Length
"Baseball has the great advantage over cricket of being ended sooner."
-- George Bernard Shaw, Nobel Prize winner, author of Pygmalion
Test matches are the stereotypical cricket matches that can last three to five days.
One Day Internationals take place from morning till dusk. Think doubleheader. They last for 50 overs (innings). Each over consists of six balls thrown.
But the new form of cricket gaining traction is the Twenty20 format, which is 20 overs and lasts the length of a baseball game. This format has proved successful in the Indian Premier League and is being utilized to promote the game in the United States.
Amar Shah is a sports producer based in Los Angeles.
• Emmy-nominated and award-winning writer and television producer
• Work has appeared in Slam, The Wall Street Journal, Cricinfo, Sports Illustrated For Kids and The Orlando Sentinel
• Produced for SportsCenter, The Best Damn Sports Show Period and several other TV shows