Commentary
Can Shaquille O'Neal make it in MMA?
Originally Published:
May 29, 2010
By
Patrick Hruby
| Special to Page 2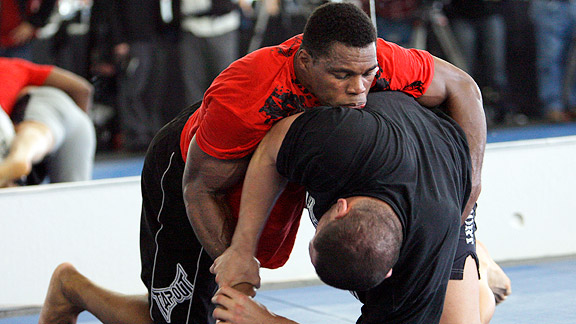 AP Photo/Jeff ChiuHerschel Walker trained and won his first MMA match, but will Shaquille O'Neal be successful?
UFC president Dana White recently said that Cleveland Cavaliers center Shaquille O'Neal has been training in mixed-martial arts for years -- and lobbying to fight in the Octagon for nearly as long. Could Shaq make a successful career switch? If the history of other pro athlete-to-pro fighter crossovers is any indication, results are impossible to predict:
Too Tall Jones
Day job: Havoc-wreaking defensive end for the Dallas Cowboys.
Fighting career: Semi-respectable. Retired from football to go 6-0 as a heavyweight fighter with five KO's between 1979 and 1980 before retuning to the Cowboys; on the other hand, combined record of Jones' opponents was 37-86-1. And Jones' debut fight was marred by accusations that his corner deployed smelling salts while the fighter was on the ground.
Herschel Walker
Day job: Heisman Trophy winner; USFL/NFL running back; Olympic bobsledder.
Fighting career: Respectable. At age 47, won MMA debut match against someone named Greg Nagy, showing still-formidable athletic ability and so-so ground fighting skills.
Kendall Gill
Day job: 15-year career as NBA shooting guard.
Fighting career: Respectable. Currently the 232nd-ranked active heavyweight in the United States; sports a 4-0 record as a professional boxer, including an April TKO of Miles Kelley.
Johnnie Morton
Day job: NFL wide receiver/Matt Millen antagonist.
Fighting career: Disastrous. Was knocked out just 38 seconds into his MMA debut; adding insult to injury, he was suspended by the California State Athletic Commission for failing to take a post-fight doping test. The CSAC later revealed that Morton failed a pre-fight steroids screen.
Wilt Chamberlain
Day job: Hoops Hall of Famer/legendary ladies' man.
Fighting career: Smart. In 1971, Muhammad Ali brought months of public trash-talk and speculation to a head by announcing he would fight the Stilt at the Astrodome -- no, really! -- only to have Astrodome officials call of the bout an hour later.
Manute Bol/Fridge Perry
Day jobs: NBA pipe cleaner; NFL beer keg.
Fighting career: Fought each other in celebrity boxing match. Bol won a three-round decision and donated his purse to Sudanese relief efforts.
Kareem Abdul-Jabbar
Day job: Skyhook maestro; "Airplane!" movie-stealer.
Fighting career: Totally awesome. Fought Bruce Lee. Who cares if he lost?
Jose Canseco
Day job: MLB pitching washout; World Cup-quality ball-header; vindicated steroids snitch.
Fighting career: In a word, Canseco-nian. Who else can claim losses to a 7-foot-2 Korean kickboxer, former NFL kick returner Vai Sikahema and Danny Bonaduce?
Patrick Hruby is a freelance writer and ESPN.com contributor. Contact him at PatrickHruby.net.