Commentary
'Sunday Brunch' looks at Halls of Fame
Originally Published:
May 30, 2010
By
Jerry Greene
| Special to Page 2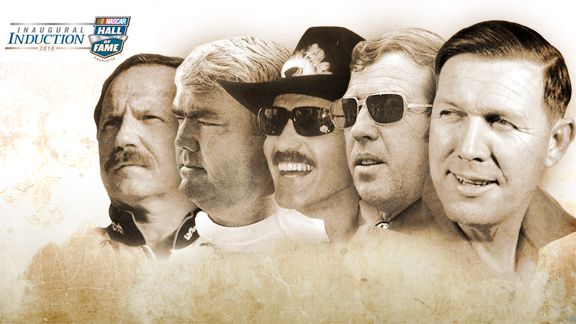 ESPN.com IllustrationNASCAR's Hall of Fame has got me thinking about other Halls.
The new NASCAR Hall of Fame recently inducted its inaugural class, consisting of Bill France Sr., Bill France Jr., Junior Johnson, Dale Earnhardt Sr. and Richard Petty.
"NASCAR's finally got their Hall of Fame, and I think it moved all of us up a notch," Petty said. "I think now we're as big league as anybody."
Really? All it takes is a Hall of Fame?
You might be amazed at how many Halls of Fame there are. Whether they all are "big-league" worthy is debatable. My favorite is the National Toy Hall of Fame. The first inductee was Barbie and it is hard to argue with a woman who keeps her figure as long as Barbie. She makes Cher look old. Last year's group of famed toys included Big Wheel, Game Boy and, uh, "the ball."
So what about "the stick?" The stick can be anything -- a gun, a sword, a magic wand or, for those who are imagination impaired, a stick.
Here's some other Halls that really exist: Canadian Cartoonist HoF, Insurance HoF, Robot HoF, New Jersey HoF (which is probably a room on the Boardwalk in Atlantic City) and, best of all, the Military Intelligence Hall of Fame.
I'm going there just to visit the Oxymoron Room.
What other bits of tid do we have before the main courses of our Memorial Weekend Brunch?
• Argentina's World Cup doctor advised that sex before sports is fine, adding "The players can have sex with their wives and girlfriends during the World Cup." OK, but hopefully at different times.
• Our Tweet of the Week from the L.A. Times' Diane Pucin: "V. Williams tennis dress is worst of CanCan meets Moulin Rouge meets swap meet Halloween costume. Venus? Did you skip a design class?"
• In last week's episode of "The Simpsons," a guy in a bar asks Homer: "Hey man, can you settle a bet? What was the greatest XFL team that never won a championship?" Shamefully, Homer didn't have a clue. D'uh! Everyone knows it was the San Francisco Demons, led by quarterback Mike "Golden Bear" Pawlawski.
• When the Rangers filed for bankruptcy, the top unsecured creditor was some gun named Alex Rodriguez. There's a clue to what's wrong with baseball in there somewhere.
• Our Most Colorful Phrase of the Week goes to Ron Borges of the Boston Herald when he called for the Celtics to take out Orlando's Dwight Howard. Declared Borges: "It's time for [Howard] to eat some bloody Chicklets." Can't you see Mel Gibson in "Braveheart" racing across a field and screaming "Eat bloody Chicklets!"
• We all know the Super Bowl will be played in the New York City area in 2014. In case you missed the other announcement for 2014, the Iditarod Trail Sled Dog Race will be in South Beach.
• The lights went out Wednesday night at Wrigley Field during a Cubs' game. Officials said "local power outage," we say "cosmic metaphor."
• We've all heard that LeBron James, Dwyane Wade, Chris Bosh and Joe Johnson met to discuss where they will play next season. And to answer the nation's No. 1 question: Joe is the only one who can cook.
And now to the main courses in our Memorial Weekend Brunch:
• Kevin Paul Dumont of the Boston Globe bats lead-off by talking football because what else is going on in Boston? He breaks down the first near-artic Super Bowl in 2014 and while we're not sure if he approves, he's convinced it will be better than the XFL.
• Guess the team Bill Plaschke of the L.A. Times is writing about when he says: "Them again. The ugly uniforms, the obnoxious fans, the chippy players, and that damn cigar." Certainly not the Orlando Magic. The question is this: Do the Lakers fear Celtic green?
• Mike Vaccaro of the New York Post plays one of our favorite games -- "What If?" -- involving the Knicks, Jets and Mets. At first we thought he was wondering what if none of them ever existed, but we were wrong.
• Greg Cote of the Miami Herald gives us one of his wonderful "Random Evidence of a Cluttered Blog" blogs that includes a poll on why the Marlins can't attract pigeons, much less fans. We wanted to vote for "Because nobody down there really cares," but that answer wasn't available.
• We are closing the Memorial Weekend Brunch with Joe Posnanski of Kansas City as he considers the word "heroes" and what it really means. This is a good one that reminds us why Monday is a holiday.
Jerry Greene is a retired columnist for the Orlando Sentinel. He can be reached at osogreene@aol.com.