Commentary
Page 2 readers vote Wooden top coach
Originally Published:
June 10, 2010
By
Jerry Greene
| Special to Page 2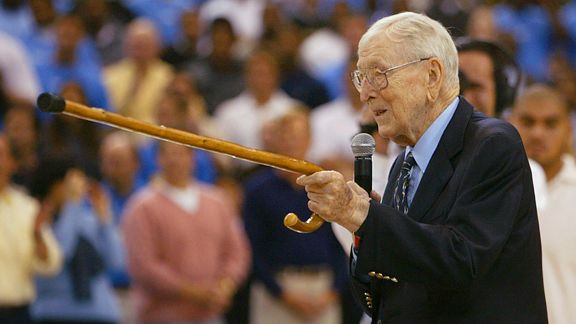 AP Photo/Chris CarlsonPage 2 readers voted John Wooden as the greatest coach of all time, no matter the sport.
No point in trying to tease you about who you chose as the Greatest Coach of All Time.
John Wooden, the master of collegiate basketball at UCLA who died last week at age 99, is your greatest coaching wizard.
The choice is hardly surprising. However, the voting was varied. Wooden received just more than 10 percent of your votes, while 32 coaches received at least five votes each. And if we were to construct our own Page 2 Mount Rushmore of Coaches, the faces would be of Wooden, pro football's Vince Lombardi, hockey's Scotty Bowman and pro basketball's Red Auerbach.
If there is any conclusion to be drawn from the Big Four, it is that you are aware of sports history and respect its legendary leaders, as many -- if not most -- of the voters probably are not old enough to have seen Wooden, Lombardi and Auerbach at work.
The biggest surprise to most must be the sixth-place finish of collegiate wrestling legend Dan Gable. If you don't know the name, Gable, 61, wrestled at Iowa State and won gold in the 1972 Olympic Games without losing a point. He then coached Iowa to 15 NCAA titles from 1977 to '97. He also coached the United States in three Olympics.
CREATE YOUR OWN LIST
Cast your vote for the greatest coaches ever. You can rank up to 30 with our interactive tool. SportsNation Listranker
Perhaps the most surprising "no-shows" in our Top 10 list, based on your votes, are Phil Jackson, currently seeking another NBA title with the Los Angeles Lakers, and football's apparently forgotten Paul Brown, who got just two votes.
As a sidebar, we invited you to cast a vote for the Worst Coach of All Time. As expected, Southern Cal's Lane Kiffin ran away with that contest, with many votes coming from his last school -- Tennessee. Wrote Jonathan R., an Alabama fan from Mobile, "It's not just Vol fans that hate Kiffin, but the SEC as a whole that can't stand him. Tennessee is right up there on my 'Teams to Hate' list, but we can still come together to hate the man."
A distant but shocking second for Worst Coach is the Dodgers' Joe Torre. Wrote Fred M. of Chicago, "Once a 'Damn Yankee,' always a 'Damn Yankee.' When it comes to taking advantage of having super talent on the field, he's a bigger fraud than Phil Jackson."
Let's get to the love.
Top 10 Greatest Coaches of All Time
10. Larry Brown -- "He's been the Johnny Appleseed of basketball, spreading it across the land." -- Tom K., Las Vegas.
9. Bear Bryant -- "The hat, the voice, the success, what else do you want?" -- Billy A., Birmingham, Ala.
8. Casey Stengel -- "The Yankees are not a dynasty without Casey in the dugout, not to mention the Dodgers, [Boston] Braves and Mets." -- Cal S., Brooklyn, N. Y.
7. Bill Walsh -- "Simply the brightest mind that the game has ever known." -- Jason H., San Francisco.
6. Dan Gable -- "Of what other man can it be said that he was the greatest athlete and the greatest coach in the sport's history?" -- Chris G., La Crosse, Wis.
5. Don Shula -- "Most victories, helped the NFL become a passing league, and there was that little 'perfect season' thing." -- John R., St. Petersburg, Fla.
4. Red Auerbach -- "Did more for the Victory Cigar than Winston Churchill." -- Matt M., Boston.
3. Scotty Bowman -- "Nine Stanley Cups, including four straight, with three different teams, and all-time leader in regular-season wins, playoff wins and those Stanley Cups." -- Prashanth I., Chapel Hill, N.C.
2. Vince Lombardi -- "Won the first two Super Bowls, what else do you need to know?" -- Rick W., Rochester, Mich.
1. John Wooden -- "As great as his accomplishments on the court, Coach Wooden's impact goes far beyond the game of basketball. He was more teacher than coach." -- Bryan H., Torrance, Calif.
Amen to that, Bryan.
Jerry Greene is a retired columnist for the Orlando Sentinel. He can be reached at osogreene@aol.com.