Commentary
Page 2 looks at All-Farm Team
Originally Published:
June 30, 2010
By
Rob Daniels
| Special to Page 2
You've heard of farm teams, the common moniker for Major League Baseball's developmental system. But how about an All-Farm team? Get on the tractor and steer your way around this group.
Mark Acres: He played for the Celtics, which means we really can call him Green Acres. The 6-foot-11 center from California first hit the landscape at Oral Roberts University, where he exceeded 2,000 points and 1,000 rebounds in his career (1981-85). The 2K-1K group is a pretty rare one; only about 100 NCAA players have joined it in the 70-plus years in which official stats have been kept. After playing for two years in Belgium, Acres caught on with the Celtics, and he ultimately averaged 3.6 points a game in a 375-game career for six NBA teams.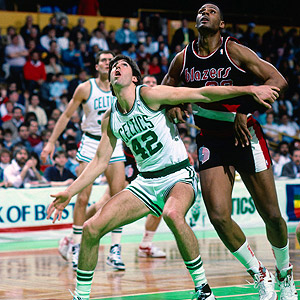 Dick Raphael/NBAE/Getty ImagesFormer Boston Celtics player Mark Acres makes our list of All-Farm Team.
Peanuts Lowrey: Harry Lee Lowrey was an All-Star for the 1946 Chicago Cubs who struck out only 226 times in 4,831 MLB plate appearances. In other words, he seldom had to say, "Nuts" in frustration.
Cotton Nash: One of only 12 men to play in the NBA and MLB, Charles Francis Nash performed some impressive double duty before the era of slick Nike slogans. In the summer of 1964, for example, he really was on a farm team. He hit 11 homers for the Los Angeles Angels' Class A outfit in San Jose. Presumably fearing boredom, the former University of Kentucky basketball standout headed down the coast after baseball ended and tried out for the Los Angeles Lakers. He made it and played 25 games with Jerry West, Elgin Baylor et al before being traded to the San Francisco Warriors, whose roster included Wilt Chamberlain. As soon as the NBA season ended, Nash reported to the Angels' camp again and smacked 22 long balls for the Double-A El Paso Sun Kings. That stamped him as a legitimate prospect and compelled him to concentrate on baseball full time. He made his MLB debut with the Chicago White Sox in 1967.
Jerry Rice: An All-Everything kind of performer, Rice is considered by some the greatest player in football history. A run of 13 Pro Bowls in 20 NFL seasons will tend to get you noticed.
Billy Shepherd: The 5-foot-10 guard from Indiana didn't have a long pro basketball career, but it was interesting. As a member of the ABA's 1972-73 Virginia Squires, he played with Julius Erving and George Gervin. The following year, he wound up with the San Diego Conquistadors, whose coach was the aforementioned Wilt Chamberlain.
Jim Tiller: The former Purdue Boilermaker was one of the AFL's busiest return men in his only season, 1962. He played for the New York Titans, who were precursors of the Jets, who would legitimize the league and force the merger with the NFL seven years later.
John Bale: This veteran left-handed reliever's last name means "a large bundle of goods." In his case, the goods were teammates. Bale played for 12 teams in the minors, four in the majors and the Hiroshima Carp in Japan.
Tad Weed: Considered the player whose name most sounds like a misdemeanor possession charge, Weed was a kicker for the 1955 Pittsburgh Steelers. As far as anybody knows, he kicked up grass but didn't smoke it.
Warren Wheat: Had the distinction of blocking for one of the shorter quarterbacks in the NFL, the allegedly 6-foot Ty Detmer (at BYU), and one of the tallest, 6-8 Dan McGwire (Seattle Seahawks).
Rob Daniels is a freelance writer for Sports Media Exchange, a national freelance writing network.
MOST SENT STORIES ON ESPN.COM