Commentary
Brady Quinn focuses on core training
Originally Published:
June 29, 2010
By
Lynn DeBruin
| Special to Page 2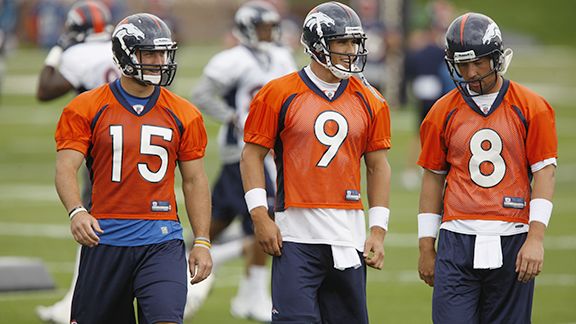 AP Photo/David ZalubowskiDenver Broncos quarterbacks Tim Tebow, Brady Quinn and Kyle Orton confer between drills.
ENGLEWOOD, Colo. -- Growing up the son of a Marine, Brady Quinn had a solid work ethic instilled in him at a young age.
As a kid, he worked out in a homemade basement gym with his father, Ty, and grew stronger every season.
"He wasn't a drill sergeant. He definitely was more laid back but he had his times when he definitely pushed me," Quinn said. "It's funny. I think he pushed me a lot more when I was young as opposed to when I was older. He pulled off the reins a little bit. But it was smart because by that time I had those types of things ingrained in me. That's how he raised me."
That work ethic has served him well in the NFL, where he is now competing with Tim Tebow and Kyle Orton for the starting quarterback job in Denver, after being traded from Cleveland in March.
After finishing 55 off-season workouts with the Broncos, Quinn, a gym rat and workout fiend who weighs about 230 pounds and is 6 foot 3, is headed to Florida for his own two-a-days before the real two-a-days start Aug. 1 in the Mile High City.
"I used to run a lot with my dad. He taught me the best way to get an edge on someone is to outwork them," he said. "I really feel that's the reason I never missed a game in college was because of how hard I worked and prepared myself."
Part of Quinn's training on the road and with the Broncos involves use of a portable nylon TRX suspension-strap system developed by a Navy SEAL.
"It's something the Broncos implement every day of your workout in some fashion or form," said Quinn, one of about 10 Denver players who each have their own system to use. "It's very challenging and pushes you to use your core."
[+] Enlarge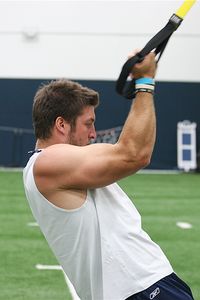 Lynn DeBruin for ESPN.comTim Tebow shows off a technique that he uses to help his core training.
Quarterbacks, in particular, rely on core strength.
Super Bowl MVP Drew Brees started using TRX to recover from shoulder surgery a few years ago. Other players, including Reggie Bush, endorse it.
And though former Heisman Trophy winner Tebow wouldn't go as far as endorsing the system, he demonstrated one move on it at Broncos headquarters in June and touted its benefits.
In this case the nylon cables were suspended from the ceiling, allowing a player to make the exercise as difficult as he wanted based on body position.
"When you talk about different training methods, the main goal is to learn how to move the body quickly and explosively," Broncos strength and conditioning coach Rich Tuten said. "In the weight room we train for strength. In our conditioning area, we want to be able to train to move the body with that strength. TRX allows us to do certain exercises because you totally use your body weight for that."
Quinn learned about it three years ago during an entrepreneurial program at Stanford sponsored by the NFL at which creator Randy Hetrick, a former Navy SEAL, explained the benefits of TRX and discussed how he designed it for use in small spaces such as ships and submarines.
"It doesn't seem like much, but it's something that's very versatile and something you can take with you on the road a lot of times," Quinn said. "I think it does a good job of strengthening your core, allowing you to become more stable."
Lynn DeBruin is a freelance writer for Sports Media Exchange, a national freelance writing network.
MOST SENT STORIES ON ESPN.COM