Commentary
Road Trip: Minneapolis' Target Field
Originally Published:
June 30, 2010
By
Dana Jacobson
| Special to Page 2
Getty ImagesDana Jacobson continued her road trip through the Midwest to Target Field in Minneapolis.
MINNEAPOLIS -- Of all the rows in all the ballparks in all of the Midwest … he walked into ours.
Section 124, Row 31, at Target Field.
If you've been following along you know that ballpark stop No. 4 of my Midwest adventure took me to Minneapolis: a Twins day game against the Tigers and a chance to catch up with one of my good friends from high school, Eric Severson.
In between bites of kettle corn and sips of a cold beverage, Eric was filling me in about the summer theater program he runs here, theatre e3, and I was telling him about my recent stops in Chicago, St. Louis and Milwaukee.
Out of nowhere, a dark-haired guy plopped down in the seat next to me and said "Dana … Eric."
[+] Enlarge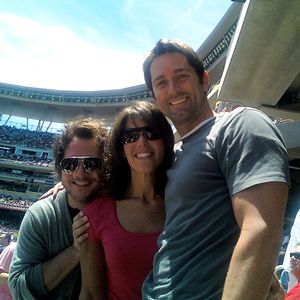 Courtesy Dana JacobsonESPN anchorwoman Dana Jacobson is flanked by her friends Eric and Andy at Target Field.
And suddenly it was 1988.
Flashbacks of junior-year prom and late-night bonfire parties in Iowa flickered in my brain. "Andy Freakin' Reynolds," both Eric and I exclaimed while throwing up our hands in disbelief.
The guy at Target Field was Andy Reynolds, from Valley High School in West Des Moines, Iowa, junior-year prom date of Casey … or was it Carrie?
Regardless, what are the chances that a guy I haven't communicated with in 20 years, other than a few quick posts on Facebook, would be at Target Field?
On the one Wednesday that I'm here? In the midst of this wacky trip? While I was with another friend from high school? And of the 39,500 seats he was a mere two seats down from us?
After a good five minutes of staring at each other and laughing, we started catching up.
A graphic designer with his own business in Minneapolis right near Target Field, Andy had taken his employees out for a summer escape and had walked past us a couple of times before hearing me cheer for the Tigers and realizing that the woman and man to his right were indeed two old friends.
He told us about his three kids, his recent European excursion and some of the standout happy and sad moments of the past 20 years.
Eric and I kept shaking our heads before doing the same. In between a random hit or a cheer that made us turn to the outfield, we shared our stories of jobs and loved ones, hometowns and old friends, but we kept coming back to the same place.
"Andy Freakin' Reynolds" in the flesh, 20 years later.
And since the reason I was there was baseball, I saw the Tigers score a run, the Twins go ahead, and -- to be completely honest -- up until the final three outs, that was about it.
But I was reminded why I went on this trip in the first place. It wasn't just about baseball; it was about the atmosphere, the "anything can happen" feeling of heading out to a ballpark to take it all in.
In fairness, there were other things I noticed before and after Andy walked into our row, my Target Field realizations if you will:
1. Joseph at Hennepin Parking on Hennepin and 6th saved the day when he let me into his lot after 5½ hours of driving.
2. Target Field is as beautiful in person as it looks on TV.
3. People in Minneapolis know how to appreciate a beautiful June day, with a baseball game, of course!
4. Apparently everyone in Minneapolis owns Twins paraphernalia except for my high school friends Eric and Andy.
5. Splitting food at the ballpark is the way to go (thank you, Eric).
6. There is such a thing as an ice cream line that's too long.
7. Hrbek's in Target Field is worth a stop.
8. Sometimes a not-so-perfect seat ends up being the perfect place to sit.
9. Even with all the driving, this baseball park trip was a great idea.
So here I sit with Eric, typing, and every now and again laughing about "Andy Freakin' Reynolds." I head back to Chicago tomorrow, with a visit to the baseball mecca of Wrigley scheduled for Friday, but not before Eric, Andy and I head to dinner.
And while I'd love to share all the details, I'm afraid it's like the after-prom party in 1988 … you just had to be there.
ESPN anchorwoman Dana Jacobson, who hosts "First Take," will document her five-game baseball road trip on ESPN.com. You can follow her on Twitter here.