Commentary
Darryl Strawberry on All-Fruit Team
Originally Published:
July 3, 2010
By
Rob Daniels
| Special to Page 2
We're nuts. We know that. But at least for today, we're all about fruit.
Here's the All-Fruit Team for 2010:
Morris Almond: An almond is classified as a fruit rather than a nut. Anyway, Morris Almond played briefly for the Utah Jazz in 2007-08 but has spent most of his time in the D-League with the Utah Flash, Springfield Armor and Maine Red Claws. Perhaps tired of the minors, Almond decided to sign with a real team in April. Specifically, that's Real Madrid.
Don "Grapes" Cherry: The Rush Limbaugh of the Rink, the Canadian hockey announcer is known for his outlandish rhetoric and wardrobe, both of which seem engaged in a perpetual battle for one-upsmanship.
[+] Enlarge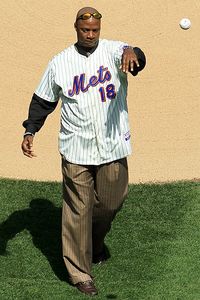 Chris McGrath/Getty ImagesFormer New York Mets player Darryl Strawberry makes Page 2's All-Fruit Team.
Tomato Face Cullop: This is another classification debate, one the U.S. Supreme Court has sunk its teeth into. (The justices say the tomato is a vegetable for purposes of tax laws governing fruits; botanists call it a fruit.) Outfielder Henry Nicholas Cullop became "Tomato Face" because of his propensity to turn red when angered. He led the National League in strikeouts by a batter (86) while playing in only 104 games for the Reds in 1931. (A few of today's freest swingers have already surpassed 86 whiffs for 2010).
John Dewberry: The dewberry is similar to the blackberry but is commonly mistaken for a weed. Georgia Bulldogs fans think John Dewberry is lower than any weed on the planet, for he began his career in Athens, transferred to Georgia Tech and ultimately beat the Dawgs between the hedges in 1984. Dewberry, who played briefly for the Calgary Stampeders in the CFL, is now a real estate developer in Atlanta.
Bob Lemon: A Hall of Fame pitcher, Lemon had the most eventful season of any manager in history in 1978. He began it with the White Sox, who canned him on June 29 after a 34-40 start. Less than four weeks later, he was back to work when George Steinbrenner called. Inheriting a team that stood 10.5 games out of first place, Lemon led the Yankees to a 48-20 record capped by the Bucky Dent homer in the one-game playoff with the Red Sox. They went on to win the World Series. For his efforts, Lemon was fired after 65 games in 1979.
Peaches Nadolney: Romanus Frank Nadolney played four seasons in the NFL but is easily linked to football royalty. George Gipp recommended him to Notre Dame coach Knute Rockne, who put him on the 1918 Fighting Irish team and in the same dorm room as Curly Lambeau. Years later, Lambeau employed Nadolney as a Green Bay Packer.
Dave Pear: In a six-year NFL career, Pear helped his team to a division title (1975 Baltimore Colts), became the first Tampa Bay Buccaneer in the Pro Bowl (1978) and won a Super Bowl ring (1980 Oakland Raiders.) But it wasn't all pleasant. Debilitating injuries have made him an outspoken advocate for improved health-care benefits for current and retired NFL players.
Milt Plum: A two-time Pro Bowler, Plum was a quarterback for the Browns, Rams, Lions and Giants. His position coach in college was a 40-year-old assistant named Joe Paterno.
Darryl Strawberry: Uncommon last name. Uncommonly sweet swing. Uncommon problems with the law. They all make Strawberry a main ingredient for this team.
Bob Welch: It's uncertain if Welch is related to the juice-makers, but his 1990 season (27-6 for the 1990 Oakland A's) is one of the best in recent baseball history. You have to go back to 1968 (Denny McLain's 31) to find a pitcher with more wins in a campaign. Welch got decisions in all but two of his starts, and he threw six or more innings 29 times.
Rob Daniels is a freelance writer for Sports Media Exchange, a national freelance writing network.
MOST SENT STORIES ON ESPN.COM