Commentary
Sailing around world ain't no thing
Originally Published:
July 9, 2010
By
Lisa Altobelli
| Special to Page 2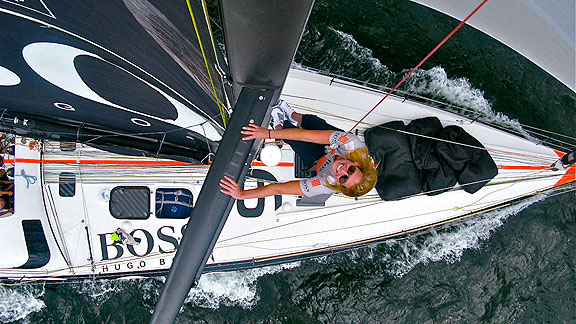 David LezinskyPage 2 reporter Lisa Altobelli stands aboard the $4.5 million vessel, the Hugo Boss II.
British skipper Alex Thomson is one of the best in the world in his sport of solo around-the-globe sailing, but when he glided his newest $4.5 million vessel, the Hugo Boss II, into Manhattan's North Cove Marina last week, even Thomson knew the boat was the real star as gawkers lined up against the railings to ask about the gleaming 60-foot racing yacht that he helped design.
"It's not that I blame anyone since she truly is a beauty, but to be honest, the only thing I wanted at that point was a burger and a beer," said Thomson, 36, after his month-long trans-Atlantic journey with a four person crew in which they subsisted on less than appetizing freeze dried cuisine.
Before setting sail to New York where they'll stay until Sunday, the sleek carbon-and-Kevlar Open 60 boat was christened at a 650 person bash in London's Canary Wharf by "Inglorious Bastards" actress, Diane Kruger, when she sprayed a bottle of Pol Roger champagne over its deck.
Once aboard, it's evident that while this boat might look pretty, it's built for speed instead of luxury and can fly up to 35 knots with some help from the wind gods pumping its 100 foot sails. Thus, with slim to no amenities to weigh it down, a bucket is a substitute for a bathroom and a package of baby wipes takes the place of a shower. The sleeping arrangements aren't much better, consisting of a crawl space below deck with bean bag chairs to crash on -- not that Thomson spends much time crashing since he has trained his body to sleep for only 20 minutes every four hours during the three months on the water it takes to complete a race.
When asked why any sane man would put himself through this, Thomson said he believes single-handed, around-the-world sailing is the most difficult sporting challenge in existence today and that he's one Brit who definitely loves a challenge.
"I'm an extremely competitive person," Thomson said. "When I play squash or tennis I'm the only one who leaves the court with cuts and bruises so with this, I get to be competitive seven days a week for 12 weeks. It's a dream."
[+] Enlarge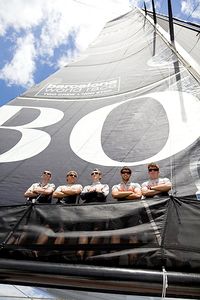 David LezinskyAlex Thomson (2nd from left) and his crew show off their vessel.
Thomson had his first taste of sailing at age 11 on a lake in Wales where he grew up, when his search-and-rescue helicopter pilot father told him that the water was full of eels, so that he better stay upright while windsurfing.
At 25, he set a world record as the youngest skipper to ever win an around-the-world race when he won the 1998-1999 Clipper with a rotating crew. His early success gave him the notoriety he needed to start his own racing company in 2003 after a big push and some start up money from friend and mentor, Sir Keith Mills, the billionaire who invented the air miles points system and was the chief executive behind the winning Olympic bid for London 2012.
"I was going back and forth on whether or not to do it when I received a plaque with a boat on it from Mills that read, 'Risk: To Discover New Worlds You First Must Lose Sight of the Shore,'" Thomson said.
Hugo Boss quickly signed on as his sponsor and there are now Alex Thomson Racing watches, sunglasses and an apparel line with "Human Will vs. Nature Forces" stitched on the collars of the dry wick jerseys. And while a lot of his time is spent sailing to different countries to meet and greet Hugo Boss clients, his job gets deadly serious when it's time to race.
One of Thomson's near death experiences came in 2006 during the Velux 5 Oceans Solo when his keel was damaged in a category-two hurricane and his boat flipped on its side with the mast hitting the frigid Antarctic water 1,000 miles south of Cape Town. Michael Golding, another competitor who was Thomson's archrival at the time, dropped out of the race to rescue him, which took several attempts as hypothermia began to set into the barely conscious Thomson after he abandoned ship and bobbed in a life raft in the 40-foot Southern Ocean swells.
"That was definitely a time when I thought I was going to die," Thomson said of his "Man vs. Wild" type experience.
A stat that Thomson likes to throw out to put his sport into perspective is that more than 2,000 people have climbed Everest, almost 500 people have been to space but less than 80 individuals have ever sailed solo, non-stop around the world. So when asked about Abby Sunderland, the 16-year-old California girl who had to be rescued in the Indian Ocean last month after attempting an around-the-world sail, the usually affable Brit became quite serious saying that he thought it was ridiculous.
"One of the hardest things about sailing around-the-globe isn't the physical aspect of the sport but the mental aspect of keeping it together, so how could a child of that age possibly be mentally ready for it?" Thomson said. "When a 13-year-old Dutch girl expressed interest in trying it last year, child services were called on her parents."
And if you mention competitive sailing in the United States most people can only recall Dennis Conner and the America's Cup Stars & Stripes run more than two decades ago, but Thomson is so big in Britain that he's regularly featured on the television on Christmas Day following the Queen's annual royal speech.
"I'm usually in the middle of the ocean somewhere, with a Santa hat on, apologizing to my girlfriend for missing the holiday once again," Thomson said.
This year he'll be around for the yuletide, but his next around-the-world race kicks off in Barcelona on New Year's Eve, which conflicts with the January 5 due date of the couple's first child.
"At least it's a good excuse to get out of diaper duty for three months," Thomson said.
Lisa Altobelli is a former reporter for Sports Illustrated. She can be reached at alto22@gmail.com.