Commentary
Seth Meyers primed, ready for ESPYS
Originally Published:
July 11, 2010
By
Lynn Hoppes
| Page 2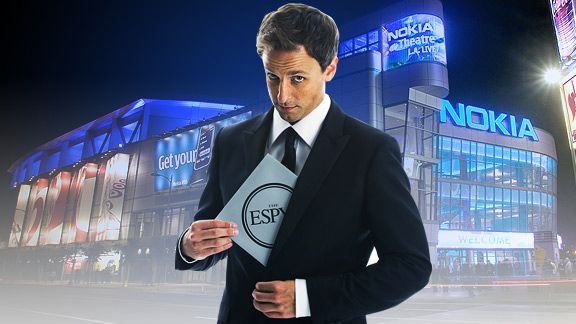 ESPN.com IllustrationSeth Meyers is ready to host Wednesday's ESPYS telecast live from Los Angeles.
LOS ANGELES -- One day before the first live ESPYS telecast at the Nokia Theatre, host Seth Meyers was reworking the script.
Yep, one day.
With the news of George Steinbrenner's death, LeBron James' move to Miami and the end of the World Cup and the vuvuzela, Meyers understands that it's important to include fresh content in the telecast on Wednesday at 9 p.m. ET.
"I try to wait as close as possible," said Meyers, head writer for "Saturday Night Live" and anchor of its weekly "Weekend Update" segment. "The tendency is you get bored with jokes. Sports constantly regenerate stories."
That's the great thing about having a host who cut his teeth on improv and who has spent years working on a live TV show.
ESPN is venturing into uncharted territory with its live telecast of the 18th annual show that honors the best in sports.
The sold-out event, held at L.A. Live complex that includes the Staples Center, has turned into more of an entertainment show, and it's good that Meyers is here.
THE 2010 ESPYS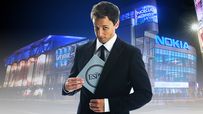 The 2010 ESPYS will be aired live Wednesday at 9 p.m. ET on ESPN.
Additional coverage on ESPN3.com:
• ESPYS pre-show, 8:30 p.m. ET
• ESPYS post-show, after TV broadcast
Preview content from Page 2:
• Martin: Offbeat ESPYS history quiz
• Interview with host Seth Meyers
• Watson: Page 2 ESPYS predictions
ESPN The Mag preview videos:
• ESPYS Road Trip, Day 2


• ESPYS Road Trip, Day 1


• ESPYS style studio: Kirk Morrison


• Behind the scenes: Josh Cribbs

Your source for everything ESPYS:
• 2010 ESPYS home page
The audience will include more celebrities than ever: actor Samuel L. Jackson (last year's host), actor Zac Efron, actor/director Mark Wahlberg, singers Robin Thicke and L'il Kim, and reality star Kendra Wilkinson are among those scheduled to be in attendance.
Page 2 spent a few minutes talking with Meyers about the ESPYS.
What does hosting the ESPYS mean for you?
"It's an incredibly big honor. You just don't understand. I have given out an award before and I was so glad they asked me to host. I wasn't really expecting it. I had so much fun. And I'm really up for the challenge."
Are you nervous?
"It's always good to be a little nervous. It makes you stay on edge. You stay focused."
But come on, you do a live show every week.
"That doesn't mean that I can't be nervous. We do a lot of scripted content, but it's still a live show and anything could happen. I guess it'll be my job to make it seem seamless."
With a live show, what kind of jokes will work best?
"The less you have to explain, the better."
How big a sports fan are you?
"I grew up in New Hampshire, so I'm a big fan of the Boston-area sports. Yes, I know. I'm going to be in Los Angeles, which beat my team in the NBA Finals. But my humor will be broad enough for people all over the country to understand."
What else is on your bucket list to accomplish?
"I've already done a lot of what I set out to do. I don't normally look that far ahead. I'm very lucky to be doing what I do. I know there are people out there a lot funnier than me. I'm just glad I get the opportunities I have been given."
Let's throw out some names … LeBron James?
"I would have had him come on the show Wednesday with a big wheel and spin it to see which team he'd play for."
Brett Favre?
"He made me eat my words. He was an old rock star who put out a good album. Until he made the playoffs. That's when he played a song off an old album."
Tiger Woods?
"I don't really follow golf. Did something happen to Tiger?"
Lynn Hoppes is Senior Director for Page 2 and Commentary for ESPN.com.