Commentary
License plates have funky offerings
Originally Published:
July 24, 2010
By
Jill R. Dorson
| Special to Page 2
How popular is NASCAR? Popular enough that at least four states -- Oklahoma, Mississippi, South Carolina and North Carolina -- offer a series of commemorative NASCAR-themed license plates, so you can bring your favorite driver along for the ride.
Earlier this summer, North Carolina upped its inventory of NASCAR plates to 26 with the introduction of the Dale Earnhardt Hall of Fame license plate. The state also has plates with drivers of varying success ranging from A.J. Allmendinger to Kyle Busch.
In most states, you'll find a selection of college and pro sports plates. It also turns out that "Ducks Unlimited" plates are available in many states. New York offers a "Birthplace of Baseball" plate while Alaskans who have finished the Iditarod Dogsled Race can purchase an "Iditarod Finishers" plate.
Below is a look at some other funky offerings:
[+] Enlarge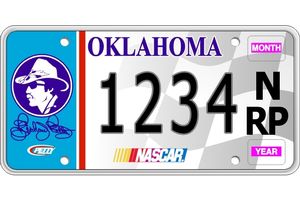 Courtesy of Oklahoma Department of Motor VehiclesOklahoma has a soft spot for NASCAR.
CONNECTICUT: Home to the seven-time national champion UConn women's basketball team, the state does not have a specialty plate honoring the team, but does have one for the "Ferrari Club of America" and one commemorating the men's national championship in 1999. The men's basketball team has since won a second championship in 2003.
GEORGIA: As if Georgia doesn't have enough problems bringing fans to the "World's Largest Outdoor Cocktail Party" in Jacksonville every year, the state allows Gator fans to rub it in year round with the "Atlanta Gator Club" license plate. Also available: "The Florida State University Seminole Club" plate.
MARYLAND: Has the hugely popular (not!) "American Bowling Congress" plate, which features a bald eagle hovering over a bowling ball.
MISSISSIPPI: Got a favorite NASCAR driver? Consider making Mississippi your home state. The Magnolia State has a 25-plate NASCAR series, including Dale Earnhardt Sr. and Jr., Jeff Gordon and Danica Patrick, who drives in some Nationwide races. And, if you can't pick a favorite, the state offers a generic NASCAR plate. Collect 'em all.
OHIO: Appears to be the only state with a plate for its Major League Soccer team, the Columbus Blue Jackets. All other pro teams are available, too, and all feature a team logo.
[+] Enlarge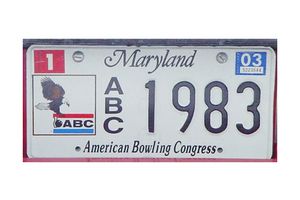 Courtesy of Maryland Department of Motor VehiclesMaryland has a love affair for bowling.
OKLAHOMA: This state rivals Mississippi and North Carolina with 23 NASCAR plates, including the "Richard Petty Historic" plate, which has a silhouette of Petty and a replica of his signature. There is also a standard Dale Earnhardt plate, as well as a Hall of Fame version.
SOUTH CAROLINA: Another state where you can collect NASCAR driver plates, though the selection is smaller -- five plates commemorate Dale Earnhardt Sr., Earnhardt Jr., Jeff Burton, Jeff Gordon and Rusty Wallace. But if you're in the Palmetto State, be aware of the fees, these specialty plates run $70 each above the usual fees.
TENNESSEE: Might be the only state with a plate commemorating a women's sporting accomplishment. The Volunteer State has more than 90 license-plate offerings, including the usual complement of pro and college teams, but it also has the "8-Time National Champion" plate in honor of the Lady Vols women's basketball team, which last won a national title in 2008.
VIRGINIA: Another good place to be a sports fan. The state has a huge list of specialty plates available, including those that support out-of-state universities (Duke, Ohio State and Rutgers, to name a few) as well as bicycling, bowling and bass fishing.
WASHINGTON STATE: Among the specialty plates available under sports and hobbies? "Square Dancers", complete with a red silhouette of a couple dosey-doe-ing.
Jill R. Dorson is a freelance writer for Sports Media Exchange, a national freelance writing network.