Commentary
Can boxing be taken seriously?
Originally Published:
July 25, 2010
By
Jerry Greene
| Special to Page 2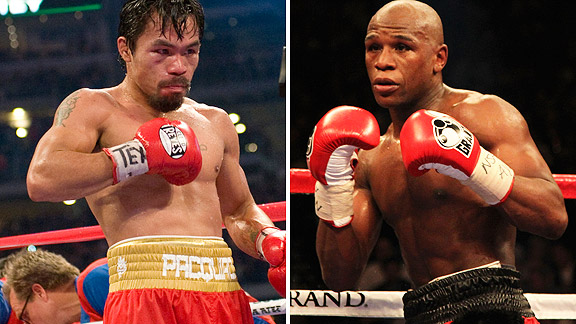 AFP/Getty ImagesManny Pacquiao and Floyd Mayweather need to just get in the ring and settle it.
Does anybody out there understand boxing anymore? And does boxing understand how the world works?
Don't those guys read comic books?
Floyd "Pretty Boy" Mayweather and Manny "Pac-Man" Pacquiao are considered superheroes by many. Each considers the other to be his nemesis. And nothing is cooler than having a nemesis.
The Hulk has the Leader. Professor X has Magneto. Superman has Lex Luthor. And, of course, Batman has the Joker.
In every case, the nemesis is always ready for a fight. It's what they do.
Pac-Man is ready -- but Pretty Boy has taken a powder. How wrong is that?
So now Pacquiao plans to fight Antonio Margarito, who is apparently pretty good but can hardly be classified as a nemesis. Back in Jan. 2009, Margarito lost his California fighting license when plastic-covered inserts were found in his hand wraps right before his fight with Shane Mosley. Granted, he must have needed them as Mosley cleaned his clock.
As far as nemeses go, Margarito isn't even the Penguin.
A few more thoughts about boxing:
• Numerous commentators are calling the unbeaten Mayweather a "loser" for "ducking" the Pac-Man. However, we have yet to hear of a critic saying that to Mayweather's face.
• Boxing promoter Bob Arum commented on the UFC 116 bout between former boxer James Toney and Randy Couture, saying, "If this was a boxing match, I'd be watching it, but this is cockamamie martial arts, guys rolling around on the floor. It's not even a sport." -- Somewhere Mr. Kettle and Mr. Pot are having a laugh.
• "The visceral energy at a boxing match is insane. I love it. We go a lot." -- Actress Anna Paquin, talking about going to matches with her fiancé and "True Blood" vampire-lover Stephen Moyer. Yeah, "visceral energy" -- and all that blood. Yum.
And now let's try to stop the bleeding with a few tidbits before moving on to the main courses in this Sunday Brunch:
• Does this sound right? A former Redskins player -- Antwaan Randle El -- said that former Redskins head coach Jim Zorn "had great potential." This is just another clue that everything has been butt-backwards with the 'Skins for years.
• In another attempt to impress the NCAA, USC has removed all the rose bushes on campus.
• Yankees GM Brian Cashman said New York is not looking for another starting pitcher. That's like Larry King saying he's not looking for another wife.
• Two words you never want to see on your hospital chart: "Testicular contusion." Right, Carl Crawford?
• Before the Red Sox's 600th consecutive sellout, players tossed commemorative baseballs to the fans. If Oprah owned the team, everybody would have gotten a car.
• The Gansevoort Hotel in Miami Beach offers a "Heat Suite" to stay like an NBA star. For $2,500 a night, you get "a one-bedroom suite with ocean view, use of a Ferrari F430 and VIP cabana." -- A posse is optional.
• This from Golfweek magazine: Nine golfers with the letter "z" in their last name have won a major championship after Louis Oosthuizan won the British Open.
• And winner of the 2010 Most Pointless Trivia Award -- Golfweek.
Onward and upward to the main courses in this Sunday Brunch:
• Great start with Scott Ostler of the San Francisco Chronicle asking whether the Miami Heat can take the pressure and become one of the most hated teams of all time. And that, our friends, is a great list. Scott gives us a top nine.
• We're staying on the Left Coast to sneak a peak at the Los Angeles Times' Bill Plaschke's open letter to Frank and Jamie McCourt. He's asking them to do the right thing and sell the Dodgers now before the team becomes completely trashed during the divorce settlement.
• We'll jump back East to Paul Domowitch's Eagle-tarian blog for the Philadelphia Inquirer, in which he has good news for the Chargers and Cowboys, bad news for the Patriots and Cardinals, plus good and bad news for the Texans. Yes, he's talking pro football and it feels so sweet.
• Charles P. Pierce of the Boston Globe wonders if the Patriots organization considers itself "the hammer," while quarterback Tom Brady is just another nail waiting to be pounded. Charley P. is not happy about this.
• Greg Cote of the Miami Herald wonders if parties bankrolled by agents are proof South Beach has become the center of the sporting universe. We think Cote is rubbing it in.
• The Brunch closes with Mike Bianchi of the Orlando Sentinel, who writes of many things, including if Tennessee would have been better off if it had never fired football coach Phil Fulmer. What? And miss that special season with Lane Kiffin?
Jerry Greene is a retired columnist for the Orlando Sentinel. He can be reached at osogreene@aol.com.
SPONSORED HEADLINES
ESPN TOP HEADLINES
MOST SENT STORIES ON ESPN.COM