Commentary
Brunch says: Clothes make the men
Originally Published:
August 1, 2010
By
Jerry Greene
| Special to Page 2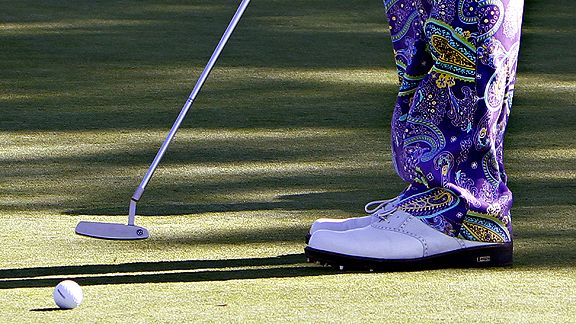 AP Photo/Chris CarlsonAll eyes are on John Daly's wacky pants just as much as his swing.
Clothing keeps popping up in the news recently.
Yes, it was that slow a news week.
One of the big stories was that Jockey announced it had signed Broncos rookie Tim Tebow to a three-year deal to be an underwear spokesman. Somewhere, Joe Namath is crying in his panty hose.
This is Tebow's third major corporate sponsorship since he was drafted. It makes you wonder what kind of offers he will get after he finally throws a pro pass. If he scores, he'll probably become Colorado's governor -- wearing his Jockey shorts.
In other clothing-related news, golfer John Daly tweeted: "Wallpaper in the Greenbrier Hotel has really been giving me some new print ideas for Loudmouth pants hanging around here! LOL. I love it!"
Meanwhile, the Greenbrier Hotel is considering suing for defamation of wallpaper.
Incidentally, Turner Sports and the PGA of America said the first two rounds of the 2010 PGA Championship will be televised in 3-D on Aug. 12-13.
OMG, will that include Daly's pants?
Now, some tidbits before we get to the main courses of this Sunday Brunch:
• NASCAR team owner Jack Roush, 68, is recovering after he crashed his plane in Oshkosh, Wis. Well, that's probably the only way somebody goes to Oshkosh. But that's the second time Roush has crashed his plane. Isn't it about time to hire a limo driver?
• If you win the Super Bowl in the franchise mode of "Madden NFL 11," you get a virtual celebration, a virtual parade in your home city and a virtual White House meeting with a virtual President Barack Obama. What? No virtual trip to Disney World?
• The Miami Heat sold out their season tickets and immediately fired their ticket-sales staff. How's that for an incentive program?
• The PGA Tour will allow cell phones onto the course this month at the Wyndham Championship as an experiment. Sure, what could go wrong with that?
OK, onward and upward to the main courses in today's fiery Brunch:
• Let's get started with a surprise. T.J. Simers, feisty Los Angeles Times columnist, likes USC coach Lane Kiffin. Actually, nobody seems more shocked about this than Simers. Clearly he doesn't plan on vacationing in Tennessee.
• OK, enough of the sweet talk. We'll switch coasts to listen to Phil Mushnick of the New York Post describe the current state of the NFL as "greed-stricken and greed-sickened." And when commissioner Roger Goodell says "the game is about the fans," Mushnick responds with "the nausea was as instant as the insult." Hey, it gets rougher after that.
• It's always calmer in the Midwest, where Jeff Gordon of the St. Louis Post-Dispatch looks at Cincinnati and wonders whether the proper word to describe the arrival of Terrell Owens is "buzz" or "circus." But he happily reports that T.O. already has learned how to spell the city's name. Baby steps.
• Back in Boston, the Globe's Bob Ryan looks at Patriots quarterback Tom Brady and has a three-word message for team management: "Pay the man." Of course, the column is a little longer than that.
• The Brunch is emotional today. Joe Posnanski of Kansas City revisits Cleveland, where he writes "Angry? You have no idea." And we all know where that anger is directed. But the tone of his column is not of anger but of profound sadness.
Jerry Greene is a retired columnist for the Orlando Sentinel. He can be reached at osogreene@aol.com.