Commentary
Jake Long highlights All-Island Team
Originally Published:
August 14, 2010
By
Rob Daniels
| Special to Page 2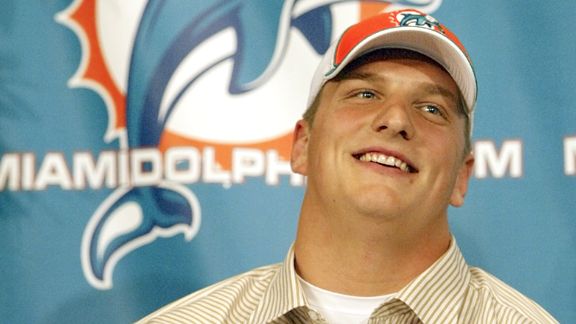 AP Photo/Wilfredo LeeMiami Dolphins lineman Jake Long makes Page 2's All-Island Team.
No man is an island, but these men at least sound like they belong in relative isolation. Don't get "Lost" as we present the All-Island Team:
Tony Banks: Probably felt a bit deserted when he lost his starting job as Baltimore Ravens quarterback to Trent Dilfer in 2000, but he did get a Super Bowl ring that year thanks to Ray Lewis and crew on defense. As for Banks Island, it's part of the Canadian Arctic Archipelago, which looks like the sort of place to which backup quarterbacks get banished. The island is named for Sir Joseph Banks, a British horticulturist credited with bringing eucalyptus to this part of the world.
John Block: The 6-foot-9 power forward swatted 35 shots for the 1973-74 Kansas City-Omaha Kings and probably restrained his ego better than Adrian Block, the Dutch explorer who charted a piece of land 11 miles from modern-day Rhode Island and named it after himself in 1614. We're guessing they play basketball on Block Island, but the quality isn't scintillating: Lots of shots that never get to the rim and lots of drives to the basket that get cut short by step-slow defenders.
Ellis Burks: Just as one-third of the current American population can trace its ancestry to people who first landed on these shores at Ellis Island, much of the baseball world can claim not-too-distant relationship with Ellis Burks. According to baseballreference.com, the outfielder had 436 teammates in his 18-year Major League career. Those teammates' careers stretch from Carlton Fisk, who made his debut on Sept. 23, 1969, to Livan Hernandez, who threw eight innings of one-run ball for the Washington Nationals on Tuesday (Aug. 3).
Taiwan Easterling: Exotic name, far-out game. Florida State's junior wide receiver may be the chief target of Heisman Trophy candidate Christian Ponder this season. Easterling has never fumbled in two college seasons.
Trenidad Hubbard: Yes, we know the real island is Trinidad, but we can't pass up the chance to name-drop with a guy whose career took him almost everywhere baseball is played in this country. Hubbard suited up for nine teams in 10 Major League seasons. If you count the minors, he logged time for 24 teams in 17 of the United States and one Mexican province. He was a Bison (Buffalo), a Bull (Durham) and a Toro (Tucson); a Duke (Albuquerque) and a General (Jackson); and, of course, a Tourist (Asheville).
Jeff Ireland: The Miami Dolphins' general manager has become controversial for a pre-draft interview in which he asked wide receiver prospect Dez Bryant if Bryant's mother was a prostitute. Whether this line of questioning represents "Getting Your Irish Up" or legitimate intelligence-gathering is a matter of debate.
Jake Long: The 6-7, 315-pound offensive lineman fairly resembles a land mass. About the closest that Long gets to Long Island is his Miami Dolphins' annual game at the Jets, who used to train at Hofstra University but who have moved their complex to New Jersey.
Billy North: The speedy Oakland A's outfielder led the American League in steals twice. A territory of New Zealand, North Island is decidedly south, which is where Billy North's batting average went in postseason play. In five playoffs and World Series, North was 3-for-59 at the plate.
Robert Porcher: The three-time Pro Bowl choice recorded 95.5 sacks in a 12-year career spent entirely with the Detroit Lions. The island with which he shares a last name is in British Columbia and is named for Edwin Augustus Porcher, a Royal Navy commander.
Rob Daniels is a freelance writer for Sports Media Exchange, a national freelance writing network.