Commentary
For sale: Rights to be Chargers' Boltman
Originally Published:
August 19, 2010
By
Jill R. Dorson
| Special to Page 2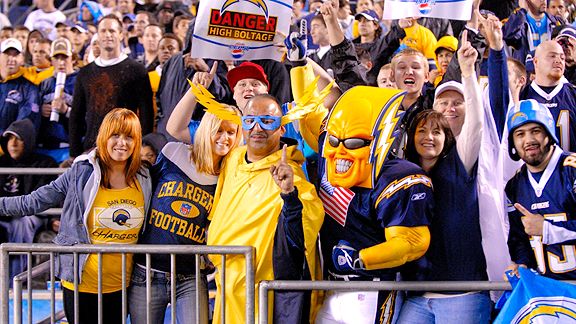 Courtesy of Dan JaureguiIf you have the money, you can buy the rights to "Boltman" and become a mascot.
For the low, low price of $75,000, you could be an NFL mascot. Yep, that's right, San Diego Chargers fan Dan Jauregui is done being "Boltman," the muscle-bound mascot with a lightning strike for a head, and he's selling to the highest bidder -- unless that happens to be a Raiders fan.
"I wouldn't sell it to Al Davis, if he called me up himself," Jauregui said, despite a report in Saturday's San Diego Union-Tribune that said he won't turn a Raiders fan away.
"Absolutely not," he said when asked if he'd sell to someone in Silver and Black.
Jauregui posted two "Boltman" suits and all the intellectual property associated with the character for sale on eBay on Aug. 14. The auction ends just after midnight ET Thursday, and the winner must pay in cash, with a wire transfer or a cashier's check.
The Chargers had no comment when asked about the sale of the "Boltman" suits, but in Saturday's Union-Tribune a team representative said it is not interested in purchasing the suits. Jauregui hopes they know what they're doing.
As of Tuesday, nearly 3,000 people had viewed Jauregui's eBay posting and he said he's got a handful of prospective buyers.
"I think they are all playing possum," he said. "I think on the last day it will go. It's just a matter of for how much. I just hope it is someone right in the head, who will do the right thing."
Whoever it is will be buying an established character ready to be franchised. Twenty-seven of the NFL's 32 teams currently have mascots. Nancy Willis, the general manager of Facemakers, a Chicago-based mascot company that counts the Oakland A's and Chicago Bulls among its clients, says its new costumes range in price from $1,500-$6,500, but that a trademarked and copywrited mascot with history would have a different value.
"The value of the costume is in the value of the intellectual property," she said. "If you can purchase a costume and make money by doing appearances and commercials, it would be worth [more]."
Jauregui, 45 and a real estate agent in San Diego county, was "Boltman" from 1995-2009. "Boltman" was on the sidelines for all five of the Chargers' postseason appearances in the 2000s.
Before games, Jauregui would change into his costume in his RV in the parking lot of Qualcomm Stadium before being swarmed by fans on his way in. But he's had enough -- and he thinks his asking price is a steal.
"The monetary value is easy to justify," he said, noting that he constantly had requests for appearances, bobbleheads, antennae toppers and the like. "Besides adding to the fun of the game … if someone were to take this and have some cash flow, it would be huge. I'm just hoping someone with deeper pockets than me can take it to the next level."
Just not Al Davis.
Jill R. Dorson is a freelance writer for Sports Media Exchange, a national freelance writing network.