Commentary
Texans' Kevin Bentley champions yoga
Originally Published:
August 23, 2010
By
Jim McCurdy
| Special to Page 2
Kevin Bentley is decked out in a tight black outfit. In the past, his teammates couldn't help but giggle at the tough guy in tights.
After all, this is nothing like what he's used to wearing around the football field. Even if the 95- to 130-degree room is comparable to the humid Houston practice field, the Texans linebacker races around in sweats.
Bentley doesn't care.
Bikram yoga is his time for tights. And finding flexibility in tights never tested the Bikram 'backer's manhood.
"Bro, do I look tough?" the 6-foot, 247-pounder said. "I'm not all about toughness. It's about staying healthy, and doing what's best for my body. At first, I took a lot of heat because guys were like, 'Oh man, look at you. You're in tights!' Guys would come in and peek their head in and mess with me."
[+] Enlarge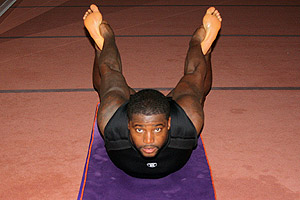 Jim McCurdy Houston Texans linebacker Kevin Bentley uses Bikram yoga to help him stay healthy.
It's no wonder, what with all these other bodies staring at themselves in mirrors, posturing on mats and towels, and being told not to look at the next person.
That's Bikram yoga.
Bentley added Bikram to his regimen seven years ago when Seahawks conditioning coach Mike Clark introduced it to him.
"Kevin's real meticulous in taking care of his body," Texans linebacker Brian Cushing said. "He's real careful, and he's real thorough in everything he does. I think that's the reason he's going in, what, his ninth year and still playing the way he is."
Up for a starting spot, Bentley is known to frequent Bikram rooms three times a week. Although the Northwestern grad can't give you detailed directions to the gym, he's donned his tights since he arrived in Houston in March 2008.
Bikram is his means for body balancing, better breathing, long-term protection and staying under control in sticky situations.
"In nine years, the worst I've done is broke my hand my rookie year," he said. "They say I can go all day. That's a testament to my regimen. It's never gonna be physical for me. As long as my mental state is in a happy place …"
Is it?
"Yeah, it is."
Attribute that to Bikram, a yoga yielding mental bliss.
"It's not a quick fix," said Emily Johnston, a Bikram yoga instructor in Pearland, Texas. "This is creating balance in the body. It's for longevity."
Bikram yoga was founded by Bikram Choudhury, a Calcutta, India, man born in 1946. His yoga combines a series of 26 postures, including two pranayama exercises -- each performed twice per class.
Bentley took Texans wide receivers Kevin Walter and Andre Davis to Bikram classes. Davis said he lost too much weight in the heat. Bentley, whose career led him from Cleveland to Seattle to Houston, also sat through a class with Texans defensive coordinator Frank Bush's wife, a certified yoga instructor.
But he hasn't coaxed Cushing into tights, although the second-year star doesn't ride his seven-year superior.
"No, no. All the guys have their different regimens, their techniques to get through the season," said Cushing, who uses a hyperbaric chamber. "I think the No. 1 thing is being healthy, being smart and being as fit as possible. I think any guys who paid attention to him … I think Kevin's influenced them."
Influential or not, Bentley, who played in Super Bowl XL, treats his body like a temple in these rooms where performing funky contortions is expected.
"It gets pretty hot and humid in there with all those bodies," he said. "With a packed class, you can't move, can't breathe, so it allows you to focus. When you get in those awkward positions in the piles, someone has you twisted up, you're less likely to get hurt."
Nine years and one broken hand. Maybe tough guys in tights aren't so bad after all.
Jim McCurdy is a freelance writer for Sports Media Exchange, a national freelance writing network.